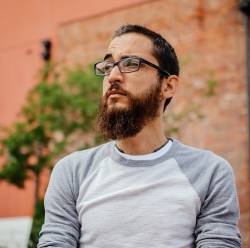 Latest posts by Victor Espinosa
(see all)
The Best Centralized Exchanges For Web3 Gamers
Banking in the 21st century and beyond
If you're someone looking to get into the digital ownership world of web3 and crypto, you will inevitably interact with a centralized exchange at some point. The digital banks of the future, centralized exchanges, or CEXs (yes, it's pronounced sexes, stop giggling), are massive onboarding ramps where most people turn their regular fiat currency–dollars, yen, pesos, and the like–into cryptocurrencies.
Centralized exchanges go against the basic philosophy of cryptography and decentralization, but they are also the most convenient way to purchase crypto. Not to mention most governments have gone to painstaking lengths to ensure they are the only way to buy crypto with fiat, allowing authorities to monitor everything their citizens do with their money.
In modern society, it's hard to be successful without an official bank account. And in the world of web3, it's challenging to go anywhere without an account at a centralized exchange. Even if you're someone who prefers a decentralized exchange, like me, most don't let you onboard fiat currency. They only allow the transfer from one crypto to another. Everyone needs that crucial step of turning their dollars and euros into bitcoins and ether. And unless you have a trustworthy contact willing to purchase crypto at a centralized exchange, launder it through a few decentralized trades, and eventually send it to you, you'll need a centralized exchange to get started in web3.
Using a centralized exchange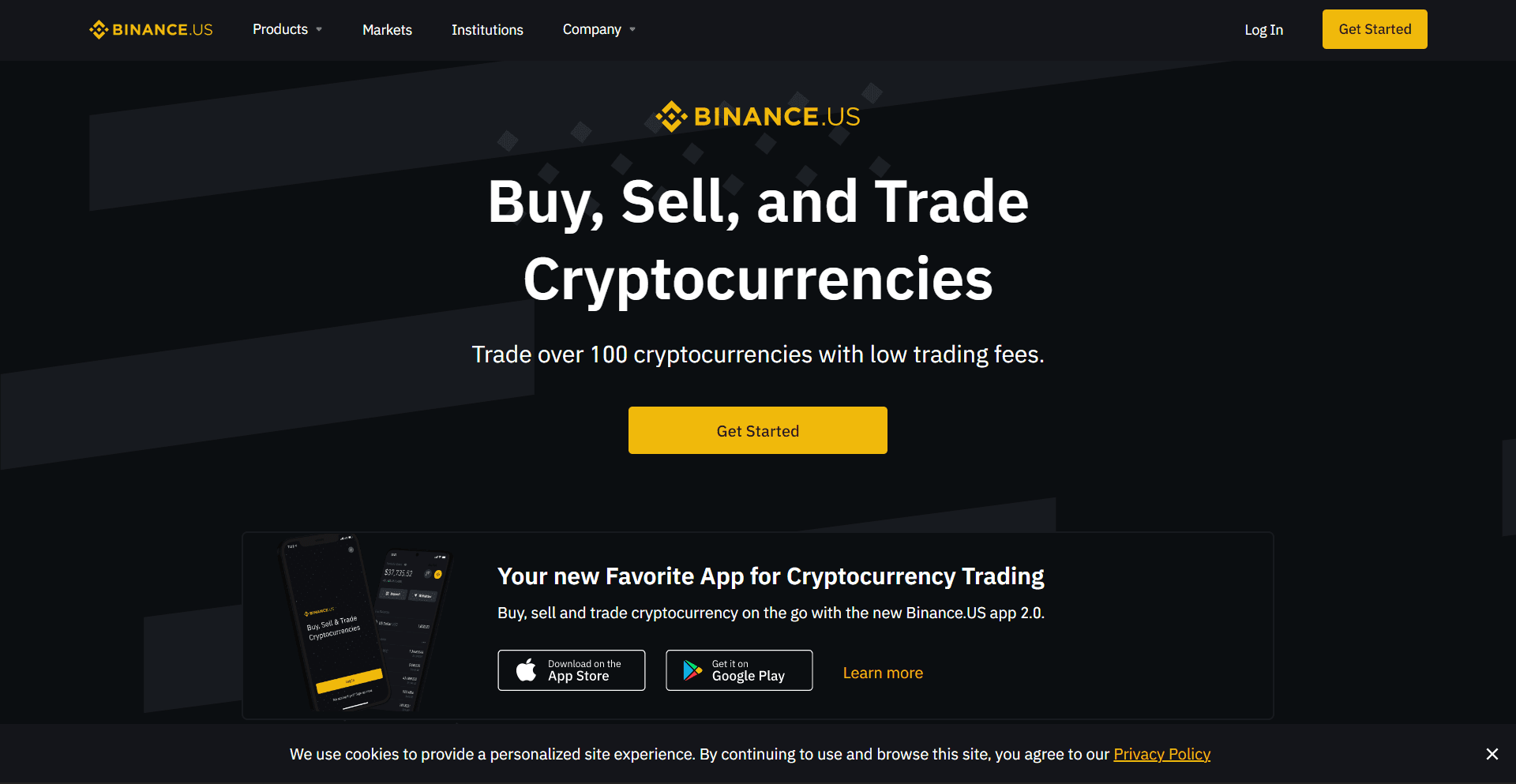 Centralized exchanges offer much more than just the ability to turn cash into crypto. Many offer loans, staking, lending, and advanced features like futures trading, which allows users to long and short specific cryptocurrencies as if they were stocks. They offer NFT hosting, have liquidity pools, their own wallets, and lots of features for users to learn and educate themselves on crypto.
The caveat is that centralized exchanges are treated just like banks. Which means, just like opening up a bank account, you're going to need some official documents. And because we're living in the future, you'll also need some biometric data to hand over.
I'll say that again for those afraid of Skynet: Biometric. Data.
But I don't mean saliva, blood, or a stool sample. Centralized exchanges require you to verify your identity with a selfie taken with your mobile camera or webcam. 
If that feels like an invasion of privacy, it's because it is. Sort of. But if it helps at all, there were very few banks that let users open up a new account without asking them to visit a nearby branch to complete the signup. And by visiting that branch, users were filmed by at least three different cameras and verified by a real person–the bank teller–who confirmed their ID and completed the account signup. Even banks and credit cards that exist entirely online require a few extra steps to verify users, and then go around the internet buying up all the metadata they can on their new client.
In that regard, centralized exchanges don't violate your privacy any more than regular banks do. The difference is traditional banks verify your identity in subtle, hardly noticeable, and socially acceptable ways. At the same time, centralized exchanges ask you to hand over your ID and smile for the camera. The result is the same amount of data being taken, but one causes far more friction than the other.
If privacy matters
If you're someone who cannot share your identity in such a way–your personal safety is at risk, you live in an authoritarian society, your finances are not safe–don't use a centralized exchange. Obviously. 
Your best option is to go peer-to-peer (P2P). This requires more digital know-how, layers of encryption with a personal cold storage wallet, and people you trust to work on your behalf and not share your wallet's hash or ID. It requires its own series of articles to describe accurately. It's more time-consuming, costly, and more prone to human error. But in the end, you're not handing over retina scans to institutions that bend the knee to corrupt and oligarchical regimes.
Your call.
But what about swaps and decentralized exchanges?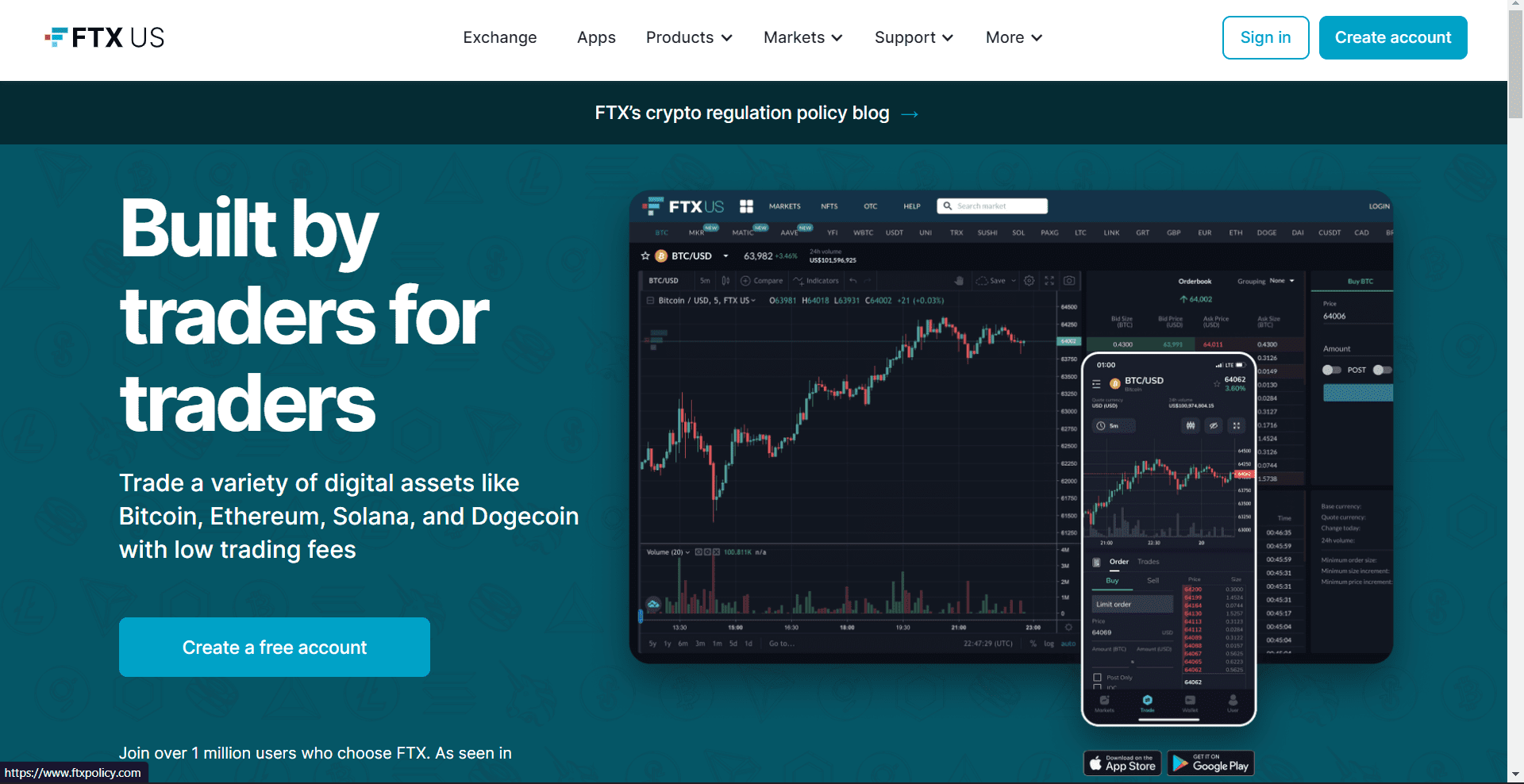 Though I personally think that swaps and decentralized exchanges are the way to go, both lack that crucial first step in the process; turning your fiat currency into cryptocurrency. And as previously mentioned, to comply with many governmental regulations, swaps and decentralized exchanges aren't allowed to offer such a service.
It's effortless for governments to monitor onboarding ramps of fiat to crypto. It's tough for them to watch crypto to crypto ramps. The fewer options people have to turn their fiat into crypto, the easier it is to observe.
So even if you're someone who uses DEXs and swaps more than anything else, you still need that first step, that onboard ramp.
But once you've onboarded your currency into crypto, get that shit off your centralized exchange and into something not owned by traditional financial institutions. The whole point of crypto is to decentralize and promote true ownership. Centralized exchanges are the antithesis of that.
Top CEXs (In USA)
Here is a list of the top centralized exchanges. And while bigger doesn't necessarily mean better, these offer the most features, the most security, and the most perks for users of their platforms. And since the SEC (Securities and Exchange Commission) is cracking down on centralized exchanges in America left and right, these are exchanges that adhere to regulations and guidelines. If you're using an exchange that isn't following regulations and the government comes knocking, your financial assets may be in trouble.
Coinbase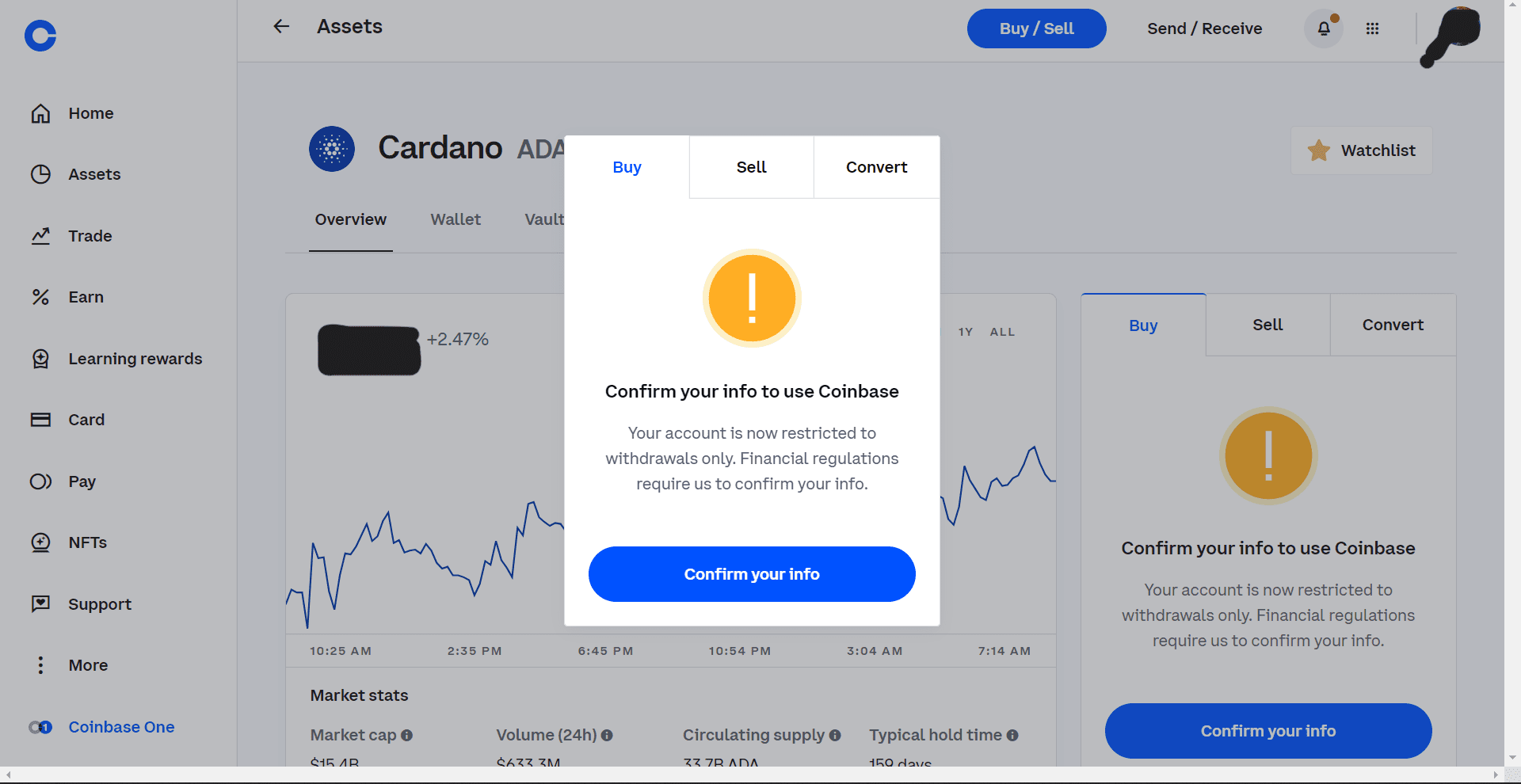 Founded in 2012 in America, Coinbase is the largest exchange in the US. It has over 40 million active users and, in 2021, made revenue to the tune of $7.8 billion. It's an exchange that's recently partnered with the monolithic Blackrock to ensure its financial dreams remain within grasp, and it's an institution that's weathered more than a few controversies.
Coinbase is an excellent exchange for newbies. If you're new to the world of web3 and crypto, Coinbase is a solid, welcoming place to start your education. Their user interface is strikingly simple and painfully easy to navigate. They are up front about their fees, offer news articles, and have a whole educational department with quick, easy-to-digest videos. 
Coinbase isn't without problems, however. They don't offer a large selection of coins to choose from. They've recently run into some troubles during crypto winter, and rumors of them possibly filing for insolvency weren't entirely ungrounded. Hence their partnership with Blackrock.
Coinbase allows users to connect their bank accounts and purchase crypto directly. There is a 3-4 business day hold on all deposits into Coinbase. So if you're hoping to play a web3 game today, you're out of luck. But compared to some other exchanges, 3-4 business days is not bad.
Pros
 Educations as fuck, news articles, simple user interface, no frills, made for beginners, straightforward, short waiting time for deposits.
Cons
Higher fees than most exchanges, barely any staking options, no futures, some might call the user interface too simple, lack of advanced trading features, constantly wrapped up in controversies, under investigation by the SEC, user's coins aren't hosted on their own wallets.
Binance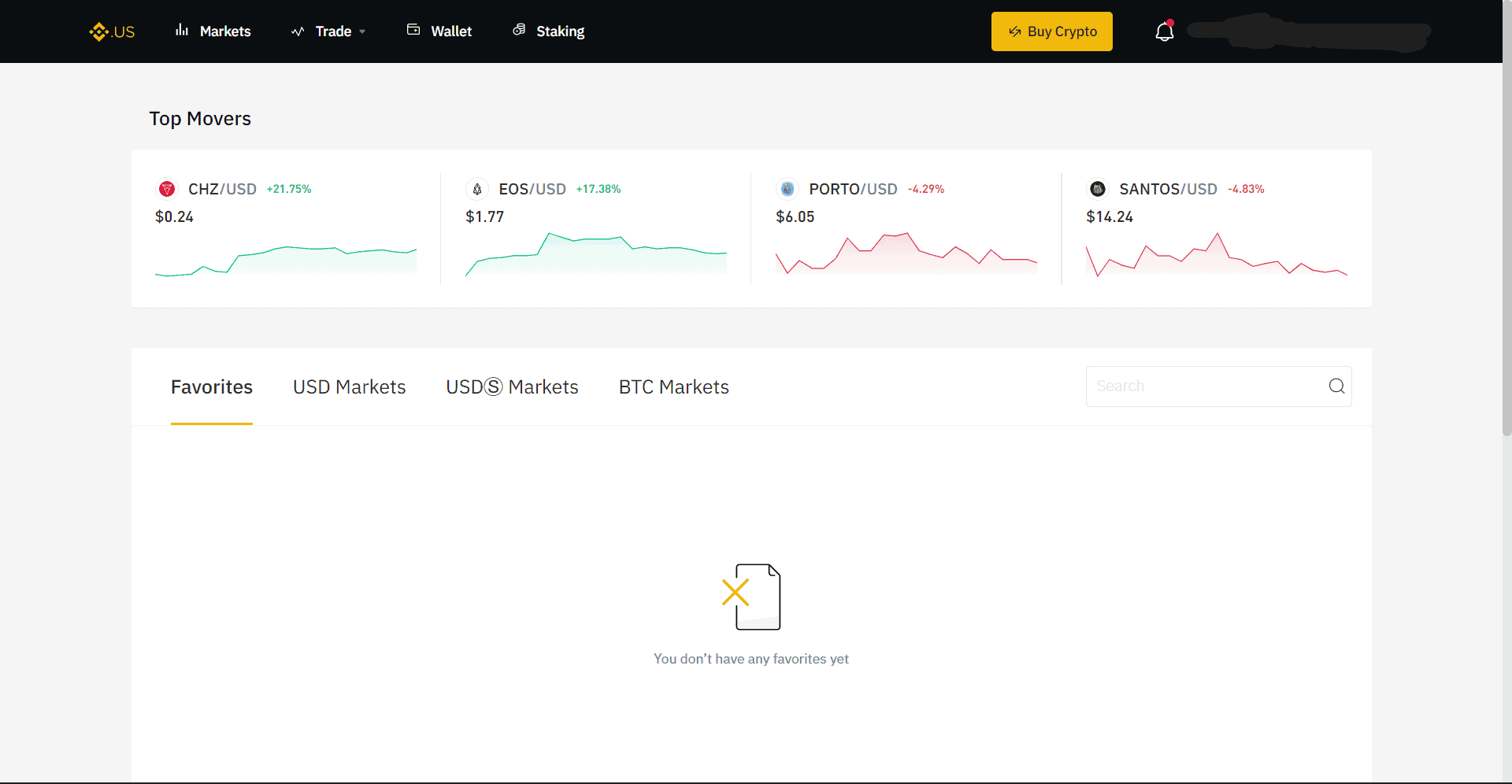 Binance is the largest crypto exchange in the world. Initially opened in China, Binance moved to the Cayman Islands when China got uncomfortable with cryptocurrencies. Binance has endured a good deal of controversy throughout its existence. Most recently, they received a lot of pushback for their close ties with the Russian government, which they hold to this day. But above all else, Binance seeks to allow users the freedom of using crypto. They claim they don't care about governments; they care about the citizens who got mixed up in political games. Therefore, they aren't going to sanction the wallets of Russian individuals; they didn't start a war. Their politicians and government did. Binance claims to support those innocent citizens, not the government.
Whether that's true or not (it's not) is up to educated crypto enthusiasts to figure out. What I'm here to figure out is how good Binance is as an exchange for gamers.
And in all honesty, not good.
Binance recently unveiled their "Zero bitcoin trading fees" campaign. But the wording is deliberately misleading. Sure, zero trading fees. But if you want to deposit or withdraw anything–including bitcoin–there are still fees. And since gamers aren't looking to trade, they're looking to buy coins and send them to their games, that feature is useless.
Binance has a 10-day waiting period for deposits into their account, which is bullshit. I can get money in and out of my old-fashioned bank in a quicker time than it takes for Binance to verify me.
Bull. Shit. Shit from a bull.
Not to mention, Binance only offers the biggest coins out there. You won't find any gaming tokens or metaverse coins listed on their exchange.
They do have some good staking options, much more than Coinbase. And their advanced trader platform comes with some fancy bells and whistles.
But as far as gamers are concerned, Binance sucks.
Pros
 Advanced trading options, choices for staking, largest exchange in the world comes with good security, claims it will not sanction user's wallets, promotes financial freedom
Cons
Deceptive about their fees, ridiculously long wait time for fiat deposits, no gaming tokens, was labeled a terrorist organization for several years, close ties to the Russian government, not user-friendly interface.
FTX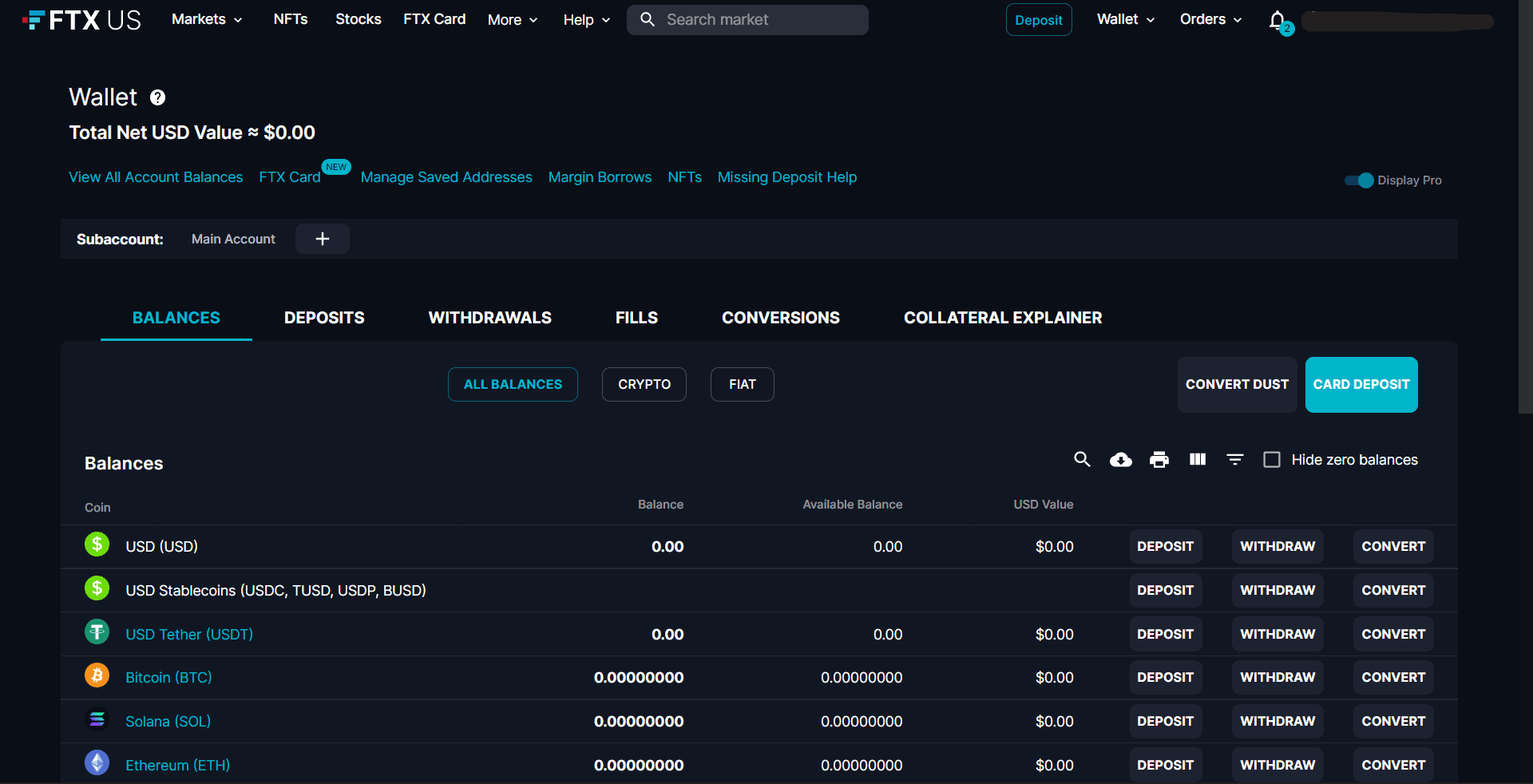 Ah yes, the FTX.
FTX is a mobile-friendly exchange offering users more options than just buying and selling crypto. They offer NFT hosting, market analysis, loans, lending, and their trading platform is top-notch.
Yet they still chaff with me.
FTX has the longest wait time for fiat deposits by far. It's a solid 12 business days. Not regular days, business days. Meaning if you deposit some fiat on the first on the month, you'll need to wait half the month before you can do anything with your money. And FTX is becoming a monopoly in the same way Amazon or Google did, they're buying up the competition. Crypto winter has been rough on everyone in the crypto community, except for FTX. FTX has been going around and buying up fellow exchanges who got hit a little too hard in this bear market. I'm not a fan of seeing monopolies in any industry.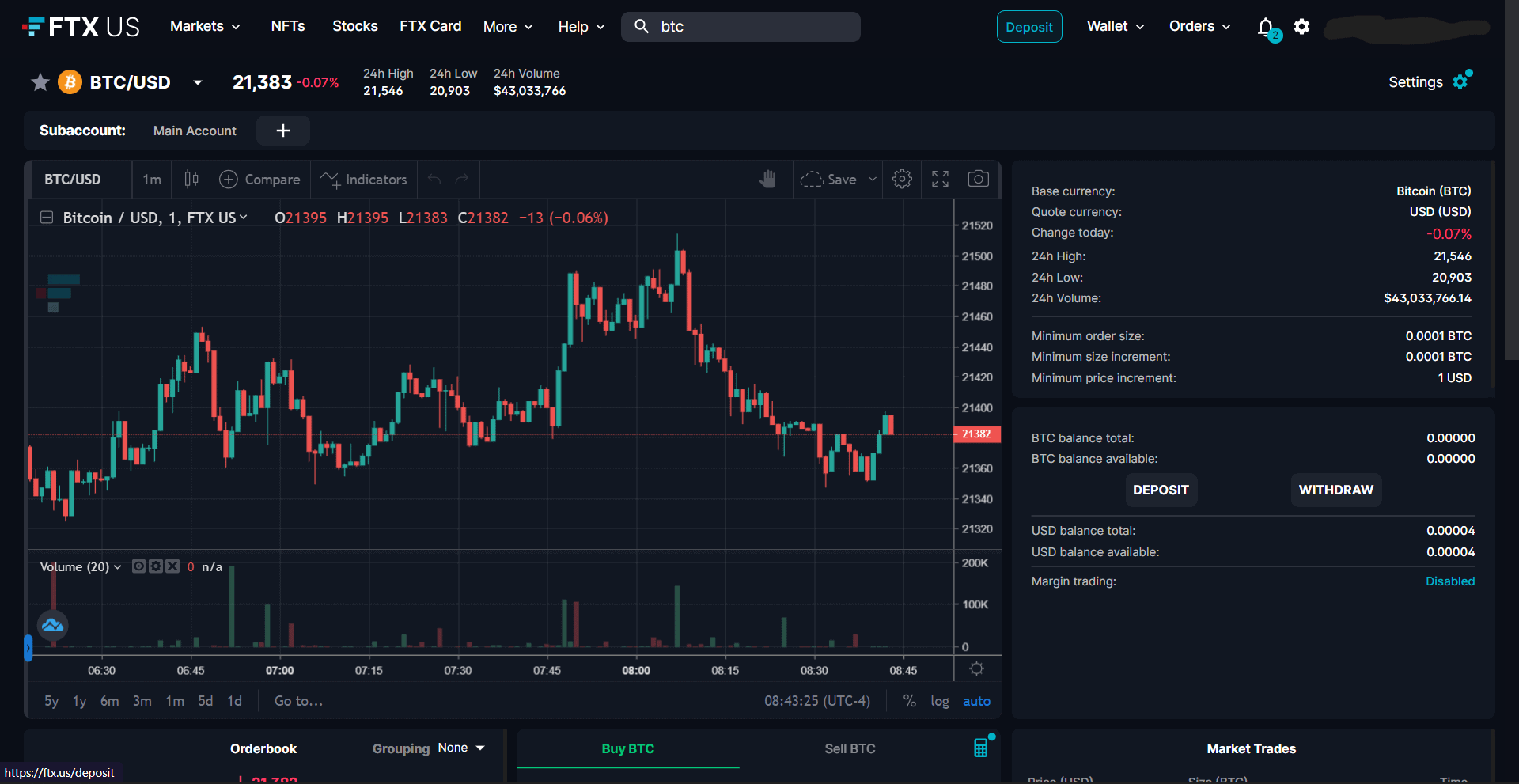 I must say a few positive things about FTX, however. They've partnered with Star Atlas, a large metaverse, to offer easy onboarding of the game's native token, Atlas. They have some sharp, advanced features for those looking to trade. They have their own credit card, which is really more of a reloadable gift card, but it's still a nice feature. Their NFT hosting wallet is nigh perfect, and their mobile app is five stars. 
But making me wait half a month to use my money? Selling all my data the second after it's created?
Kind of, sort of, maybe, just a little bit unacceptable. 
Pros
 NFT hosting, advanced trading features, FTX card, a partnership with Star Atlas means maybe more partnerships with other metaverses.
Cons
The absolute longest wait time for fiat deposits, no staking, no liquidity pools, sells your personal data.
KuCoin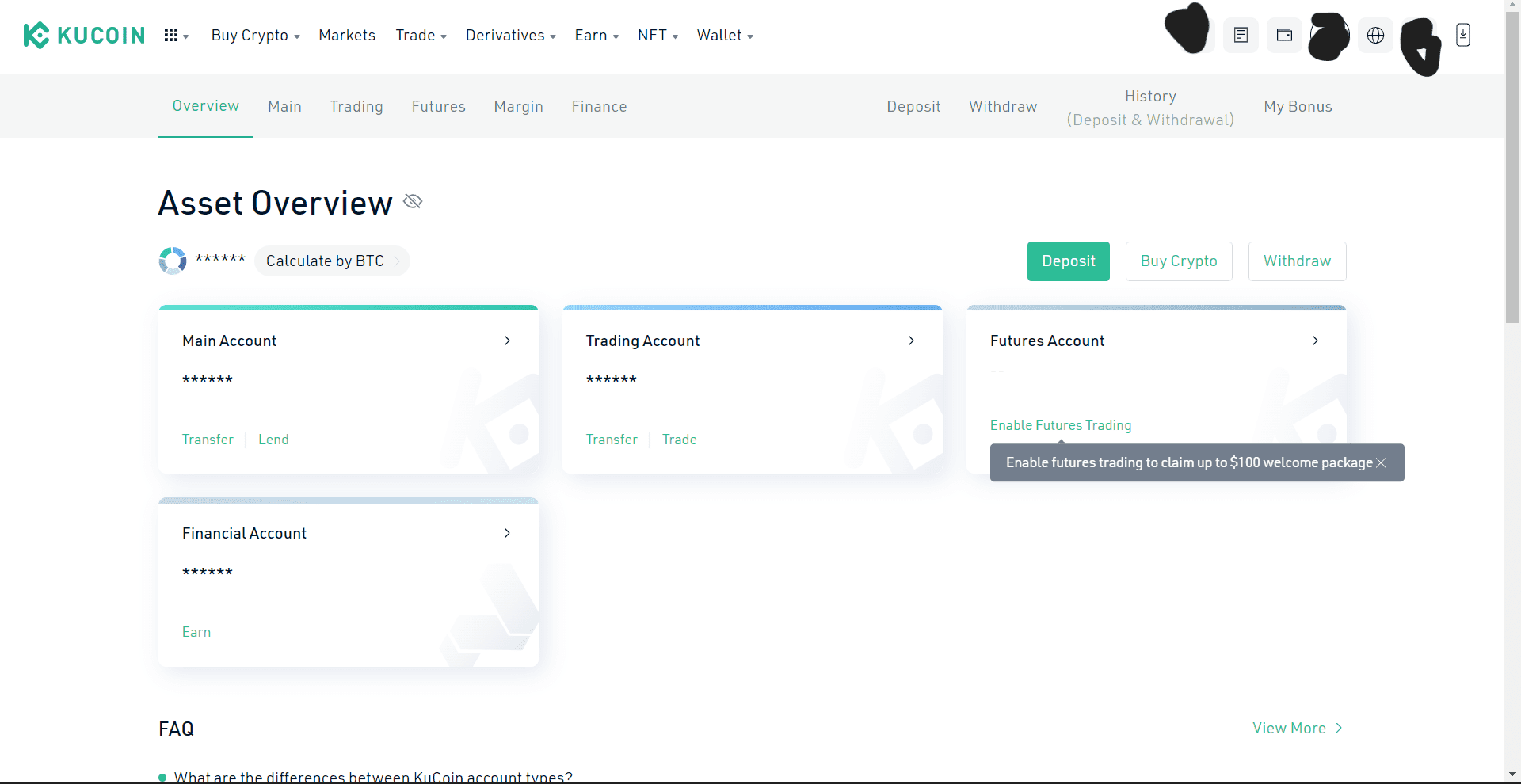 KuCoin is a crypto trading exchange that comes with the most advanced features of any exchange on this list. Long and short cryptocurrencies like their stocks and get more intuitive data while you do it. They have numerous features that other exchanges don't, and they've built an entire ecosystem on their platform. It's as if the goal of KuCoin is to be your one-stop shop for everything crypto. They don't want you to take your money anywhere else. They have community giveaways, raffles, prizes, and their own utility token that they give out as a reward to loyal investors.
KuCoin also offers what is potentially the quickest way to get your fiat dollars into crypto. With a credit card. The deposit fees are larger than Coinbase, and you'll have to verify your ID through a third-party credit service separately, but it's one of the fastest ways to onboard your money into crypto. There are pitfalls–not all credit cards are accepted, the fee is around 3% of your deposit, you can only buy bitcoin or ether, and sometimes it just doesn't work. I actually never got it to accept any credit card I own, so try it at your own risk.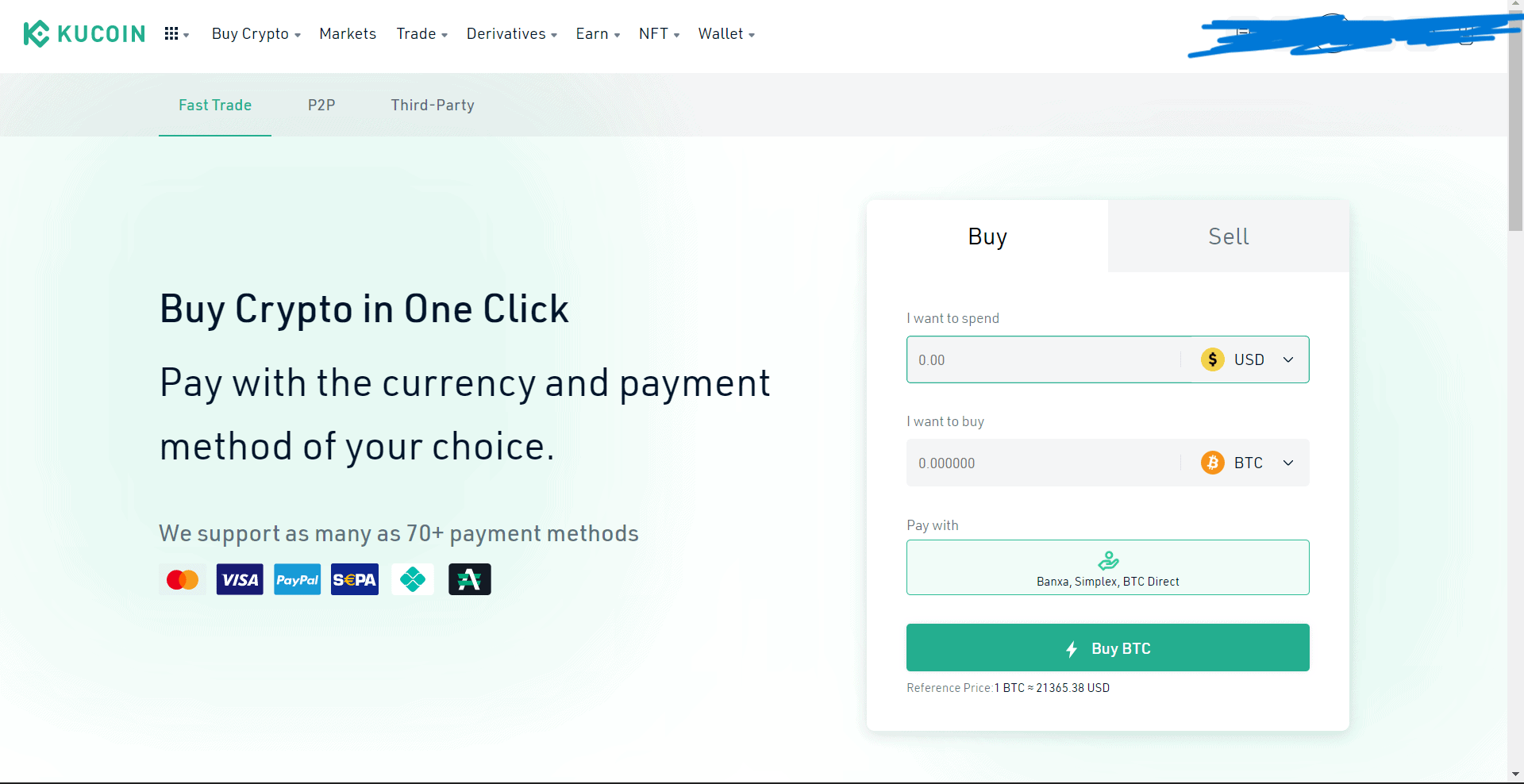 KuCoin also comes with hefty fees for withdrawals. Again, they really don't want you to take your money elsewhere, so they essentially punish you for doing so.
KuCoin has some gaming tokens, offers tons of staking options, and has levels of education based on your user experience. Are you a beginner? Intermediate? Advanced trader? They have videos and articles geared towards your level of intelligence.
Pros
Lots of staking options, good selection of gaming tokens, purchase crypto with a credit card, crypto community, one-stop-shop.
Cons
 Deposits with credit cards don't work, regular deposits come with fees and wait times, hefty withdrawal fees, overwhelming to newbies.
OKCoin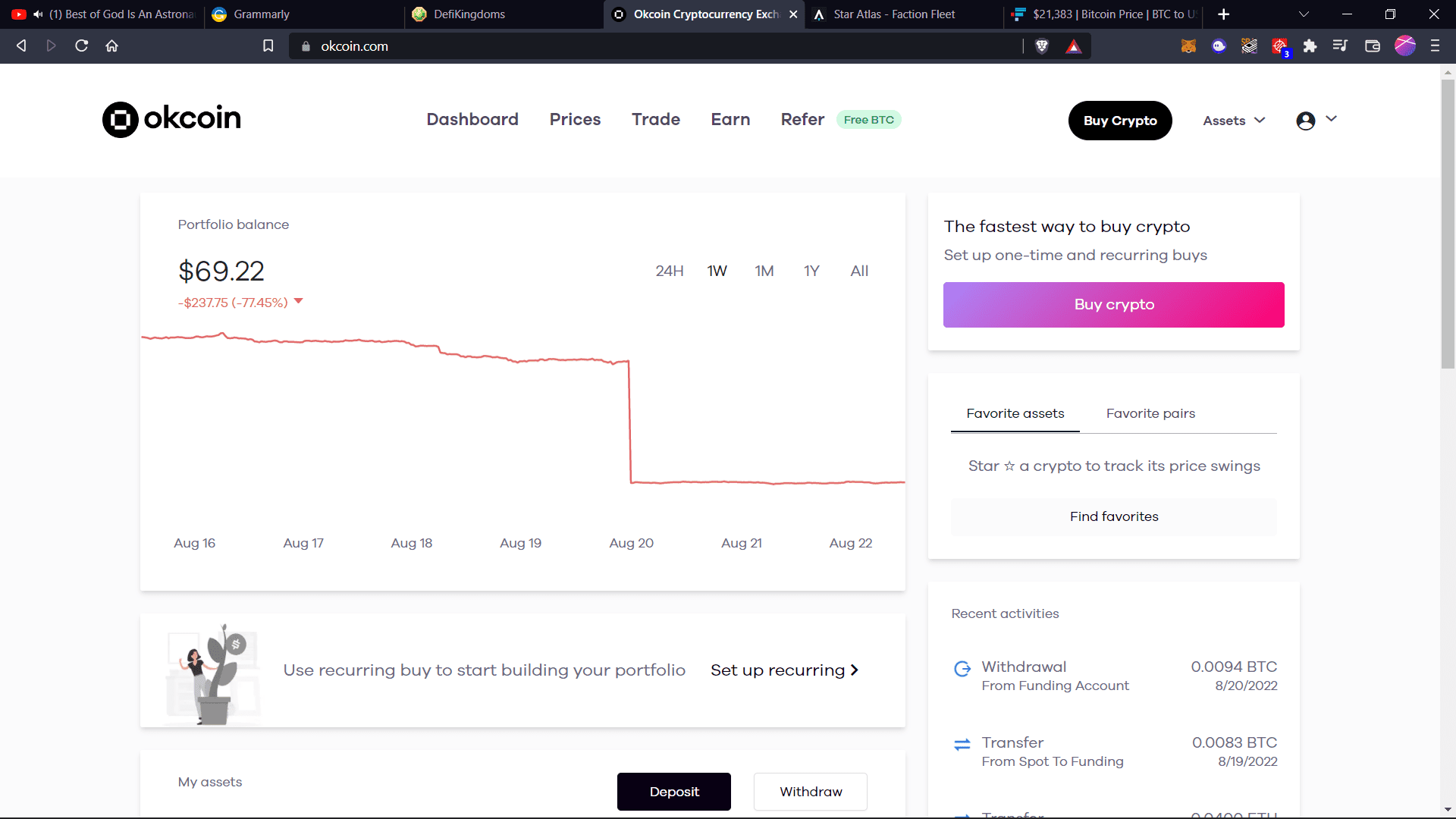 Humble yet powerful, OKCoin is a simple centralized exchange for simple crypto traders. They have straightforward deposits, extremely friendly customer support staff, and plenty of coins to choose from. They also have great staking options. Their website is clean and user-friendly to the max.
Oh, they also lie.
If you deposit fiat currency into your account, OKCoin will tell you the funds will be available in 5 days to withdraw. Not 5 business day, just 5 days.
Great!
Except that's not true. It's actually 10 days.
Why the discrepancy?
That's a good question. It's one I've put to OKCoin's friendly customer support staff. I've yet to get a good answer. Why they don't change that notification to 10 days is beyond me. 
Pros
Good selection of gaming tokens, small fees, solid staking options, excellent customer service.
Cons
Liars, not every gaming token is listed, lack of advanced trading features.
Crypto.com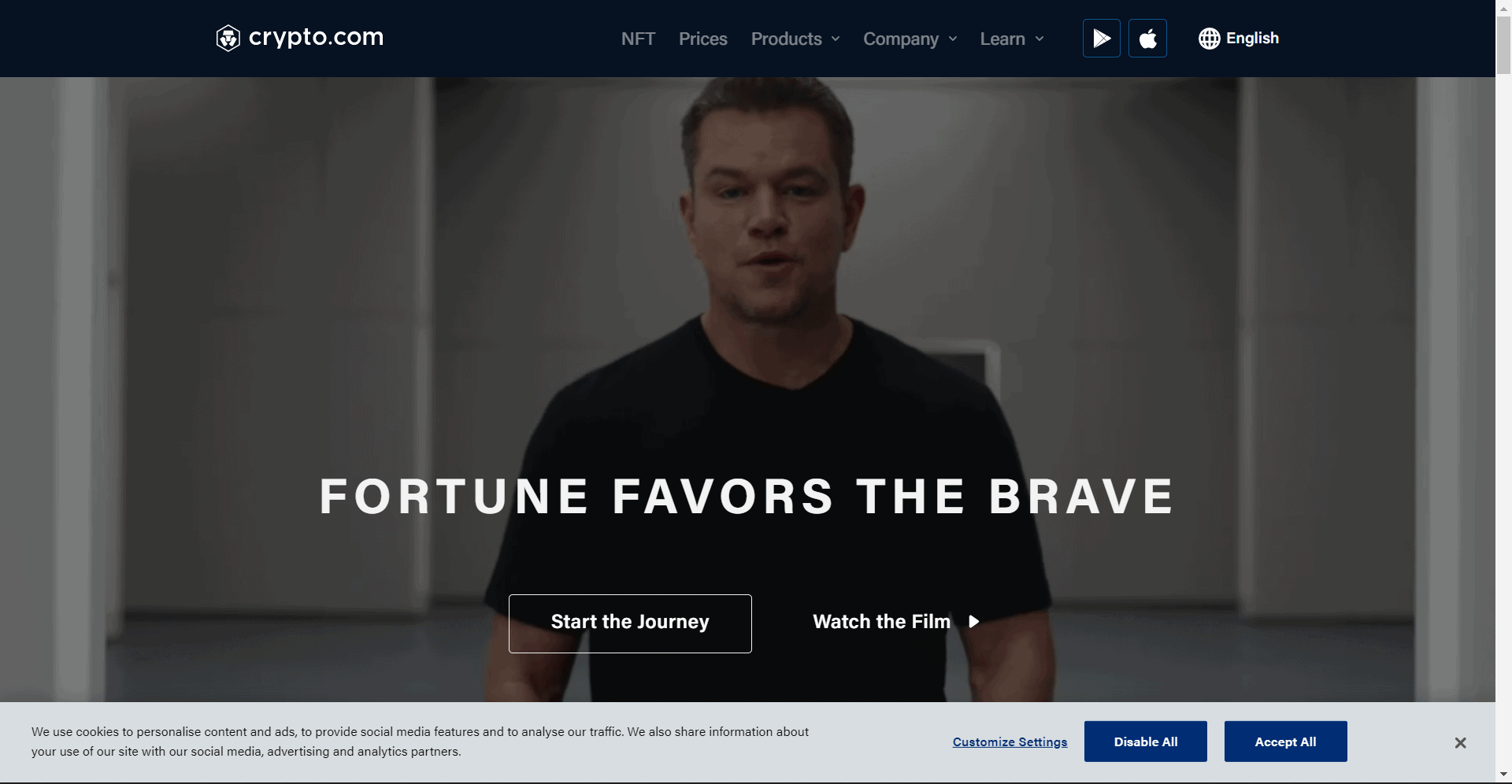 Crypto.com is an entirely mobile crypto trading platform. There is no website for you to visit. Well, there is. But it's just Matt Damon telling you that fortune favors the brave. There's no crypto to be seen. Which is weird. Why call themselves Crypto.com if there's nothing there?
Beats me.
Download their app and check out its features. Honestly, it's a pretty impressive app. Crypto.com has the largest selection of coins to purchase by far. Even those random, obscure coins you heard about from that obvious scambot on Twitter are listed on Crypto.com. They have many staking options and their own token you can stake for even higher rewards. Their most impressive feature to me is their credit card, a legit Visa credit card. There are levels of the card that come with different credit limits, cash back percentages, and shopping rewards. And each level is unlocked after users stake a particular value of tokens on the Crypto.com app. It's an exciting option for those looking to live their lives debanked.
They offer deposits from a bank account or a credit card. Bank deposits take about 5-business days, and credit card deposits are instant. 
So, where is the negative?
All those features I just mentioned up there? I can't access any of them.
I could, at first. I was able to purchase a few different currencies with my credit card and send them to my wallet immediately. It was awesome.
At some point, however, Crypto.com unlisted my card. And they've given me an error message whenever I try to connect it. To connect any of my cards, actually. Debit or credit. Also, they won't connect to my bank account because it's not supported for some reason.
I've had so many conversations with their customer service, I know two of them on a first-name basis. And they are undoubtedly the most unhelpful people in all of crypto. Clearly, since I still can't connect to my bank or cards. And my bank and cards are currently connected to all the other exchanges I listed above, so I don't think the problem lies with me.
Am I a little salty about this? 
Perhaps.
It would be nice to know why my account seems to be flagged, but that doesn't seem an option.
So while Crypto.com might have some fantastic crypto features, great deposit times, and plenty of coin options, I wouldn't know. And be aware that if you use them, it's not going to be smooth sailing.
Pros
Lots of coins to purchase, lots of coins to stake, a legit credit card, up-to-date news, credit and debit card deposits, bank deposits.
Cons
Mobile only, worst customer service in the business, higher deposit fees than most.
The best is subjective
So, who's the best?
That depends on you and your goals. 
Is your goal to have zero fees and keep as much of your money as possible? FTX.
Is your goal to start playing a game today? Crypto.com or KuCoin.
Is your goal to use one exchange and one exchange only because you don't want to mess with decentralized exchanges, swaps, or confusing wallets? KuCoin or Coinbase.
I have used each one of these exchanges at some point. And I've used plenty of others that failed, were sanctioned into oblivion, or just didn't make this list. My method is as follows:
I use OKCoin the most to onboard my fiat to crypto. It has manageable fees, and enough options for me. And I know that if something goes wrong, their customer support will actually help I also use FTX since I play Star Atlas, and it's easy to get funds right into the game from their platform, but I don't deposit fiat into FTX. I send the crypto I bought on OKCoin to FTX, and that way I can use it instantly. All those deposit wait times I mentioned are only for fiat deposits. Deposited crypto is accessible immediately.
I also use KuCoin, since I need Harmony tokens to play DeFi Kingdoms. But again, I don't deposit fiat. I send the crypto from OKCoin over. 
When I first started, I used Coinbase a lot. It helped me learn the ins and outs of crypto, and I earned free crypto from their educational videos. But after I got more comfortable with my own wallets, different chains, and different tokens, I steered away from their hefty fees.
And as I mentioned, I used Crypto.com a lot. Until they kicked me off their platform and haven't let me back on.
So. What is the best centralized crypto exchange for gamers?
Alas, I don't think it's been made yet. Hopefully, there are ambitious venture capitalists and entrepreneurs out there looking to fill this need in the gaming community.
For now, the best is subjective.
To me, the best is OKCoin. Followed by KuCoin, then FTX.
And I'd like to note that these are just centralized exchanges.
Stick around and we'll do a deep dive into decentralized exchanges soon.
FAQs
Question: Why didn't you include Kraken on this list?
Answer: Kraken is indeed a large, popular crypto exchange, especially in America. But they don't take credit cards, only bank account deposits. And they don't work with my bank. So there is no way for me to get my money onto their platform. I could send my crypto over to them, but why? They aren't a game, they don't have NFTs, and their staking options are garbage. If your bank works with them, give them a shot. They could be worse. But I have zero experience with them, and they don't seem to want my money.
Question: What if someone opened an exchange that catered exclusively to web3 gamers?
Answer: Now you're talking my language. Tell them to send me a message so we can form a brain trust and get the project started. There is a need in the industry for this, and someone could capitalize on that if they chose.
Question: What did you do to get your Crypto.com account flagged?
Answer: I have a suspicion I was a little too rude to a customer service agent. But in my defense, I think anyone would be angry logging onto an account associated with a lot of money to find someone other than them had been on recently and messed with a bunch of settings. I wanted to know why, so I reached out to customer service. Maybe they were unhelpful. Maybe I got angrier. I have no confirmation of this, but ever since then I can't use their service. So I think it has something to do with my colorful choice of words.
In the end
The best centralized crypto exchange depends on you and the goals you have for your crypto portfolio. I know plenty of people who are die-hards for a single exchange. And I know people who've managed to get into web3 gaming without ever using one. For me, there is no best. I'm settling by working with these exchanges.
In the end, they are the banks of the digital world. And just like our world today, life is easier with a bank account. You don't have to cash checks manually, you get added security, and you get access to your funds quicker with direct deposit. Things are just easier. You can, of course, live life without a bank account for the most part, but it's so much more work.
Likewise, living in the web3 world is just easier with an account at a centralized exchange. Once your ID is verified, you can deposit whenever you want, you can buy and trade at will, and you have access to tools that can grow your wealth passively.
Of course, you don't need them. But life is just easier with them.
For more interesting reading check out: