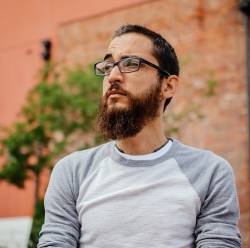 Latest posts by Victor Espinosa
(see all)
In the wide world of web3, there is a myriad of gaming genres for one to experience. Some games revolve around NFTs, there are classic strategy games with tokenomics incorporated, and there are metaverses that act as an umbrella for smaller games to thrive under. And then there are games that don't fit into any classification we have.
Upland is one of those games.
Welcome to another web3 gaming guide by yours truly.
So far, I've talked about Ethereum-based games, Enjin-based games, and Axie Infinity knock-offs for you to enjoy. But I've lived my life inside the chaotic markets of crypto for long enough to have my finger on the pulse of its nexus. I've lived, loved, and lost crypto in more quantities than I'd like to admit. My morning routine sees me quest with fantasy heroes, refuel space ships, and fight off goblins all while earning some passive income.
Please allow a humble degen like myself to give you a tour of the property-buying, city-building, hybrid metaverse game, Upland.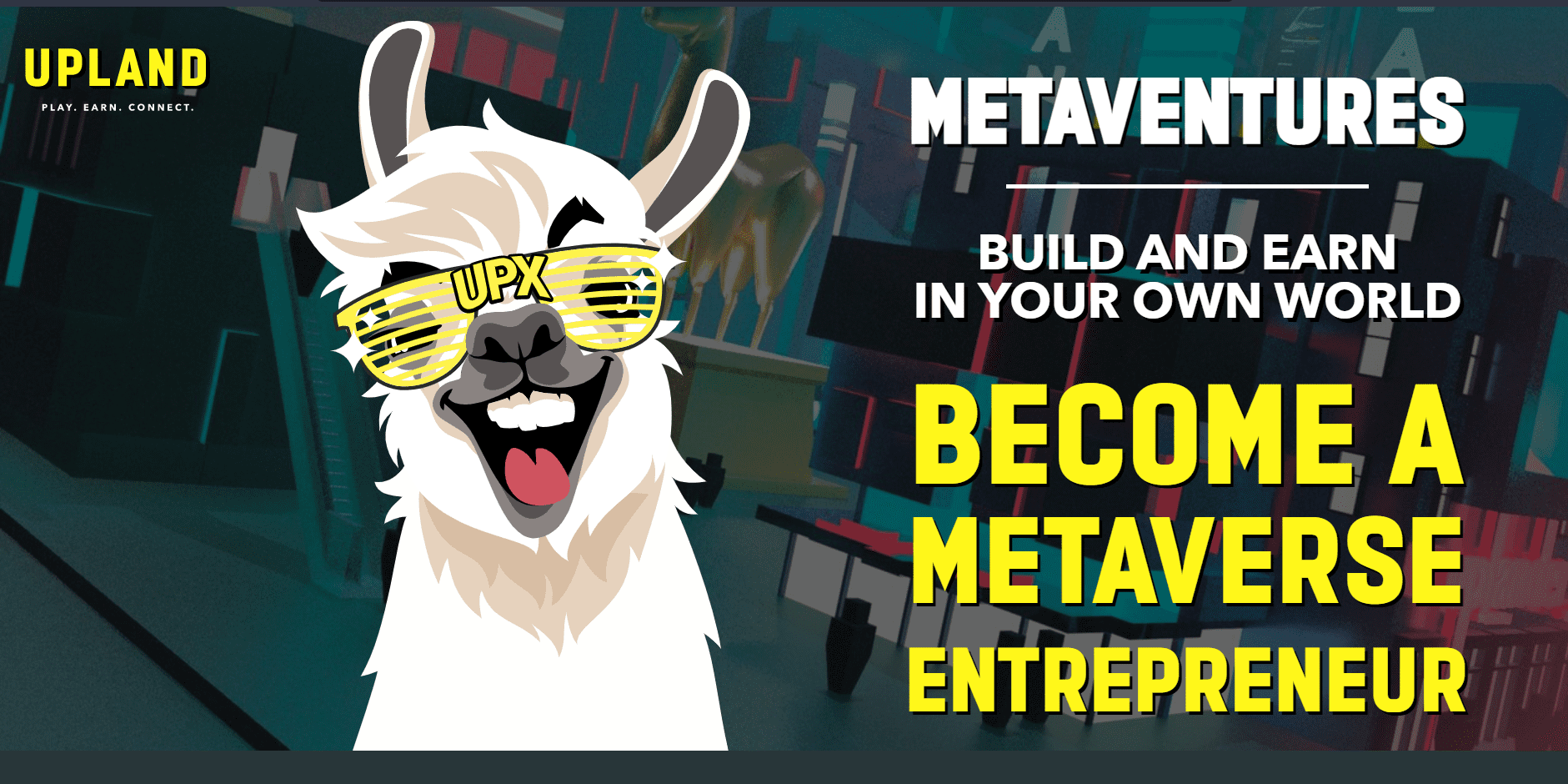 Key Info Up Front
If you don't feel like getting the entire rundown of what Upland has in store, no worries. Let me summarize it as quickly as possible.
The core of Upland is buying and selling digital property that is geolocated to actual property in the real world. Additionally, players can build structures on their properties, open metaverse stores to sell NFTs, follow sports teams, and travel around the Upland metaverse.
While developers have plans to layer other aspects and mechanics on top of Upland's core game, it all boils down to real estate. Buying and flipping digital real estate.
What Is Upland?
Are you good at real estate? Do you have an eye for the quality of properties? Do you have hundreds of dollars to spare?
If you answered yes to any of these questions, then Upland is the game for you!
Upland is a game that revolves around virtual real estate. But not just any virtual real estate. All of these digital properties are tethered to real-world locations. That property for sale on the street corner, 3605 Roosevelt St, is real property.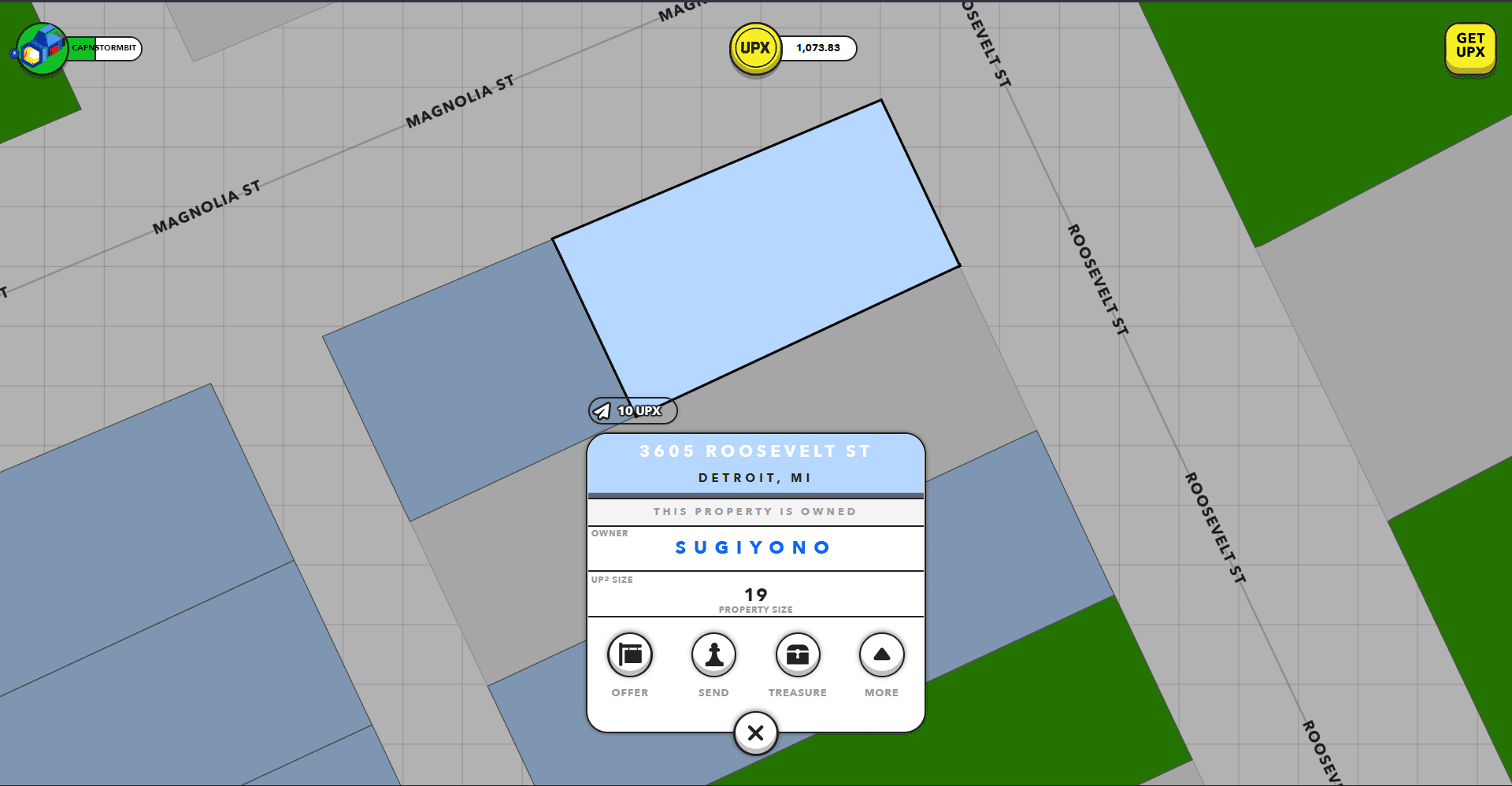 Everything you see in Upland represents something in the real world; that train station is really there in Detroit, and that sports stadium exists in Cleveland. 
Upland bills itself as a metaverse, and in a half-assed way, it is. But it lacks many components fundamental in other metaverses, like communication between players, a fully digital identity, and at least an attempt at virtual or augmented reality.
To be fair, everything I just mentioned is on Upland's roadmap to release later in 2022, so they are working at it.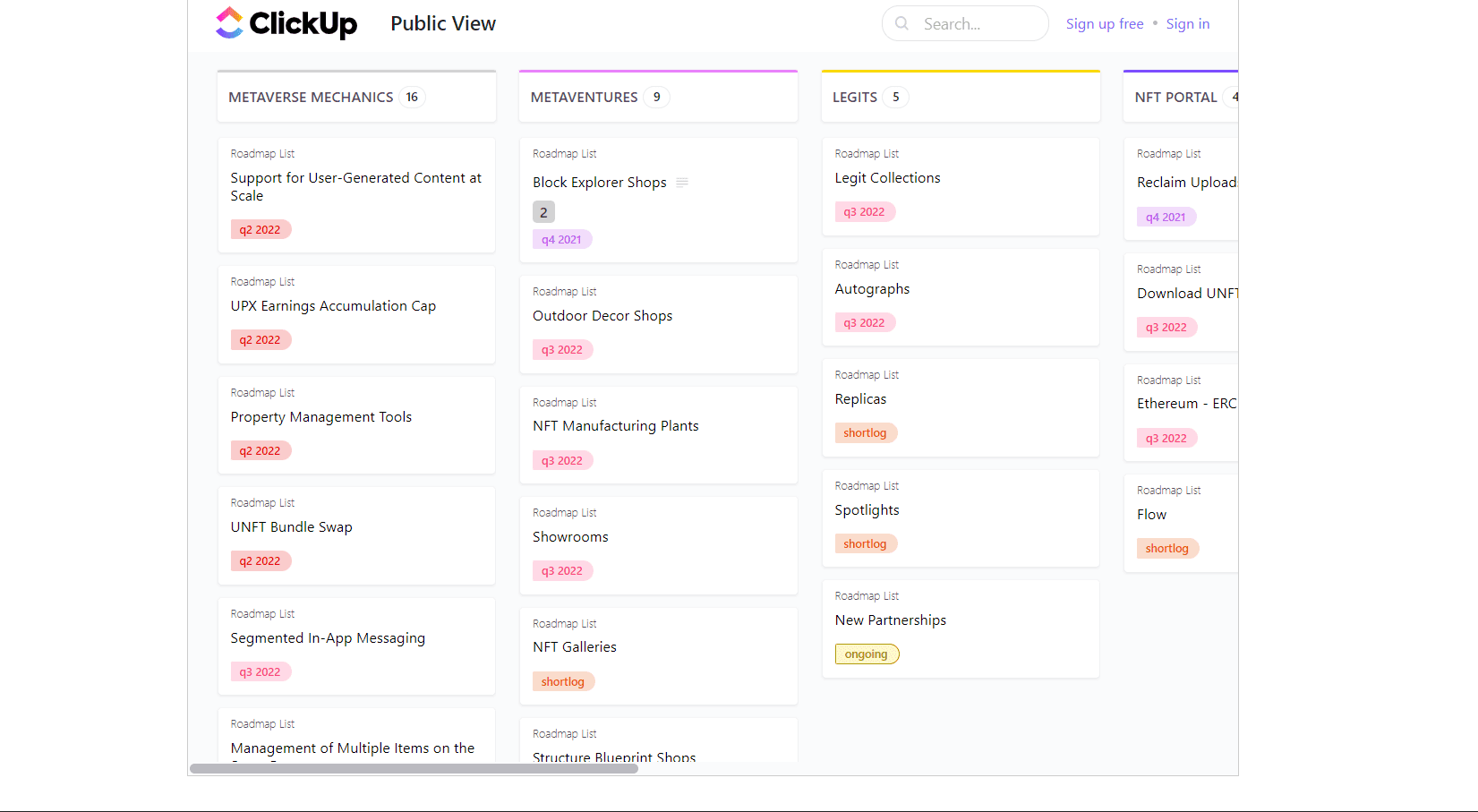 Upland has since added plenty more features to their 'metaverse' so players have more to do than stare at properties they can't afford all day. There are treasure hunts, NFT sales, and now players can build structures on properties they own. There are plans to incorporate racing mini-games, concerts, and official sports partners shortly.
But for now, Upland can be summed up in three words:
Digital Real Estate.
Upland And Web3
Upland is built on the EOS blockchain. Though it uses the UPX token, UPX is not technically a cryptocurrency. It's an in-game utility currency that allows for the purchase and minting of NFT properties.
Which is a bit unique on Upland's part, but who am I to judge?
Upland is still a blockchain, play-to-earn, web3, NFT game, but it lacks a unique cryptocurrency.
This presents a strange problem when onboarding money into Upland. What wallet does it use? Is it attached to a swap? Do they take cash or money orders?
It doesn't, it is not, and they do not, respectively.
Players have three choices when depositing money into Upland: Paypal, cryptocurrency, or credit card. All three are irreversible and turn your funds into UPX, which is immediately added to your account.
FYI: Paypal and crypto are the cheapest options. If you use a credit card, it's through a third-party service that will require ID verification and charge a hefty fee. You've been warned.
Who Made Upland?
Three people share the title Co-Founder of Upland: Dirk Lueth, Mani Honigstein, and Idan Zuckerman.
And having names with faces attached to them is a comforting sign in any crypto project.
The story goes that Drik, Mani, and Idan were playing a late-night Monopoly game in 2018 and discussing the proliferation of NFTs and blockchain technology that was taking over news cycles. They came up with the idea of a metaverse that revolved around a Monopoly-like game; buying and selling properties, completing collections to earn bonuses, etc.
And thus, Upland was born.
I mean, it wasn't that simple. They had to research which blockchain would be best for the project's long-term sustainability, find a financial backer that would accept payments on their behalf, and find developers to build the damn project in the first place.
But being the serial entrepreneurs they're known to be, Dirk, Mani, and Idan wasted no time getting to work.
How Do You Play Upland?
Understanding The Basics
Now we're getting to the good stuff. The meat and potatoes, as they say.
So, you've got a Paypal account, a couple of hundred dollars to spend, and a burning desire to throw it all away.
Follow me.
Head over to Play.Upland.Me and sign up for an account. (If you use this referral link, you'll get 10,000 extra UPX upon reaching Uplander status)
Pick your block explorer, which will act as your first avatar and will be used to explore Upland's metaverse.
Then, pick the city you want to start buying. Upland will tell you which cities still have properties available and which ones are sold out. The current cities on Upland are:
San Francisco, California

New York, New York

Fresno, California

Oakland, California

Chicago, Illinois

Cleveland, Ohio

Nashville, Tennessee

Detroit, Michigan

Kansas City, Missouri

New Orleans, Louisiana

Las Vegas, Nevada

Bakersfield, California

Rio de Janeiro, Brazil
Once you're in your city, Upland will throw a bunch of notifications at you. You can ignore most of them. They're about upcoming events and community engagements, and for new players they're downright overwhelming. Just focus on the fundamentals for now.
When you're logged in and ready to go, you'll see a screen similar to this.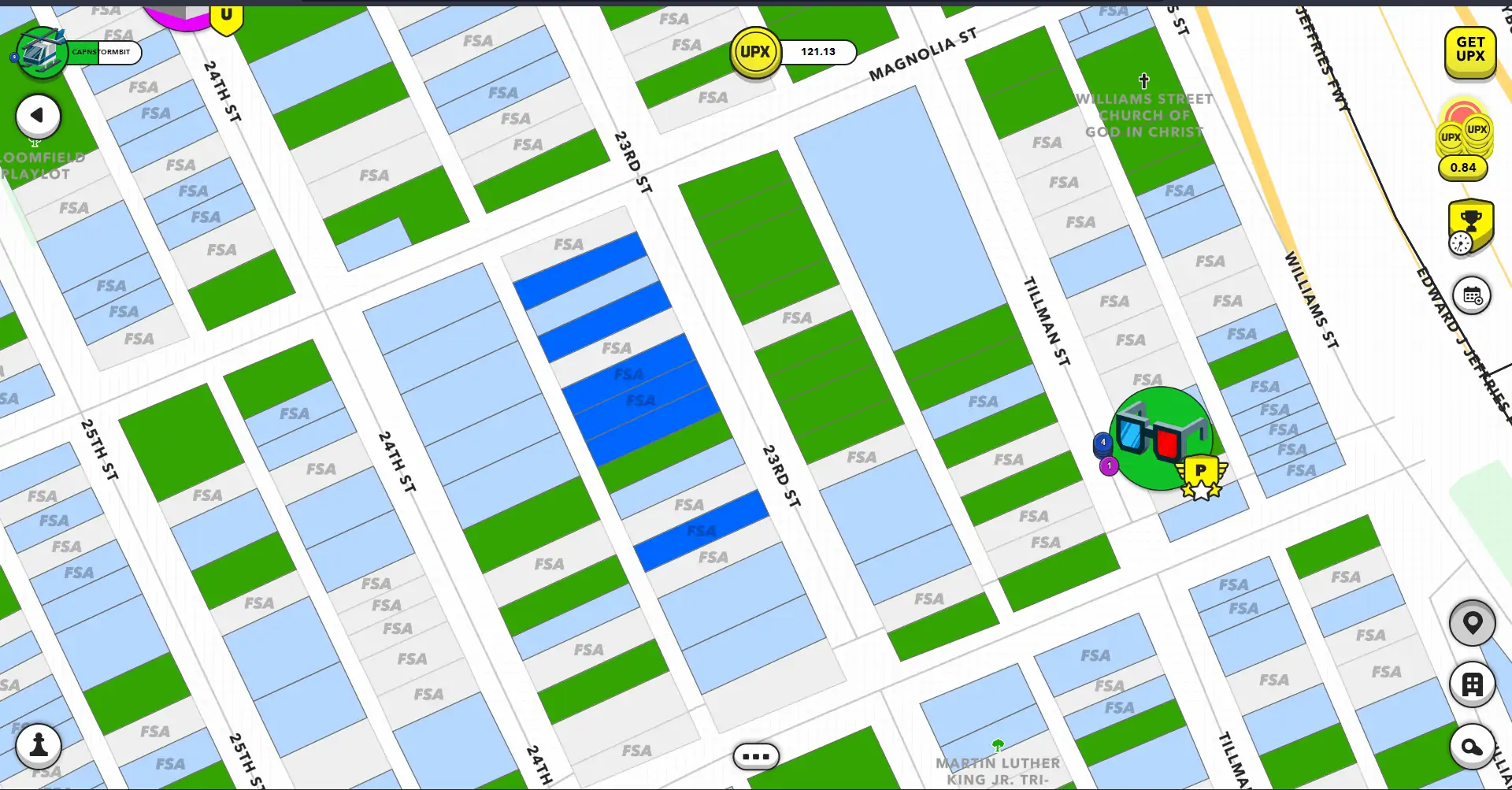 Your profile is in the upper left, your balance of UPX is at the top, and settings are on the bottom. You can zoom in to get a closer look at specific properties or zoom out to get a better look at the map.
The light blue properties are owned by other players and they're not up for sale. 
The dark green ones are owned by other players and they're up for sale. 
The dark blue ones are properties I own.
If you see any light green properties, those are properties that haven't been minted yet and are priced nice and cheap.
Buying Property
First, you need UPX. Head to the top right corner button that says, GET UPX.
This is where your Paypal account will come in.
Your prices are as follows:
5,000 UPX = $4.99

10,000 UPX = $9.99

20,000 UPX = $19.99

50,000 UPX = $49.99

100,000 UPX = $99.99

400,000 UPX = $399.99

1,000,000 UPX = $999.99

3,000,000 UPX = $2,999.99

10,000,000 UPX = $9,999.99

25,000,000 UPX = $24,999.99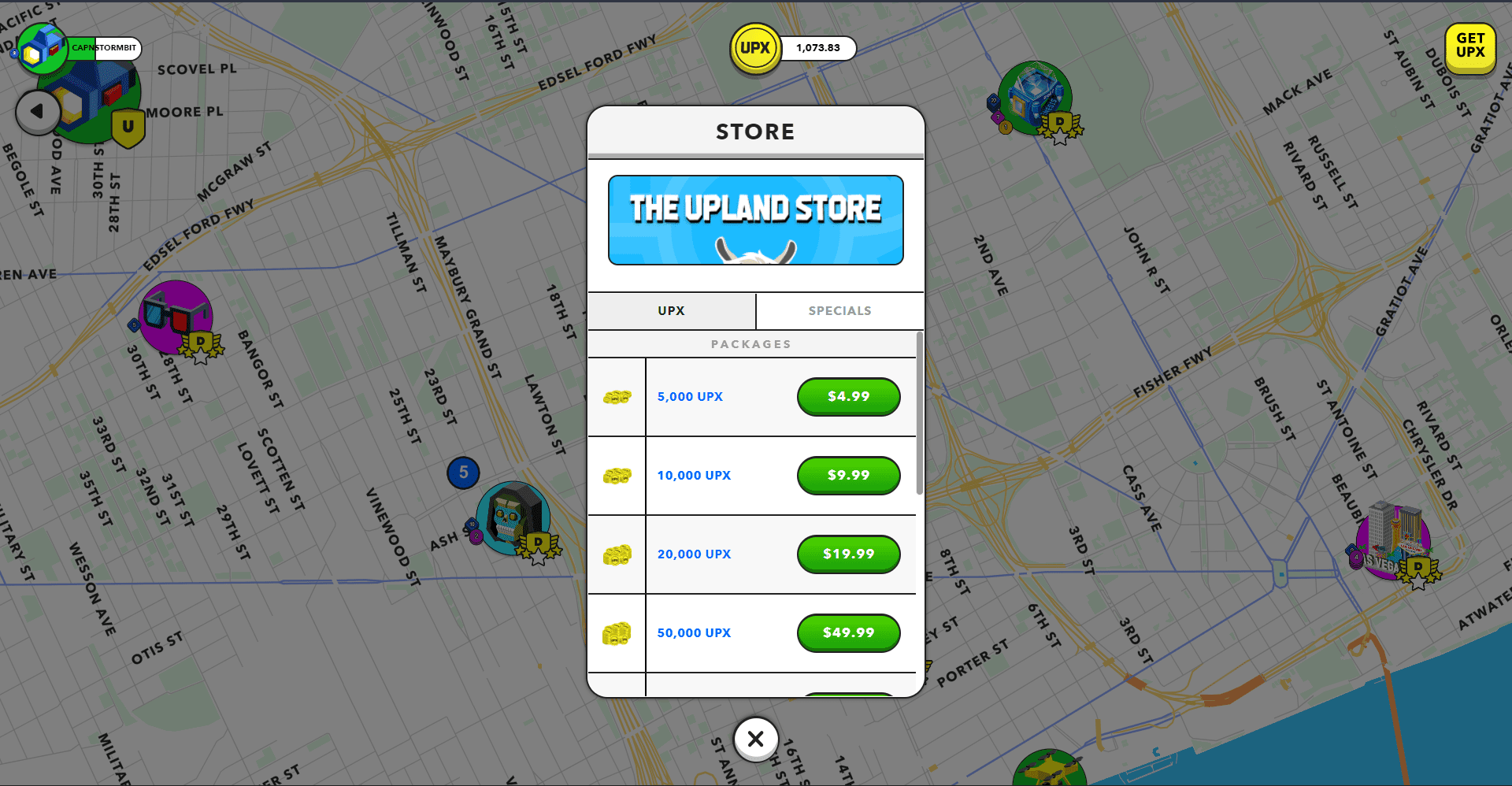 IMPORTANT: There are properties in Upland called FSA (Fair Start Act) properties. These properties are specifically for newcomers to the Upland metaverse. They are priced low and often in good starter neighborhoods, and you can only purchase them if your net worth is low enough–below 10,000 UPX. FSA properties are essential for building your first collection and getting starter properties for cheap.
SO! If you're just starting, you might think you're better off just dumping $100 bucks in and getting to work.
DO NOT DO THIS.
You will immediately be disqualified from purchasing FSA properties and will be stuck buying expensive properties right off the bat.
In Upland, there are investor tiers.
Visitor: 0 – 10,000 UPX

Uplander: 10,000 – 100,000 UPX

Pro: 100,000 – 1,000,000 UPX

Director: 1,000,000 – 10,000,000 UPX

Executive: 10,000,000 – 100,000,000 UPX

Chief Executive: 100,000,000 – ??? UPX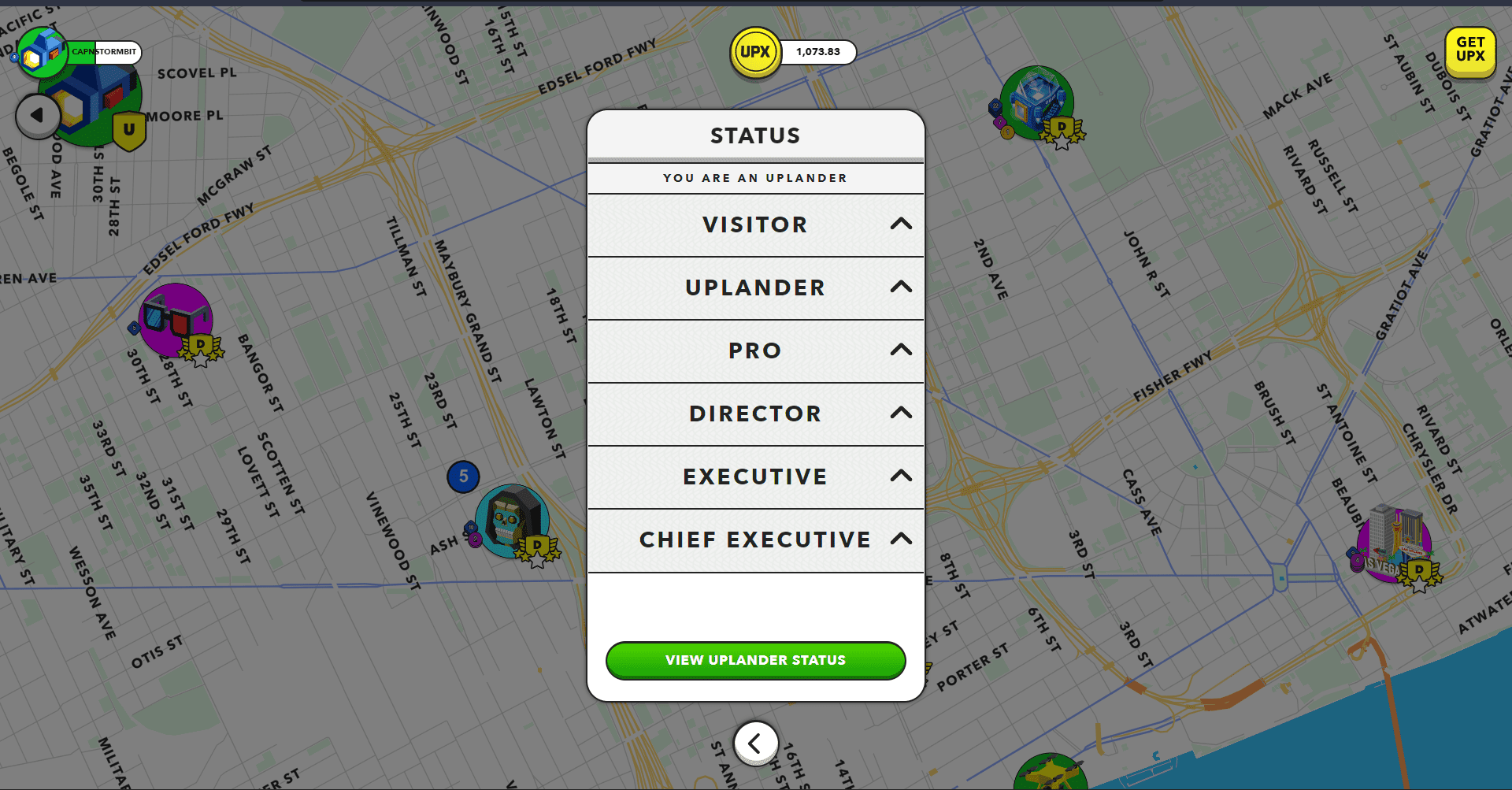 Once you reach Uplander status, you lose out on FSA properties. And because they're so essential for getting a good start in Upland, you want as many FSA properties in your portfolio to start with.
Therefore, keep your UPX balance low. Only put in $5 at a time, buying an FSA property with each deposit.
In this way, you can make your investment go much further.
What To Do With Your Property
So, you've got yourself some land. You bought FSAs and kept your balance low. Now, you're probably an Uplander at this point because your net worth is based on your UPX balance and your property values. But even if your net worth is over 40,000 UPX because you own several properties, as long as you keep your UPX account balance to less than 10,000, you can purchase FSAs for days. For days, I say!
Which is precisely what I recommend you do.
And now you're wondering what to do with the entire city block you own, yes?
Thankfully, you've got options.
Option 1: Go on some treasure hunts.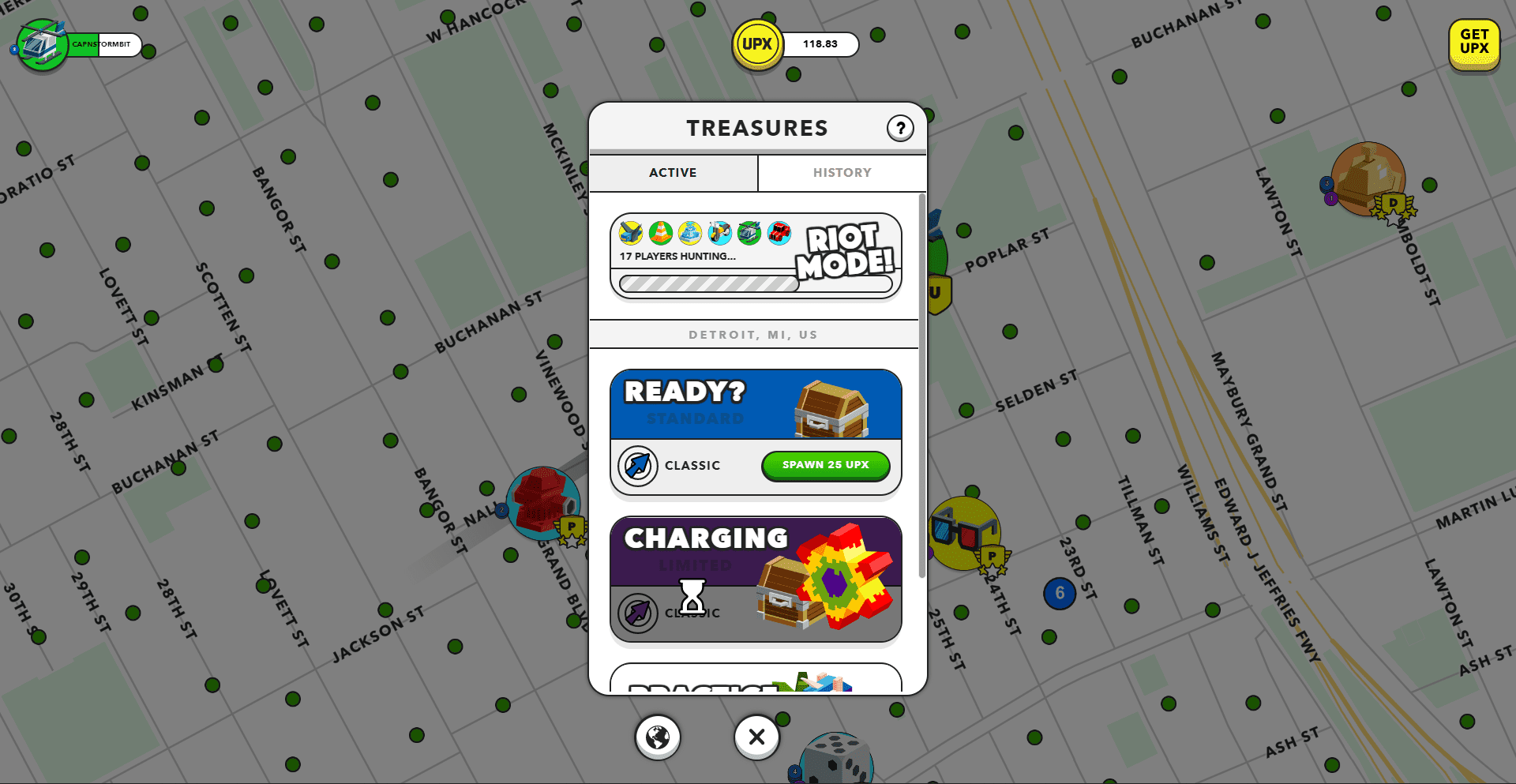 Upland has daily treasure hunts for local regions, and players can activate one free treasure hunt for themselves a day. To treasure hunt, click on any property that your block explorer is close to, and click the treasure button. A colored arrow will appear on the property, pointing you toward the location of treasure. Navigate your block explorer around to follow the arrows, and eventually you'll find the property that has the treasure.
I've only succeeded at this a handful of times, and it was by total accident. In all the times I've hunted for treasure, I spend far more fees sending my explorer around than I get back in prizes.
Option 2: Build something
Upland recently introduced Spark, which acts like its own currency and is used to build structures on minted property. You can only reliably obtain Spark by completing community challenges or treasure hunts. At times, the Upland store will feature a Spark sale, and if you level up to Executive or Chief Executive status, you'll earn some Spark. But those are much harder ways to obtain Spark, which makes it a rare commodity in Upland.
However, if you're lucky enough to capitalize on a sale when it happens, or you're the best treasure hunter ever, you'll have plenty of Spark to work with.
Option 3: Complete Collections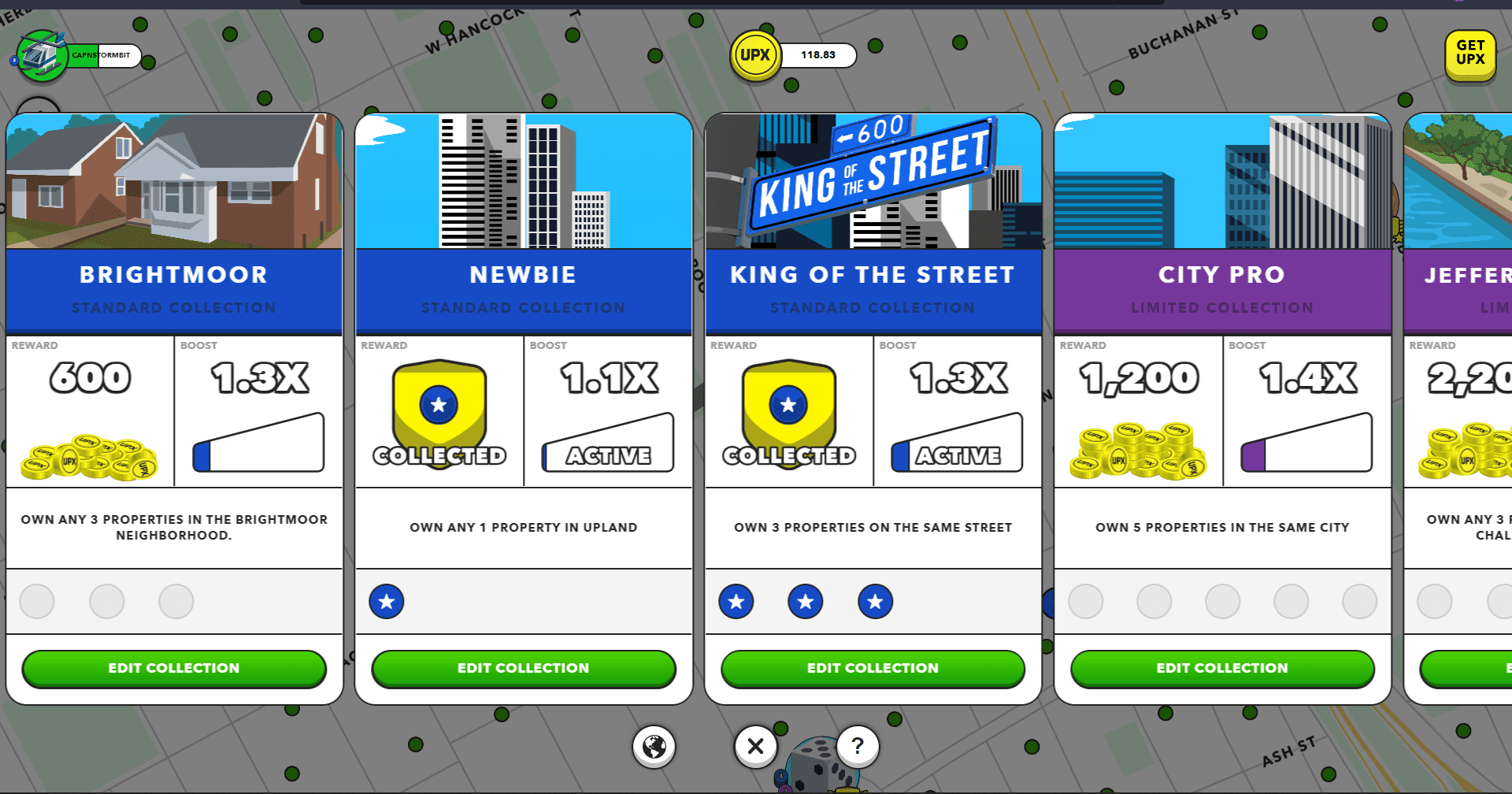 A great way to put your properties to use is by putting them into collections. And you should absolutely be buying property with the goal of completing collections.
For every property you own, you earn rent in UPX. It's not much unless you own the waterfront properties, but it's something. If you want to increase that rent, place your properties in collections. For each collection you complete, you'll earn a one-time UPX bonus and a boost to your monthly rewards. Unfortunately, once a property is used for one collection, it can no longer be used for others. So if you want to complete as many collections as possible, you'll need to be one determined property owner. 
Option 4: Flip your property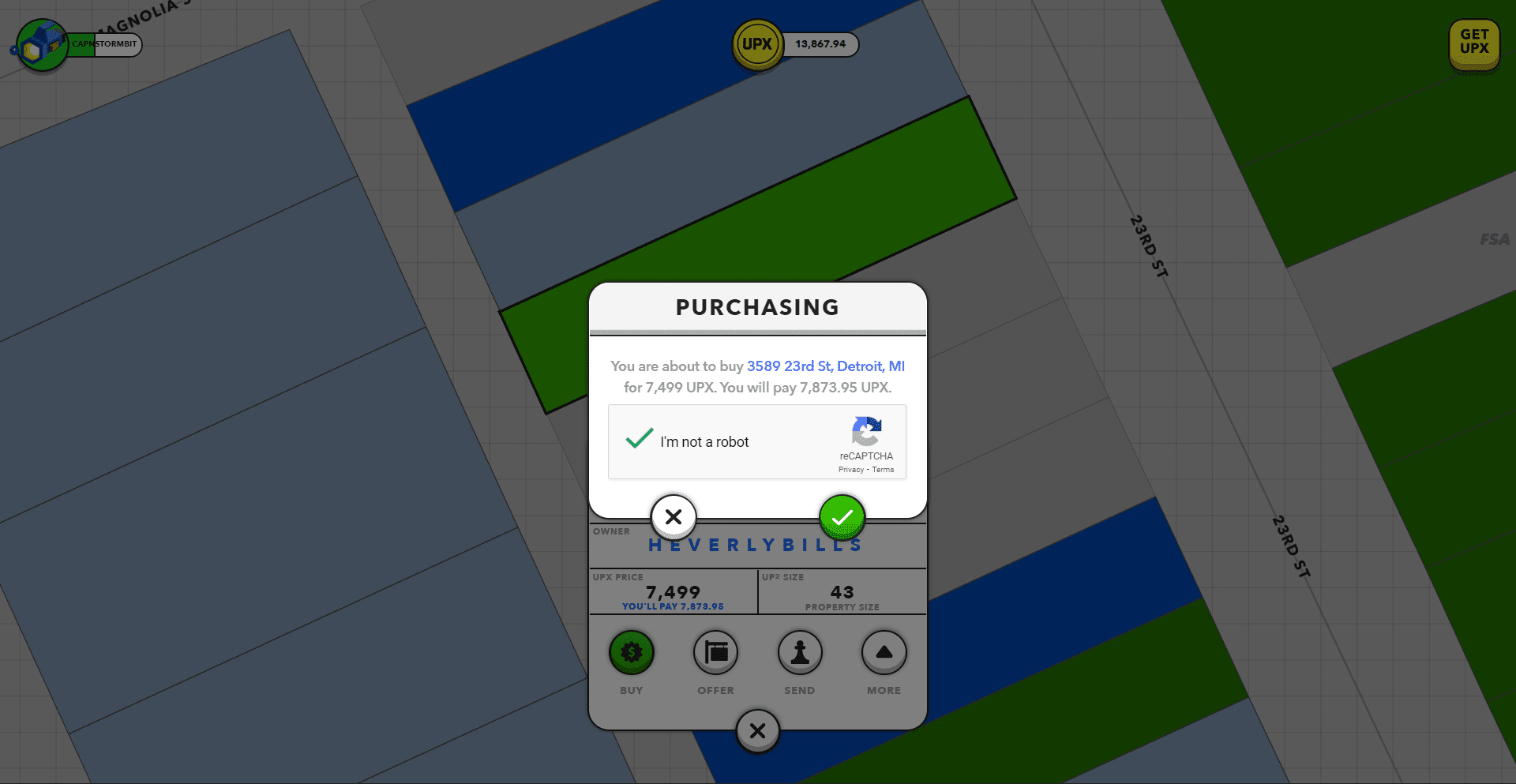 For any NFT game veterans, this is a familiar practice. You purchase a property that you think is in a good location (near the train station, the river, downtown, the sports stadium, etc.), hold it for a period of time, then sell it for higher than you purchased it.
That sounds super simple, and that's because it is. The only real factor here is time.
When Upland first started, they only had property in San Francisco. And it was dirt cheap because nobody knew what to expect. Now, San Fran is the most expensive city to buy. New York followed. Then Nashville, then Chicago and Cleveland. And the people who made the most money in those cities were people who bought property early–right when the city went live on Upland–and held it. As time goes on, more people buy into Upland and buy into a new city. Which raises the property value in that area. Which allows you to sell your property for higher than you purchased it. And if you bought FSAs at their forcibly low price, you get a significant increase in your property value.
The only thing you have to ask yourself is when is the best time to sell? Now, when the prices are pretty good? Or in 6 months, when they could be even better?
Making Money In Upland
You earn 14.7% passive income on every property you own, you can boost that by completing collections, and you can earn bonuses by hunting for treasure. That's making money.
Oh, but you mean actual money, don't you?
Alas, because UPX isn't technically a cryptocurrency, you can't trade it to a wallet or sell it on an exchange. It's tied to your account. The only way for you to turn UPX back into dollars is…
You can't.
But don't run away yet!
You can turn properties into dollars, which is the next best thing. When you own a property and put it up for sale, you can choose if you want to charge UPX or dollars. It's part of Upland's NFT-to-USD program. The dollars are cashed out through Paypal.
But why would you want to take money out of Upland when you can use it to buy more virtual real estate?
What's that?
Because real money is better?
I can't argue that.
The Future Of Upland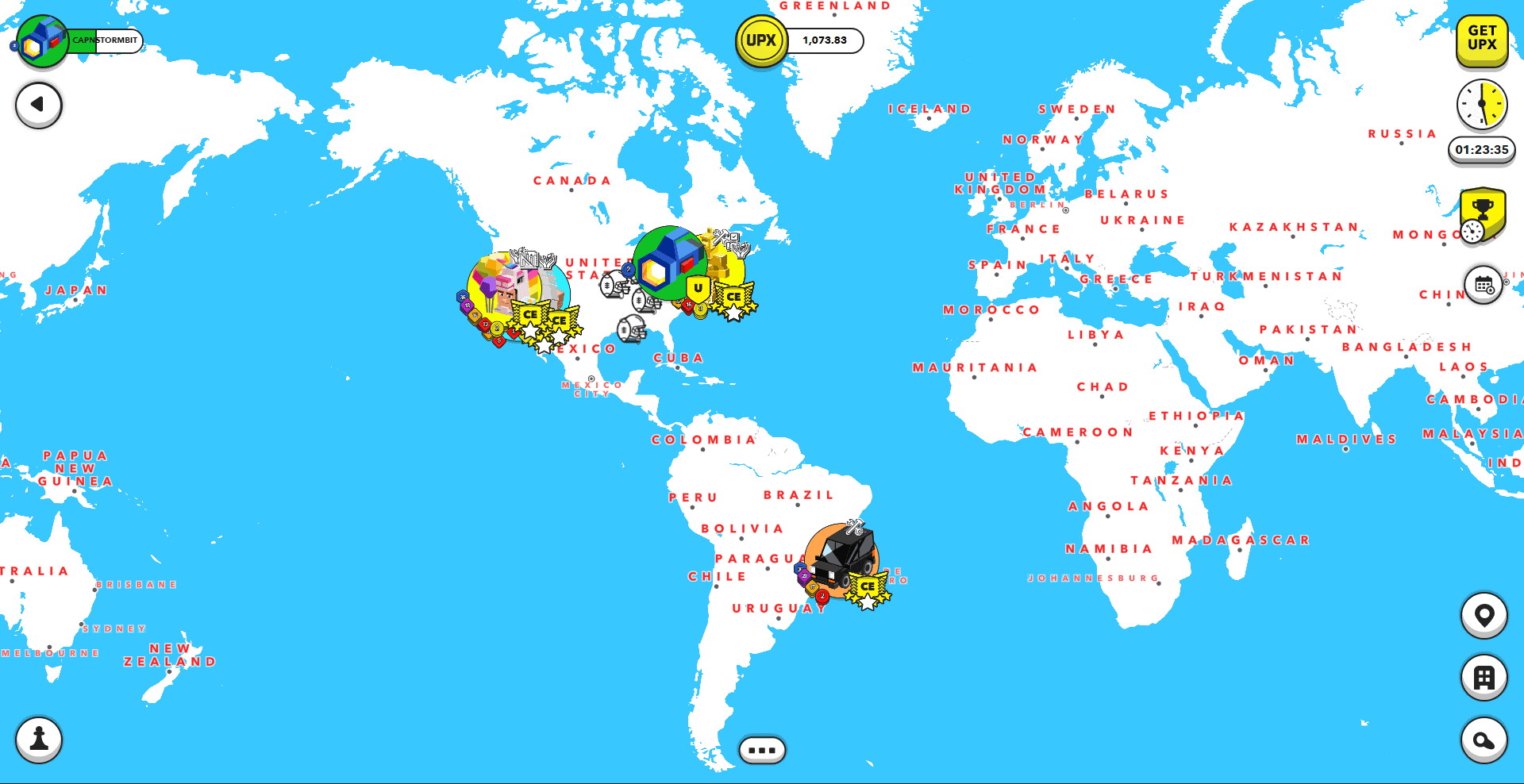 Here are a few statistics that you're going to read often from me:
59% of all crypto projects fail within the first nine months.

Around 92% of all crypto projects have failed so far.

Each year, around 50% of all new projects close their doors.
Upland has been around since 2019, and they're still going strong. Heck, they just unveiled their newest city in Rio de Janeiro, Brazil. They've gone international!
Upland has attracted some sizeable investors, and they've been around for years. They're in a good position. They have lots of potential before them.
Looking at their roadmap, which is more interactive and transparent than 99% of other roadmaps out there, players can expect some big additions in the not-so-distant future. Voting, community messaging, and cars are all on the horizon.
Upland has also partnered with the NFL for what they call Legits. During NFL season, Uplanders can head to virtual stadiums within Upland to purchase exclusive NFT memorabilia with the team's regalia. They also have racing, concerts, and plenty more cities to incorporate into the game.
With games like Decentraland and the Sandbox setting such lucrative examples, it's only a matter of time before big-name retail investors start to put their money into the game's product instead of the game's development team.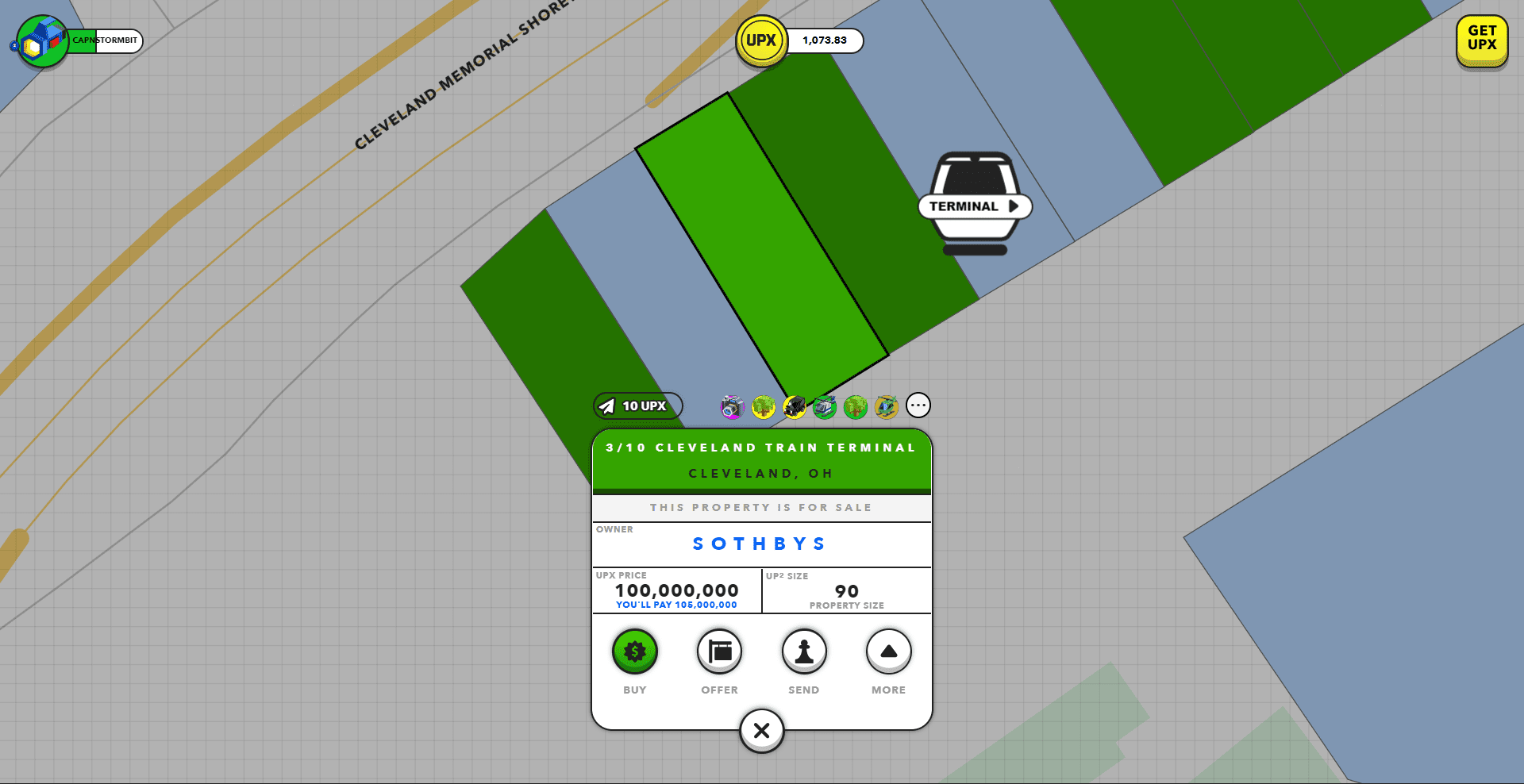 Things To Watch For
I firmly believe that if one looks hard enough at any web3 game in existence, they will find an irregularity. A bit of Ponzi, if you catch my drift. A drop of unsustainability, if you'll humor me. A slice of something the government's regulatory committees might frown upon.
You get the point.
A project is only as strong as its weakest link, and with such nascent technology integrated into these projects, there are potential weak links everywhere.
In Upland, players are pretty darn secure. The project has been around for years, the developers are front and center, and the community is strong and vibrant.
Because Upland isn't technically a cryptocurrency, it's not volatile. The price is always pegged. So players don't need to worry about dumping their life savings into the project and the currency then going to zero. But they do have to worry about getting their life savings back out again.
Some might complain that Upland has little gameplay to show even after being around for so long. I would disagree with that. The game is, first and foremost, a real estate investment platform with some gamified qualities to it. If players don't understand that when first getting into Upland, I can see how they might get frustrated at the experience. But if you've DYOR and you're looking forward to flipping virtual real estate, then Upland is the best web3 game for you.
Similar Web3 Games
If you're looking for alternatives to Upland in the web3 community, I can point you in the right direction. The Sandbox, Decentraland, DeFi Kingdoms, and Cryptoblades Kingdoms all have virtual land incorporated into their metaverse. None of them focus on land as much as Upland does, but they are still building. In the near future, some of them may have digital real estate markets to rival Upland's monopoly.
Throughout all of web3, Upland takes the cake for virtual real estate investing. No other IP out there is making a game geolocated to real-world properties that you can buy and sell. But some games are getting close. The Sandbox and Decentraland are the closest. And though their real estate isn't as developed or realistic as Upland, it's somehow far more lucrative. 
Land in Upland can sell for tens of thousands of dollars–or 20,000,000 UPX–but that's the top of their price range. You can find plenty of FSA properties for less than $6–or 6,000 UPX.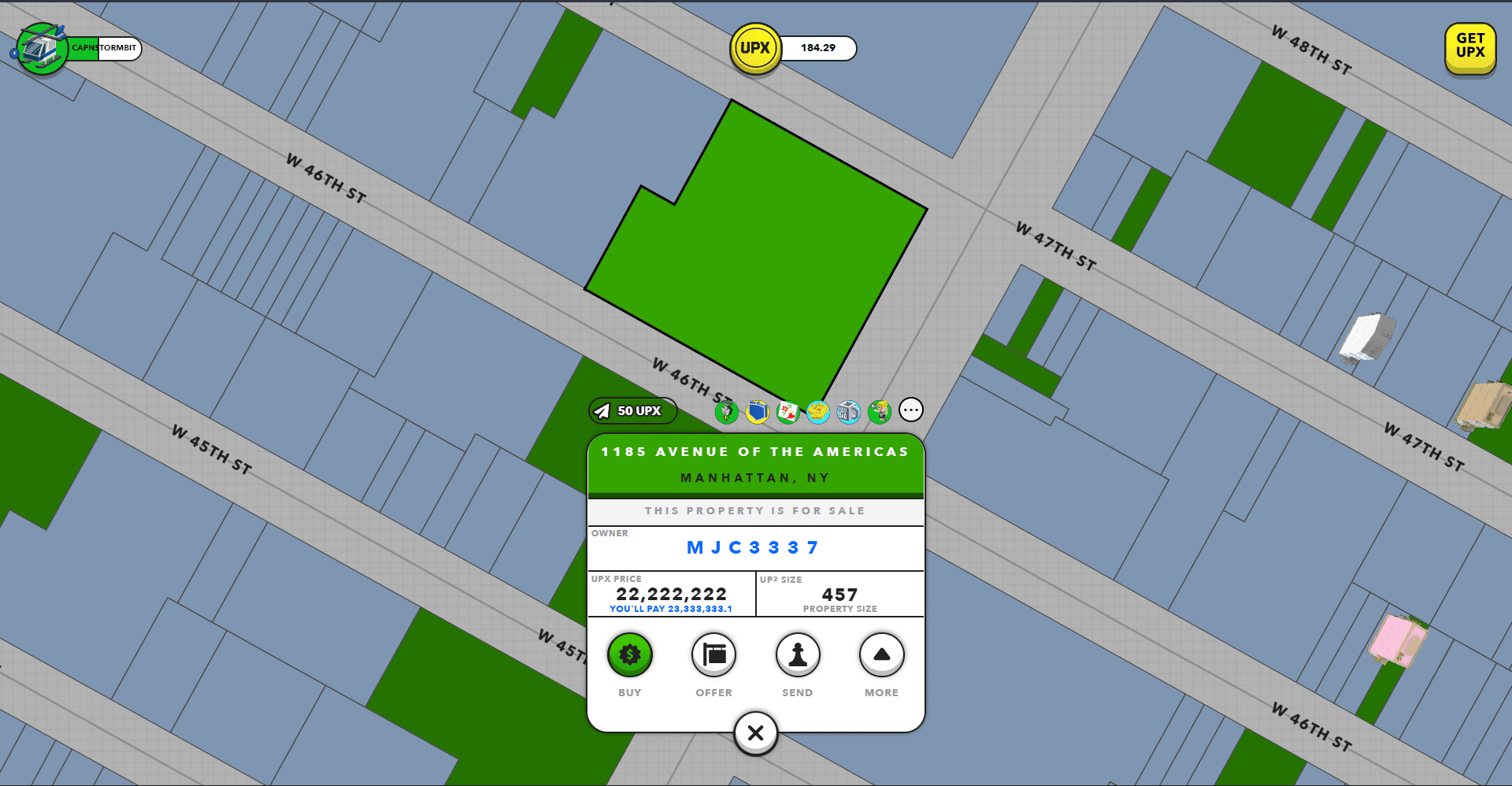 The Average price of land in the Sandbox is over $10,000. It's jumped an average of $1,200 to $14,000 per plot of land in about a year. And Dectraland isn't far behind them, with some land selling for over $1 million. In fact, both the Sandbox and Decentraland could act as inspiration for Upland. Large retail investors are snapping up property to one day corner the virtual market the same as the physical market. If Upland incorporates more metaverse features similar to the Sandbox and Decentraland–concerts, mini-games, virtual hangouts, socialization opportunities–they may find massive retail investors moving to snap up lucrative properties.
DeFi Kingdoms and Cryptoblades Kingdoms both have the ability to purchase digital land in their growing metaverses, but they have varying levels of utility. In DeFi Kingdoms, you can't do shit with your land. You can't even sell it yet. In Cryptoblades Kingdoms, in order to do anything you must own land. But their digital land plots sold out long ago, and even if you do own one, there's nothing to do in the game yet.
FAQs
Question: I saw a Youtube video where someone said they were making over $2,000 monthly from rental income. Is that possible?
Answer: Yes. But keep in mind just how much of an investment that person must have made to generate that kind of rent. You earn 14.7% rent standard on every property you own. Some collections can boost that up to a max of 2.77%. That person must have at least $50,000 invested into Upland. And for them to be so successful off of only $50,000 would require them to be the best real estate investor around; they bought the most lucrative properties the moment a new city went live and flipped them for massive profits. Otherwise, you're looking at closer to a $100,000 investment to generate that kind of passive money.
Question: How do I know which properties are "good" properties?
Answer: A good rule would be to look for property that's exclusive or expensive in the real world. Meaning properties in high-use areas, uptown suburbs, and business districts. Look for places where you'd expect to find a prominent business or residential neighborhood. Find an FSA property in that area, and you're set.
Question: So how much is just 1 UPX worth?
Answer: 1 UPX is worth a respectable .001 cent.
The lowest amount of UPX you can purchase at a time is 5,000, which will set you back a whopping $5.
Question: Dude, what's up with the llama?
Answer: The llama? There are dozens of llamas. I think Upland is populated by nothing but llamas. They're everywhere…
Conclusion
If you're looking to join a large, passionate community within the web3 space, Upland is a great place to explore. I'll be honest and say it doesn't feel like a true crypto game, considering its lack of a cryptocurrency. But that might be a selling point to many gamers looking to dip their feet into the world of web3 gaming but are intimidated by exchanges with KYC laws and gas fees. Upland is a great first game for a newbie to blockchains.
And while they might not have as much interaction as other metaverses around, Upland has been active longer than most other crypto projects, and they've never suffered from a bear market.
If you're someone looking for a chill web3 game to explore, I highly recommend Upland.
For more interesting reading check out: