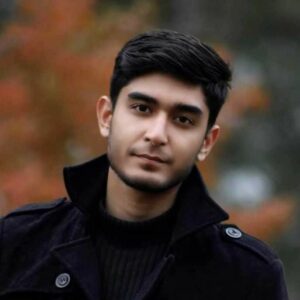 Latest posts by Asad Mehmood
(see all)
Hey guys, Asad here with another guide on the best blockchain games. Blockchain Gaming is this unique phenomenon, where you can dive into the game, own your in-game assets, enjoy and earn crypto. The best part? You can do it all while playing games at the leisure of your home.
Before we dive into this guide, beware that cryptocurrencies and all related assets on the blockchain are highly volatile. Everything this article share is for entertainment and knowledge-sharing purposes, not financial advice. Any and all investments you make would be at your own risk.
Blockchain games, or as they are more popularly known, NFT games, have been on the lips of everyone these days. What are NFTs, what are blockchain games, how do they work, are they legit or a scam, and can you really earn money by playing them?
I will answer all these questions in this guide and then share some of the best games in the sector that you can dive into right away. 
With the warnings out of the way, let us look at the list of best blockchain games that I have picked for this guide. You can check out my other article on a similar topic here for a relatively quick read.
A Quick List of Best and Upcoming Blockchain Games
Here is a quick list for my hasty fellows who want a quick look at the top picks for this best blockchain games guide.
Top 10 Best Live Blockchain Games
Pegaxy

The Sandbox 3D

Decentraland

Gods Unchained

Alien Worlds

DeFi Kingdoms

Town Star

Thetan Arena
Top 5 Most Promising Upcoming Blockchain Games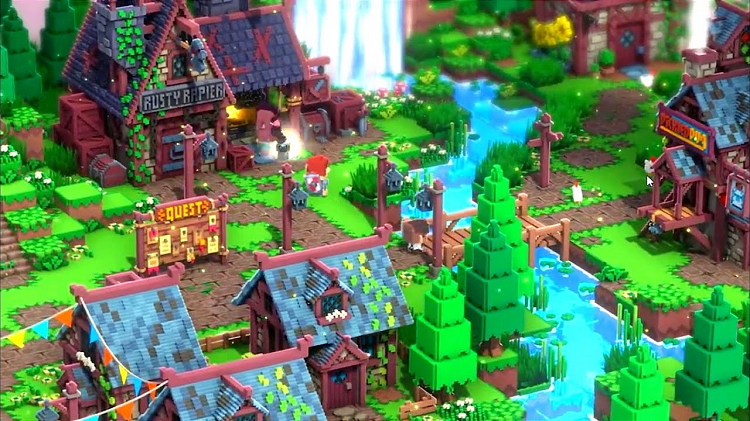 Voxel Tactics

Illuvium

Chumbi Valley

Big Time

Mirandus
If you are still here for more, let us dive into the detailed content of this guide. Firstly, let me share a brief overview of Blockchain Games and how you can identify the best from the rest.
What are Blockchain Games and how to Identify Best from the Rest?
Blockchain games are videogames where all in-game activities and assets are recorded on a blockchain. This makes these games and the assets within unique and ownable.
How is this revolutionary? It allows people to grind valuable assets within games they love to play and trade them for real cryptocurrencies. They can eventually convert that into fiat currency, thus giving rise to the age of Play-to-Earn.
I have been studying blockchain technology for over a decade now. I have researched, invested in, and played dozens of unique NFT games throughout my journey.
Having experienced so many projects, I can now identify the good from lazy and the best from the rest. To summarize all that, here is my hot take on the subject. We are all in an NFT hype bubble right now.
 Many NFT projects promote themselves as Play-to-Earn games that can make you rich. They don't understand that the gaming industry is about us gamers, our passion for the games that we sink hours into, and our desire for skill expression and competition. 
NFTs are great, but they are just there to enhance the value of trading and in-game assets. To be a successful NFT game, it must be a fantastic videogame first and investment secondary. I have used that to compile my top picks for this guide.
If you are new to crypto and blockchain gaming, I suggest checking out this Blockchain Gaming Glossary. You can use it to familiarize yourself with standard and key terms.
My Top Picks for Best Blockchain Games 2022
Now let us check out the best blockchain games to play in 2022. I have picked the following from various titles based on their Play-to-Earn potential, replayability, enjoyment, entry barrier, and skill cap.
Axie Infinity
If you know a little about Blockchain games, you would probably already know about Axie Infinity. It is the most successful Blockchain game right now. After its third battle system overhaul, its popularity will exponentially increase alongside its fun aspects.
Axie Infinity is a Pokemon-inspired monster collecting and battling game with TCG elements. Ultimately, you will be able to do more with your Axies, including participating in an open world MMORPG with farming elements like Stardew Valley.
It started out as a monster auto battler but has developed into a decent game with good skill cap and mastery requirements.
Once you get your first team of Axies, you also gain access to a plethora of indie games created by fans and members of the community via the Builders Program. While in the main game, you can aim for the top of the Ranking ladder and join the professional eSports scene. 
If you are a beginner or interested in starting the game, check out my Axie Infinity Getting Started Guide. While you are at it, I recommend giving this Axie Infinity Gameplay Guide a read. For my Honest and In-depth Review of the game, click here.
Key Information
Developer: Sky Mavis
Genre: Monster Collection, Monster Battler, Trading Card Game
Launch Date: March 2018
Associated Crypto Tokens: ETH/WETH, AXS/mAXS, SLP, RON
Free-to-Play Options: Not Yet (Planned to be implemented in 2022)
NFT Lending/Scholarships System: Yes
Pegaxy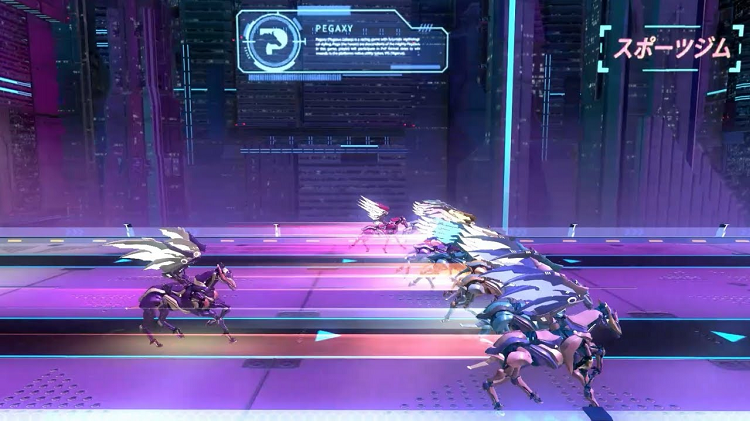 Race, Breed, Rent, and Earn. Pegaxy is the most famous horse racing game on the blockchain. To dive into the world of Pegaxy, you need to own a Pega, mystical horses said to be the futuristic descendants of the Legendary winged horse, Pegasus. 
Currently, the game features a randomly controlled racing algorithm that determines the position of your Pega in the race. However, there are a few elements that you as a player can alter to maximize your Pega's chances at being among the top 3 as well. 
Ultimately, Pegaxy aims to become a skill-based horse racing game where players can control their Pega during races and play a more active role. The top 3 players are rewarded with VIS tokens. Vigorus (VIS) is the primary "earning" and "spending" token inside the Pegaxy ecosystem.
Besides racing, players can also breed their Pega to increase their string and studs groups. Players can then rent these Pega to other players in exchange for a contract that lets them earn a percentage of the tenant's reward money as passive income.
You can read their whitepaper for more details about their goals and progression on the roadmap.
Key Information
Developer: Team Pegaxy
Genre: Horse Collection, Horse Racing Game
Launch Date: 15th November 2021
Associated Crypto Tokens: PGX, VIS
Free-to-Play Options: None
NFT Lending/Scholarships System: Yes
The Sandbox 3D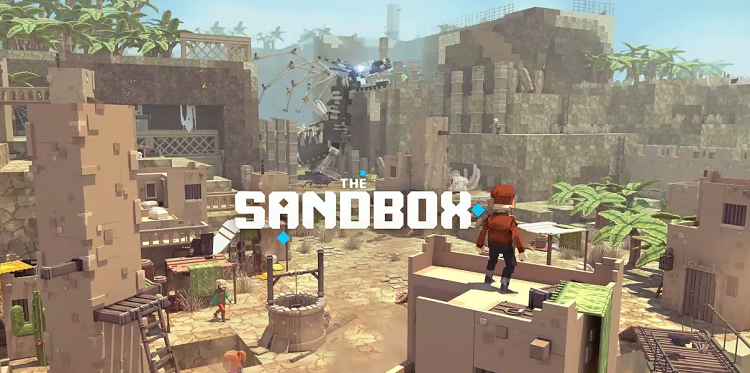 If you are a fan of Minecraft and MMOs, then the Sandbox 3D is for you! It's a unique romance between online gameplay, development, MMORPGs, and city-building games. A unique utopia where you can create art in the form of memorable characters, mystical creatures, and mountainous structures and breathe life into them all.
Currently, the game is in its Alpha Season 2, comprising 35+ unique experiences in total. This includes 18 upgraded experiences originally introduced in Alpha Season 1 and 5 new original experiences, 4 new user-built Game Maker Fund experiences, 3 new IP experiences, and 1 entirely new transportation HUB.
The Sandbox 3D boasts voxel-style graphics, much better than Minecraft though still pixelated. The game's Metaverse is controlled via the native token called SAND, and you can join the Alpha Seasons for free. However, you will need an Alpha Pass to participate in special quests and experiences.
These experiences introduce fun games, gorgeous biomes, and challenging quests that players can participate in. Furthermore, players are rewarded with unique in-game NFT items and SAND tokens. Check out my Honest and In-depth review of the Sandbox 3D for more.
Key Information
Developer: Animoca Brands, Pixowl Inc.
Genre: Open World, Sandbox
Launch Date: 29th November 2021
Associated Crypto Tokens: SAND
Free-to-Play Options: Yes
NFT Lending/Scholarships System: None
Decentraland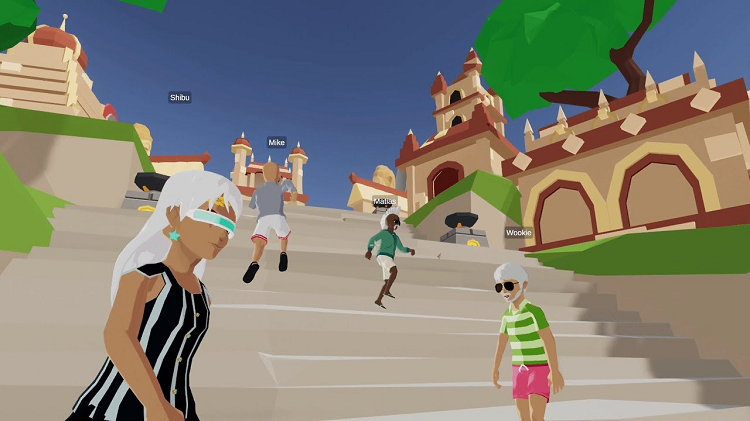 "Create, explore and trade in the first-ever virtual world owned by its users." That is what Decentraland stands for, and it was the first-ever decentralized virtual reality space launched back in 2017. 
How is it different from the Sandbox 3D mentioned above? Well, first of all, it's not voxelated. Secondly, its owned by the users and operated by the nonprofit Decentraland Foundation. In fact, the Metaverse's democratized vision played a crucial role in making it possible for Decentraland to flourish in the long run.
Decentraland is an Ethereum-based open-world virtual-reality Metaverse, and players can cross the portals entirely for free. However, once you are there, it is a whole new world with its own economy, assets, and adventures. That is the core idea behind Decentraland; it is a virtual world created, owned, and governed by its players.
In Decentraland, players can create their own structures and items, much like Minecraft. They can run out and explore the vast map of the Metaverse and go on adventures.
Furthermore, they can craft items, open shops, or join the open market to trade them for its native token called MANA. You can read the original Decentraland whitepaper for more details about its goals and progression on the roadmap.
Key Information
Developer: Decentraland Foundation, Community
Genre: 3D Virtual World
Launch Date: 20th February 2020
Associated Crypto Tokens: MANA
Free-to-Play Options: Yes
NFT Lending/Scholarships System: None
Gods Unchained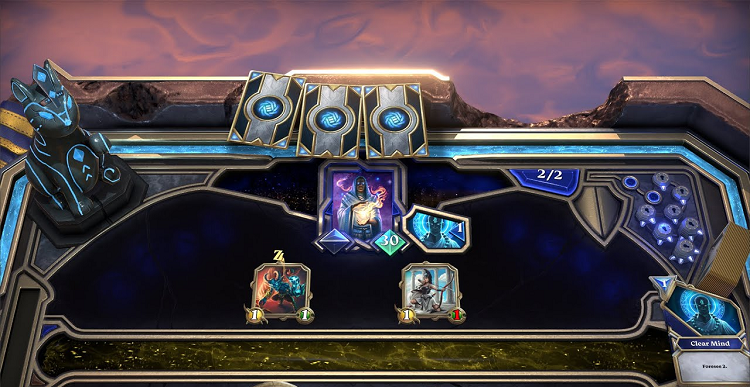 If you know me from my League of Legends articles, you would know how big of a sucker I am for anything Riot Games. Even though it is not directly linked, God's Unchained is developed by Ex-Rioters.
It essentially combines three of my favorite things, Trading Card Games, Blockchain elements, and Riot. This collaboration yielded one of the most fun games on the blockchain that I have played so far. 
God's Unchained brought back one of the most enjoyable features from traditional TCGs, collecting and owning cards. I still remember how I took pride in owning my collection of 400+ Pokemon cards.
But all of that fell off as online games became popular and TCG became digitized. The cards in the online world were no longer rare or valuable, and the connection was lost. 
God's Unchained brought back that element with the help of NFTs and tokenization of cards on the blockchain. Residing on the Immutable X Layer 2 solution, the game is streamlined for performance.
You can expect all the fun elements you find in games by Riot like fancy emotes, Ranks, an immersive Lore, a few bugs, and addictiveness. Might as well throw in interactive gameplay and skins in there too. If all of this sounds like your cup of tea, then for more details, you can check out their whitepaper here.
Key Information
Developer: Immutable Games
Genre: Card Collection, Trading Card Game
Launch Date: March 2021
Associated Crypto Tokens: GODS, ETH, USDC, IMX
Free-to-Play Options: Yes
NFT Lending/Scholarships System: None
Alien Worlds
Alien Worlds was one of the first Blockchain games that I ever played. Primarily because of its low barrier to entry. I believe it cost me around $30 worth in my local currency to get started, and that sum was refundable.
In October of 2021, Alien Worlds became the most popular blockchain game, with almost 760K users. Since then, the user count has grown to a commendable 1,160,000 in January 2022. For reference, Axie Infinity holds the 2nd position with only 677,760.
Personally, I don't like the current version of the game. In my opinion, unless the developers bring some actual interactive and fun content to the game, it will die.
Currently, Alien Worlds lets players own some NFTs in the form of tools, characters, and land. Players can use the Character and tools NFTs to mine on the land NFTs belonging to one of six DAO planets. The game is essentially a stake farming simulation where you just need to click a couple of times on the screen every now and then.
These NFTs reside on the Ethereum, Binance Smart Chain, and the WAX blockchains. This interoperability allows for a connected metaverse where players can expect to take their NFTs from one game to another in the future.
Despite my critical opinion about the game, its popularity is a testament to its success. That alone earned Alien Worlds its place on this Best Blockchain Games for 2022. If you are interested in learning more about the project, I suggest checking their treasured whitepaper.
Key Information
Developer/Publisher: Sarojini (Saro) McKenna/Dacoco
Genre: Card Collection, Trading Card Game, Idle Mining
Launch Date: December 2020
Associated Crypto Tokens: TLM, WAX, BSC, ETH
Free-to-Play Options: Yes
NFT Lending/Scholarships System: None
DeFi Kingdoms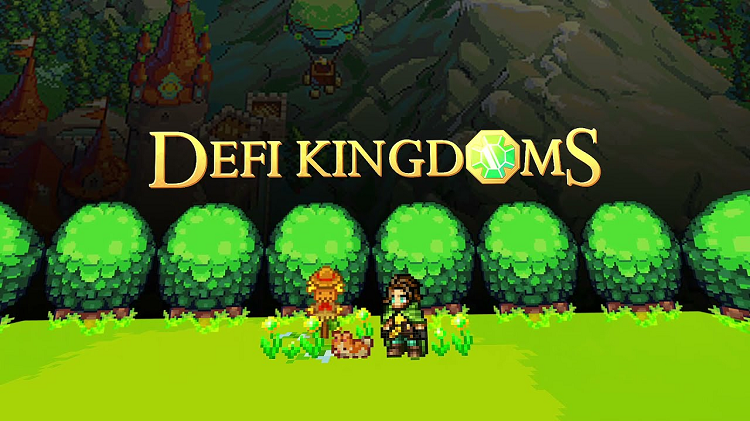 Kings and Queens, it's time to claim your Kingdom! With such an inspiring slogan, DeFi Kingdoms is a game about being a hero, building your own Kingdom, defending it from outside threats, and working to make it prosperous.
How do you do all that? Through owning some NFTs, investing and staking your coins, and playing to earn, of course. It's a blockchain-based game, after all. 
From its roadmap, the project can be understood in various stages of development. Stage 1 is community building, something that the team nailed with a massive following on their Discord Community server and the official Twitter account. Stage 2 introduced the game world, the Metaverse, and the economy token JEWELs. 
Stage 3, the current stage of the game, brought Heroes NFTs to the table along with some quests to protect the gardens, mine for JEWEL tokens, forage for resources. The game's future holds the introduction of land NFTs in Kingdoms, Buildings, Equipment, and ultimately a PVP and PVE battling systems.
Overall, DeFi Kingdoms is a blockchain-based pixel game where players can build, grow, own, and protect their kingdoms. All of this while participating in many crypto banking activities and earning tokens and NFTs through gameplay. For more, check out their whitepaper here.
Key Information
Developer: Defi Kingdoms
Genre: Pixel MMORPG
Launch/Major Release Date: 22nd August 2021/30th March 2022
Associated Crypto Tokens: JEWEL, CRYSTAL, ONE
Free-to-Play Options:

No

NFT Lending/Scholarships System: None
Town Star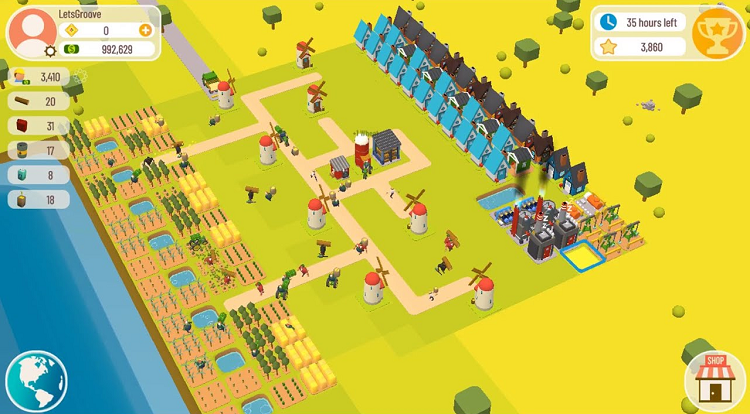 If you are a fan of farming simulation and harvesting games like FarmVille, FarmVille2, or FarmFrenzy, this game is for you! A blockchain game, where you pour some sweat over your land, till the soil, plant some crops, and harvest them in a race to become the first millionaire in the town. That's what Town Star is all about.
From Gala Games and developed by engineers from Zynga, the company that created FarmVille 2, Town Star is one of the most popular farming Simulation games in the Metaverse.
It gained lots of traction in late 2021 due to its insanely high earning potential, letting top players make as much as $200 a day for just an hour of gameplay. That's $73,000 a year for enjoying a game! 
Speaking of gameplay, unlike traditional farming Sims., Town Star consists of some of the most advanced and realistic game mechanics I have ever experienced in a farming game. From Building heights, shade, positioning of your assets, and the distance between your buildings, everything plays a role.
Town Star has a proven and formidable team behind it and an actually enjoyable game design to speak for its credibility. The coin has plummeted a lot from its initial value, but, unlike SLP from Axie Infinity, it's worth a respectable sum per coin, making it a lucrative investment opportunity for many.
Key Information
Developer: Gala Games
Genre: Farming Simulation
Launch Date: March 2020
Associated Crypto Tokens: TOWN, GALA
Free-to-Play Options: Yes
NFT Lending/Scholarships System: None
Splinterlands
Splinterlands is a fast-paced, blockchain-based, free-to-try, pay-to-play, win-to-earn trading card NFT game. Yeah, that's a mouthful. Currently, it is the third-best NFT game on the market based on player count.
Unlike other trading card games like Gods Unchained, Legends of Runeterra, Hearthstone, etc., Splinterlands is driven by pregame planning and setup. It encourages fast gameplay and features unique game rules to diversify and add versatility to the experience. 
The game operates on the HIVE Blockchain and features intractability with the Ethereum, Wax, and Binance Smart Chain (BSC). At its core, it aims to be a unique and fun decentralized trading card game that makes in-game assets own-able, playable, and tradable.
Players must purchase a cheap spellbook to hold their tradable NFT cards to start earning. They must also buy card packs that can reveal Summoners and Monsters cards with varying rarities and belonging to different Factions.
Divided into six unique Factions, the world of Splinterlands allows players to side with their favorite elements and craft their decks around unique strategies, buffs, and weaknesses. 
If you are interested in the game, check out my In-depth Gaming Review of Splinterlands. For more, check out the Splinterlands whitepaper here.
Key Information
Developer: Splinterlands
Genre: Cards Collection, Trading Card Game
Launch Date: 25th March 2021
Associated Crypto Tokens: DEC, SPS, HIVE
Free-to-Play Options: Free-to-Try only
NFT Lending/Scholarships System: Yes
Thetan Arena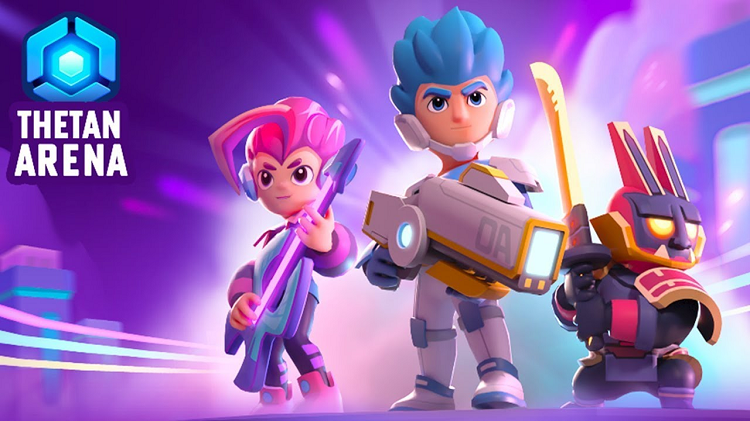 MOBA is the most dominant genre in today's gaming industry, and blockchain gaming is not an exception. What happens when you take the recent crypto/NFT boom and combine it with MOBA games? You get 4 million players in your first week of launch! And this is what happened with Thetan Arena.
Thetan Arena brought adventurous and competitive gameplay to the blockchain gaming industry. It is similar to games like DOTA 2, League of Legends, Mobile Legends, and Pokemon Unite.
Revolving around the Duel Token economy, Thetan Arena gave rise to two crypto tokens, Thetan Gem (THG) and the Thetan Coin (THC). Thetan Gem is the governing token of the game, while the latter is the primary utility token for its economy.
Currently, THG does not have much utility to it. However, the THC token is used to buy NFT Heroes Chests. These chests contain unique playable heroes that allow players to earn THC upon winning their battles if played with them. Each hero has an uncommon rarity and class, which greatly depends upon the type of chest you buy. 
Even though Thetan has over 22 million players today, I believe that the involvement of tokenomics in skill-based games is always horrible unless it's strictly associated with cosmetics. It adds the disgusting flavor of pay-to-win to the charming experience. Check out more about them in their published whitepaper here.
Key Information
Developer: WolfFun
Genre: MOBA
Launch Date: November 2021
Associated Crypto Tokens: THG, THC
Free-to-Play Options: Yes
NFT Lending/Scholarships System: Yes
Most Promising Upcoming Blockchain Games
2021 was the year of NFTs, but 2022 will be about Blockchain games and Play-to-Earn. Last year, we had just stumbled upon the potential of Play-to-Earn. The big players have joined the party, making AAA titles, which will certainly dominate this industry. 
At the end of the day, it's a gaming industry. Only those games will stay, which are enjoyable, scalable, and continuable. Following are some of the most promising upcoming Blockchain games you should be looking forward to in 2022.
Voxel Tactics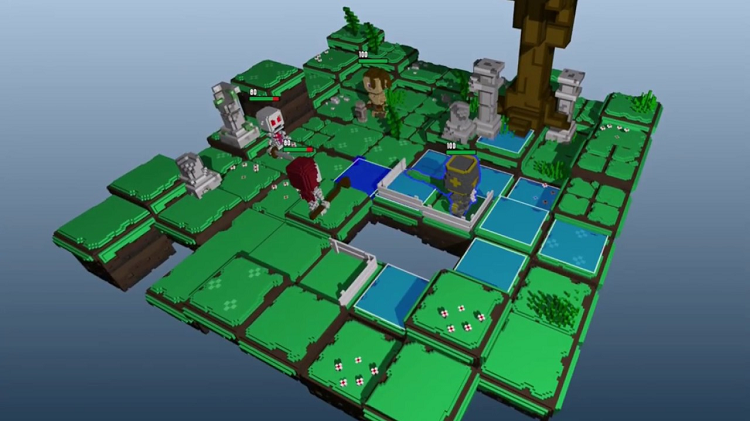 First of all, don't mix it up with the Voxel Tactics non-NFT game on Steam. Secondly, let's talk about Voxie Tactics. Voxie Tactics claimes to become the first Free-to-Play tactical RPG game of its kind in the world.
It was developed by the same team that produced the Voxies NFTs, AlwaysGeeky Games. It is a professional team comprised of members who have contributed to major AAA game projects like the Assassin's Creed franchise, the Farcry franchise, and Mortal Kombat 11.
Voxie Tactics is set in the world of Voxtopia, where players can hop in and go on quests, complete missions, fight monsters in PVE settings. Furthermore, competitive players can join the arena to enjoy strategic PVP death matches against friends and rivals.
Launched in December last year, the short playable demo of the game was downloaded more than 265K times in mere weeks! Their utility token exploded to about 25 times in price upon its initial launch and has since maintained a steady value of $1.4/token, 7 times more than the launch price.
Check out their whitepaper for more details. If you are interested, you can play their free downloadable beta here.
Key Information
Developer: AlwaysGeeky Games
Genre: Turn-Based Strategy Game
Launch Date: Beta launched in February 2022, Alpha launch expected later this year.
Associated Crypto Tokens: VOXEL
Free-to-Play Options: Yes
NFT Lending/Scholarships System: Yes
Illuvium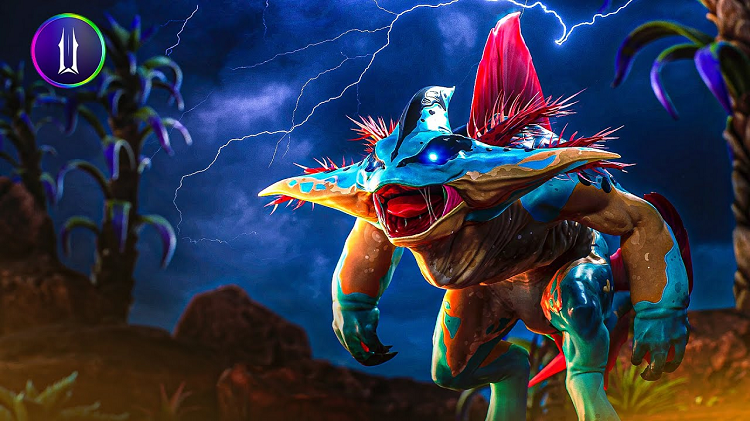 Illuvium is one of the most anticipated AAA titles in the Blockchain Gaming space. Inspired by fan-favorite anime Pokemon, Illuvium adds some intergalactic and alien features to the mix. It aims to bring the immersive 3D competitive play to blockchain gaming alongside stunning graphics and adventurous world-building.
The game will operate on the Immutable X L2 Network and promotes their slogan as "Fight for ETH." It promises a fully decentralized RPG and collection game experience.
You take the role of a survivor of a transport vessel in an intergalactic space fleet, investigating a perplexing distress beacon and discovering majestic beasts with mystical power. 
Luckily for you, you can capture and control these god-like monsters into slivers of crystal called Shards, mined from the planet's surface.
Players use these monsters to fight and protect themselves against other wild monsters on their journey to uncover the mysteries of this alien planet. If you are interested, check out their detailed whitepaper here.
Key Information
Developer: Illuvium
Genre: Open-World Exploration, Monster Collector, Auto-Battler Game
Launch Date: 2022
Associated Crypto Tokens: ILV/sILV, ETH, IMX
Free-to-Play Options: Yes
NFT Lending/Scholarships System: Not Defined Yet
Chumbi Valley
Imagine a cross-over between Pokemon and Stardew Valley. A place where you can set up your farm, interact with other players, grow your crops, yield profits, but instead of those harvest sprites, you get to befriend cute little monsters called Chumbis. 
Chumbis are cute, chibi, chubby monsters who possess supernatural powers and roam throughout the mystical Chumbi Valley and Chumbi Forest.
Players can interact with Chumbis, feed them, befriend them, own them, and go on adventures together. Chumbis aid their partners in their experiences and at their farm, helping them battle wild monsters and grow their crops simultaneously.
The game will be Free-to-Play; however, players are expected to buy an NFT Chumbi for better stats and unlock the Play-to-Earn features. Their seed NFT sale went live last year, and it lasted only 4 minutes! Why, you may ask? Because everything got sold out, and I kid you not, there were hundreds of $3000 seed pods there.
Why do I sound salty? I wanted to own one and couldn't secure a spot in the Whitelist. Yes, I'm crying. For more info, check out their detailed yet easy-to-read litepaper here.
Key Information
Developer: Chumbi Valley, NonceBlox Metaverse Team
Genre: RPG, Monster Collection, Monster Battler, Farming Sim., Exploration
Launch Date: Mid 2022
Associated Crypto Tokens: LSTS, CHMB, USDC, BNB, MATIC
Free-to-Play Options: Yes
NFT Lending/Scholarships System: Yes
Big Time
"Battle Across History." A slogan that inspires infinite experiences and lights up the gamer's spirit within you. "Big Time" promises a unique experience where you hop into the game to travel across time and space to solve historical mysteries and futuristic riddles.
Playing into the appeal of Open-World MMORPGs, Big Time is bringing an exciting genre back to life with blockchain technology. I love the game's core concept, and the graphics go par to par with that.
The project is led by some of the best developers in the industry. The team has previously worked on genre-defining titles like Fortnite, God of War, Call of Duty, and Overwatch and isn't shy of using their talents to make this title a hit.
In the game, you get to choose a class, trade armor and weaponry, learn spells and skills and travel through time and space on your adventures.
Furthermore, you earn rare NFTs upon unlocking hard achievements and completing challenging quests. These NFTs can then be used in-game or displayed in your personal spaceship to show your friends when you all hang out together. You can read more about the project here.
Key Information
Developer: Big Time Studios
Genre: MMORPG
Launch Date: Early-Mid 2022
Associated Crypto Tokens: ETH
Free-to-Play Options: Maybe, Not Confirmed Properly
NFT Lending/Scholarships System: Not Defined Yet
Mirandus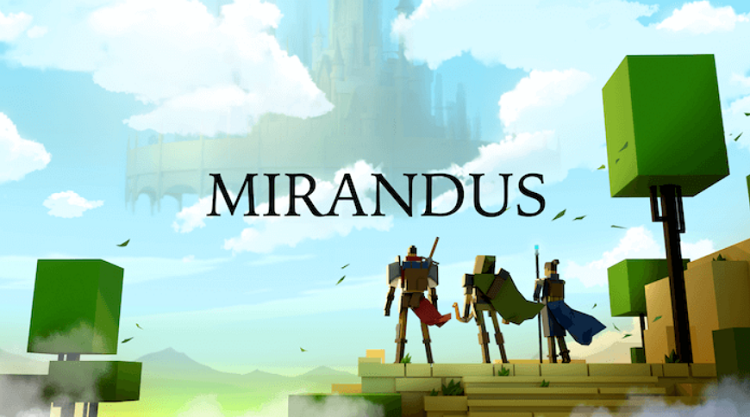 As the final entry in this guide, Mirandus is the flag-ship title in development by Gala Games. Gala Games is the same company that brought Town Stars to life. Mirandus is an epic fantasy RPG set in a massive world ruled by five player-monarchs. Yes, you read that right, player monarchs!
In the world of Mirandus, Property is Power, Property is Safety. There is no story, no quests, and no quest giving NPCs. In Mirandus, the players do it all. You are free to make your own choices, buy your own land, join the faction of your choice, set up trades, and gain fame to rise to the court of Lords and Ladies. 
Own Ships, sail the seas, craft items, and erect buildings. Be a Land Lord or a Lady, be the King or a council member; it's all up to you.
In Mirandus, you roam the mysterious continent to harvest the mysterious Materium, a magical element flowing with untold powers. Check out their page here and keep checking for my Mirandus Guide, where I go in-depth about its vision, gameplay, its game mechanics.
Key Information
Developer: Gala Games
Genre: Fantasy RPG
Launch Date: Pre-Alpha Stress Test is already available for Exemplar NFT Owners. The Alpha launch is expected in Mid-Late 2022.
Associated Crypto Tokens: GALA, MATERIUM
Free-to-Play Options: Yes
NFT Lending/Scholarships System: Yes
Frequently Asked Questions and Answers
People are often intrigued by some specific questions regarding the topics that I write about. So here are some frequently asked questions about blockchain games and my answers to them.
Question: Are Blockchain Games still Popular and Profitable in 2022?
Answer: Yes! Blockchain Games are still top-rated. Games like Axie Infinity and Thetan Arena have gained millions of new players to join the game's ecosystem in the year's first quarter! And this growth is only going to continue as the technology develops further and becomes more polished and easier to access. 
In terms of profits, most blockchain games are still profitable. Compared to the traditional means of investing, they still yield insane returns. However, as more players joined in and time passed, the versatile market balanced itself out. The profits have greatly diminished compared to their All-Time-Highs (ATH). 
Question: Are there any Free-to-Play Blockchain Games?
Answer: Yes! There are many Free-to-Play Blockchain Games. However, the earning potential is limited chiefly or, in some cases, entirely blocked out for Free players. This is due to earnings being directly associated with NFT items and characters which players must buy and own to play with.
The Non-NFT Free-to-Play assets are usually weaker and less enjoyable when compared to their premium NFT counterparts. As a theme, the Free-to-Play elements are there for players to try the game for free before deciding upon making an investment into playable NFTs.
Question: What is the Difference between a Governance Token and a Utility Token in Blockchain Games?
Answer: Most Blockchain Games operate on a dual token economy system. As the name implies, two primary tokens are used to make all kinds of transactions in the game's ecosystem.
The first token is called the Governance Token, and it can be taught as the Share of the game, and owning it means that you own a specific part of the game.
This often gives you voting rights in the DAO that dictates the game's future development. Some examples are AXS, CHMB, THG, etc.
The other token is called the Utility Token. These tokens are used for all in-game transactions and are the primary token used as a reward in the Play-to-Earn mechanics of the game.
These tokens mostly have an infinite supply and tend to have a burning mechanism to secure their value. However, they are depreciative in nature. Some examples are SLP, LSTS, THC, etc.
Best Blockchain Games Guide 2022: Final Thoughts
Blockchain technology has marked a paradigm shift. It has unlocked the next phase of technological advancement that we as an intelligent species must go through. In that mix, one of the homes of NFTs is the gaming industry, which has adopted it as the next level of gaming. 
We have seen this industry grow from Pay-to-Play and Pay-to-Win to Free-to-Play. But now, with blockchain games, the dream of being able to play games at home and earn through it has come true.
No industry can prosper without giving actual value to its customers, which is also valid for NFT games. Ultimately, those games will stick around, which are fun and have well-structured tokenomics, while others will become forlorn history.
If I were to pick only one from the lists, it would be Axie Infinity, as I'm eagerly looking forward to Origin and the Land gameplay updates this year.
For the upcoming titles, I'm keeping an eye on all of them, but I love the idea of Chumbi Valley. However, this is because I'm a sucker for games like Stardew Valley, Terraria, and sort. With all that said, I hope this guide was interesting and helpful for you. Thanks for reading, and see you next time in another read.
For more interesting reading check out: