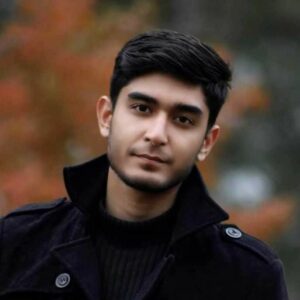 Latest posts by Asad Mehmood
(see all)
By Asad Mehmood ([email protected])
| | |
| --- | --- |
|   | TABLE OF CONTENT |
| 1.0 | Top 5 Best NFT Games |
| 1.1 | Axie Infinity |
| 1.2 | The Sandbox 3D |
| 1.3 | Decentraland |
| 1.4 | Gods Unchained |
| 1.5 | Alien Worlds |
| 2.0 | Some of the Most Anticipated Upcoming NFT Games for 2022! |
| 2.1 | Voxie Tactics |
| 2.2 | Chumbi Valley |
| 3.0 | Honorable Mentions |
| 4.0 | Frequently Asked Questions and Answers |
It won't be wrong to say that these last couple of years have been life-changing for most of us, if not all. No one was prepared for the unforeseeable pandemic that the SARS-CoV-2 virus brought upon us. The sudden need for isolation and the practice of precautionary measures forced us all to lock ourselves up in our own houses like prisoners.
With the lockdown followed one of the largest economic depressions, unlike anything we have experienced in the last century. Trillions of dollars, billions of hours, and millions of lives were lost to this infectious disease.
During these perilous times, a certain technological innovation rose up in popularity. Once only understood by a handful of internet geeks and nerds, now the word blockchain is on everybody's lips. This rise in popularity came mainly due to its ability to provide better solutions to the economic and centralized problems of the world that became more prominent due to the abhorrent pandemic.
In this article, I'll be talking about the emergence of the next level of gaming. The result of the bonding between the security of blockchain, the value of cryptocurrencies, the tradability of NFTs, and the fun, creativity, and amazingness of games.
More specifically, the best among this new generation of games and some of the most anticipated and promising titles that you should keep an eye out for in 2022. These next-generation games are called blockchain games or as they are more popularly known NFT games.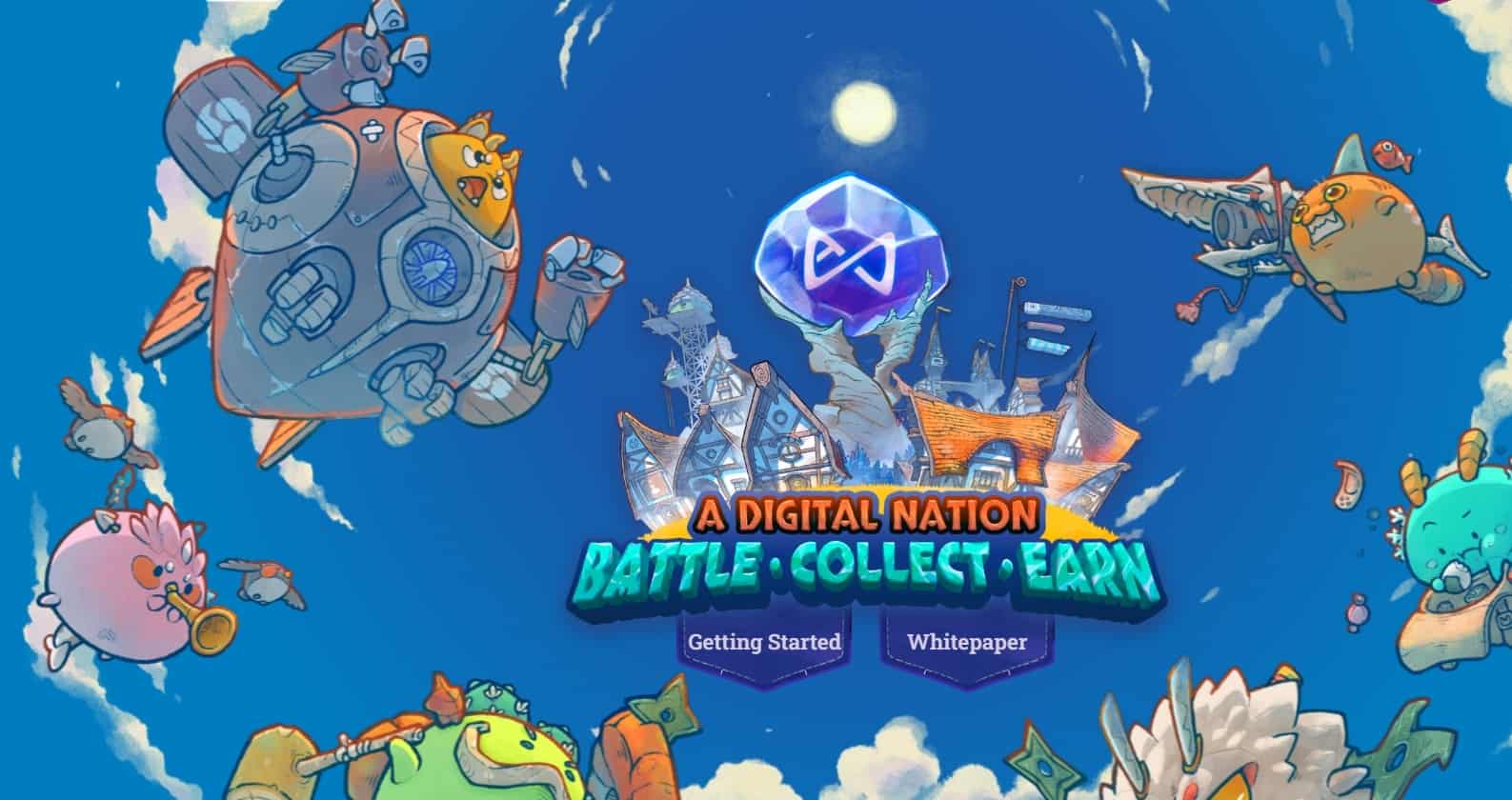 Top 5 Best NFT Games of 2021
Marking a paradigm shift in the industry, NFT games have literally changed lives. With the COVID-19 Pandemic on the rise, global lockdowns, and financial losses, this year could not have been any worse for many people. But to their aid, blockchain and NFT games brought an opportunity to play games and earn their living wage, all while sitting in their homes.
If you are wondering where to start your journey with this next generation of games, then you might want to know about the best in the industry. Here are my top 5 picks for the best NFT games of 2021.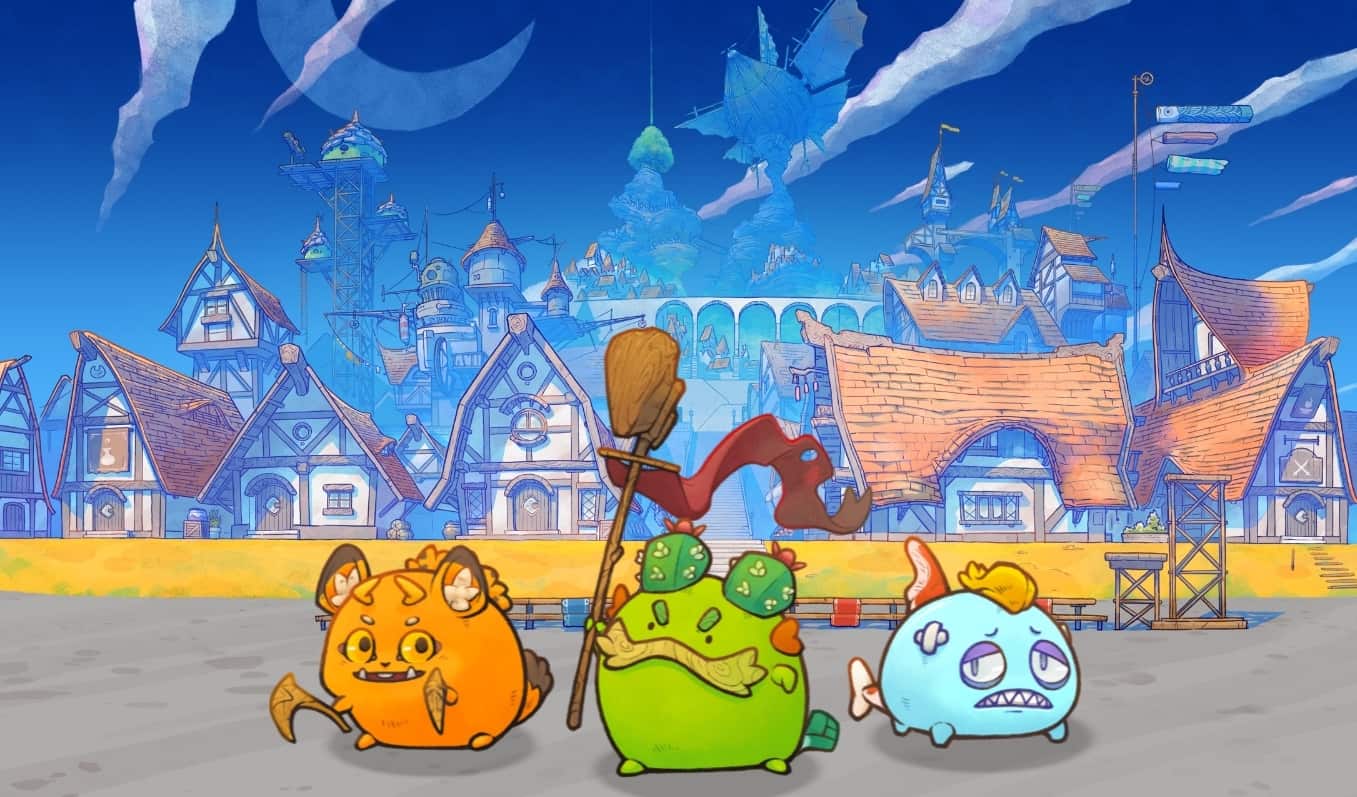 Launched back in the March of 2018, Axie Infinity was introduced as a Pokémon style monster auto-battler, where players owned a team of three axolotl-themed monsters called Axies. These monsters were digitized through the concept of NFTs, making them own-able and tradable.
Players would fight in a PVP battle arena and win Smooth Love Potions (SLP), an in-game item required to breed axies to make new ones. The SLP is similarly digitized on the blockchain, making it a crypto-token, again, own-able and tradeable.
The game operates on the Ronin network, which is a side-chain linked to the main Ethereum blockchain. The game is developed by a Vietnamese game development company called Sky Mavis. The game ecosystem hosts the 2nd largest NFT marketplace by trade volume in USD, falling just behind OpenSea. However, it leads the list in the number of users on the platform.
Axie Infinity can be seen as a veteran of NFT games as it popularized the phenomenon through its success. In 2020, with the beginning of the Covid-19 pandemic, the game saw huge growth due to its ability to let players earn assets that can be traded for fiat currency. Enabling them to earn money and put food on the table for their families, especially during this economic downfall.
A guy in the Philippines was even able to buy two houses for the first time in the entire history of his family, all with his earnings from playing Axie Infinity. Despite being the most traded NFT ever, Axie Infinity still has massive growth potential. The game has only begun and has yet to make its official debut in the app stores giving access to billions of players from around the world.
To learn more about Axie Infinity and how you can get started with it, check our Axie Infinity guide here.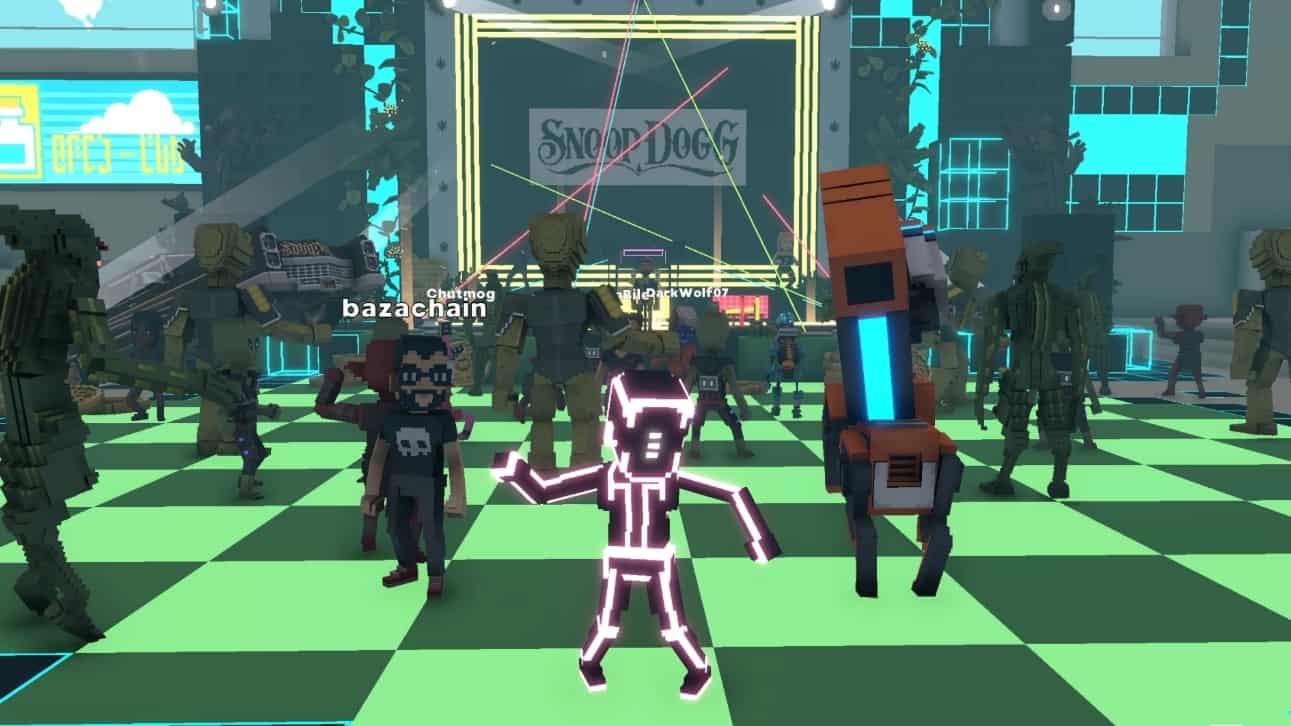 The Sandbox 3D is the 3rd title in the Sandbox game series developed by PIXOWL Inc. in collaboration with the Animoca Brands. The game launched its Alpha version on November 29, 2021. The Sandbox is popular as a 2D world creation game, where you have god-like powers to manifest, manipulate, and destroy a world and the living creatures within.
The latest title in the series, the Sandbox 3D takes the concept up a notch by upgrading the game dimensions to 3D and then introducing decentralized mechanics via the incorporation of blockchain assets by tokenizing the in-game items and currencies.
The Sandbox is inspired by the game of the decade. It combines the creative elements of Minecraft, in conjunction with its own iconic sandbox features, with the financial freedom and tradability enabled by the blockchain technology in a uniform Metaverse.
The Sandbox aims to act as a virtual universe where people can come together, purchase their virtual properties, build unique experiences over them, and potentially profit from them. By granting people access to these unique experiences like games, music concerts, competitions, and much more, the landowners and assets developers can earn crypto-tokens, which can be spent in other games across the Metaverse or be traded for fiat currency.
The game has seen lots of traction, having partnered with many great brands and IPs, including SnoopDogg, The Walking Dead, deadmau5, and many more. A record of $8.5 million in LAND sales was concluded in April alone. All the game assets are NFTs, including the Land, which hosts brands and IPs, while the governing cryptocurrency is called SAND.
Read more about the Sandbox 3D and what you can do in it on our guide here.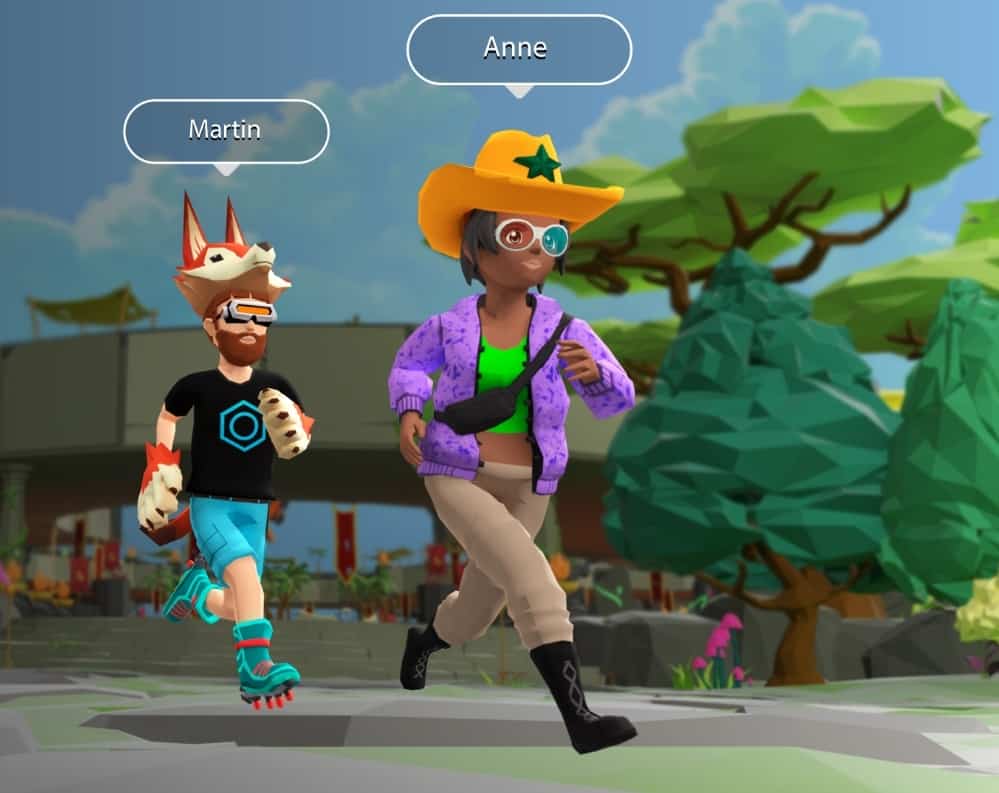 Decentraland was originally created in 2015 by Argentinians Ari Meilich and Esteban Ordano. Initially, it was a just pixelated grid that allocated pixels to users through a proof-of-work algorithm. Decentraland later evolved into a 3D world. It was opened to the public in February 2020 and is overseen by the non-profit Decentraland Foundation.
Decentraland is a blockchain-based MMO world governed by players via the game's native crypto-token, MANA. Similar to the Sandbox 3D, players can own virtual land and in-game assets and expand their in-game resources to earn MANA. Decentraland is the 2nd largest NFT game based on market cap., falling just behind Axie Infinity.
In the virtual world of Decentraland, you can purchase and own a plot of virtual land, rent it to developers to create or develop unique experiences yourself upon them for other players to enjoy. Currently, you can see online casino houses in Decentraland, unique games where you can earn NFT rewards, in-game clothing and accessory stores, music concerts, live comedy shows, educational clubs, and much more.
During this grounded period of quarantine, Decentraland has given people an opportunity to dive into the 3D Metaverse and experience a whole new way of interacting with each other, having fun, and working online.
You can read more about the game in our Decentraland guide!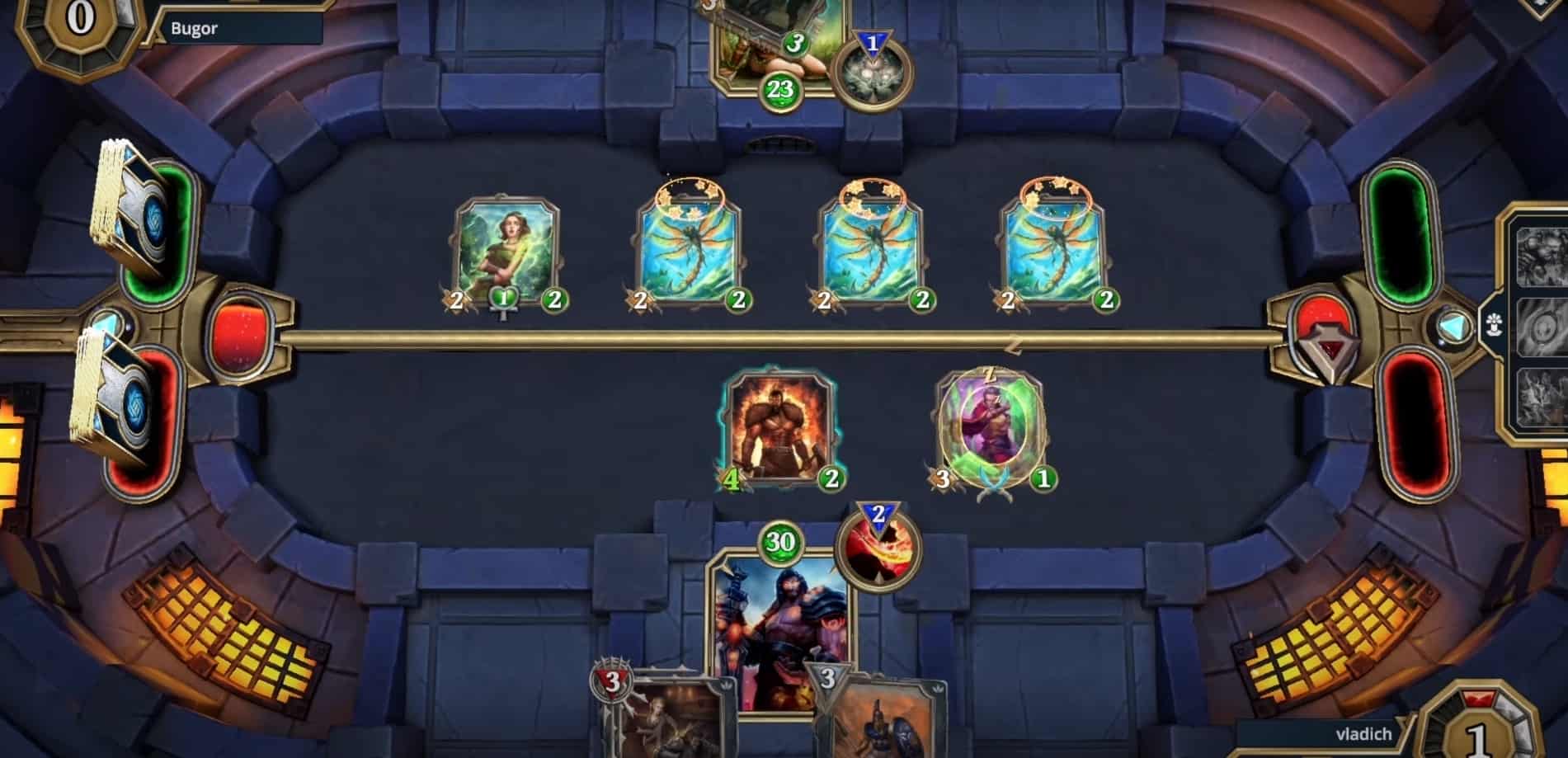 First of all, make sure you are visiting GodsUnchained.com and not GodsUmchained.com. I found the fake advertisement while diving into the game myself so be careful.
If you are a fan of trading card games (TCGs) like Hearthstone, Legends of Runeterra, and Magic: The Gathering then you will love Gods Unchained. The game is developed by Immutable, formerly known as Fuel Games that made games based on blockchain technology.
Gods Unchained is the company's flagship developed by former Google and Riot Games engineers under the leadership of Chris Clay, the former Game Director of Magic: The Gathering Arena. The game's economy is based on its trading cards which are evolvable NFTs.
Each card can be upgraded over time with resources that players earn by playing and winning the game. These cards can then be sold on the game's marketplace for Ethereum (ETH). Many NFT games are notorious for their lack of fun gameplay and repetitive nature. However, to my surprise Gods Unchained is actually a good trading card game, which you would like to play regardless of the earning aspect.
The game operates on a Free-to-Play, Play-to-Earn model. This no financial barrier to entry and fun gameplay makes the game quite appealing to a wide audience and has great growth potential. With the project being led by some of the best, we can surely expect great things from this NFT game.
Check out our Gods Unchained Guide for more information on getting started with the trading card game.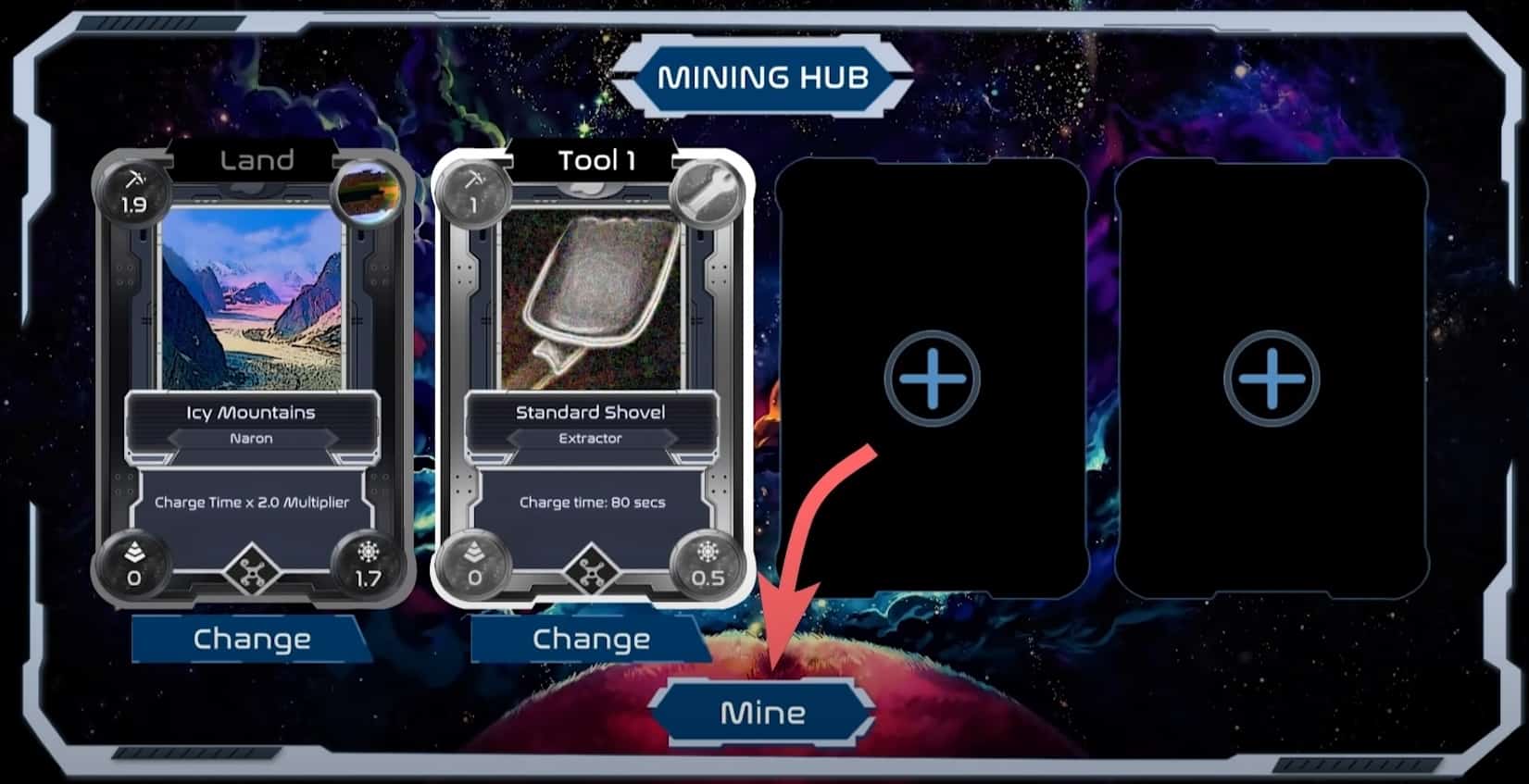 Alien World is the most popular option on this list. Founded in 2020, the game saw astronomical growth in late 2021. Soon, it achieved the title of being the "No. 1 Most Played Blockchain Game" with 11 Million daily transactions, according to DappRadar.
The game is an NFT-based Social Metaverse governed by its native cryptocurrency called Trillium (TLM). It is a simple clicker game, simulating an Earth-like economy in the distant future where interspace traveling is normal, and people move from planet to planet to mine different lands for Trillium.
The game hosts six planet DAOs in which the players can participate by buying land, mining Trillium, and staking Trillium to earn rewards. Personally, I'm not a big fan of the gameplay. However, the Free-to-play combined with Play-to-Earn elements makes it an appealing option for many.
Besides owning land and mining TLM, the game recently launched a new staking feature where players can send spaceships on expeditions by locking a certain amount of TLM, for specific periods. Then, upon successful return from the mission, collect bonus rewards plus rare NFTs, which can be used for mining TLM in-game.
Read more on how to get started with Alien Worlds in our guide here.
Some of the Most Anticipated Upcoming NFT Games for 2022!
Here are some upcoming NFT gaming projects that I'm really excited about! These are all planned to be launched in 2022 and I have been following them along their journey for quite some time now. I believe these have the potential to join the ranks of the leading NFT games in the industry with exciting gameplay potential to offer as well.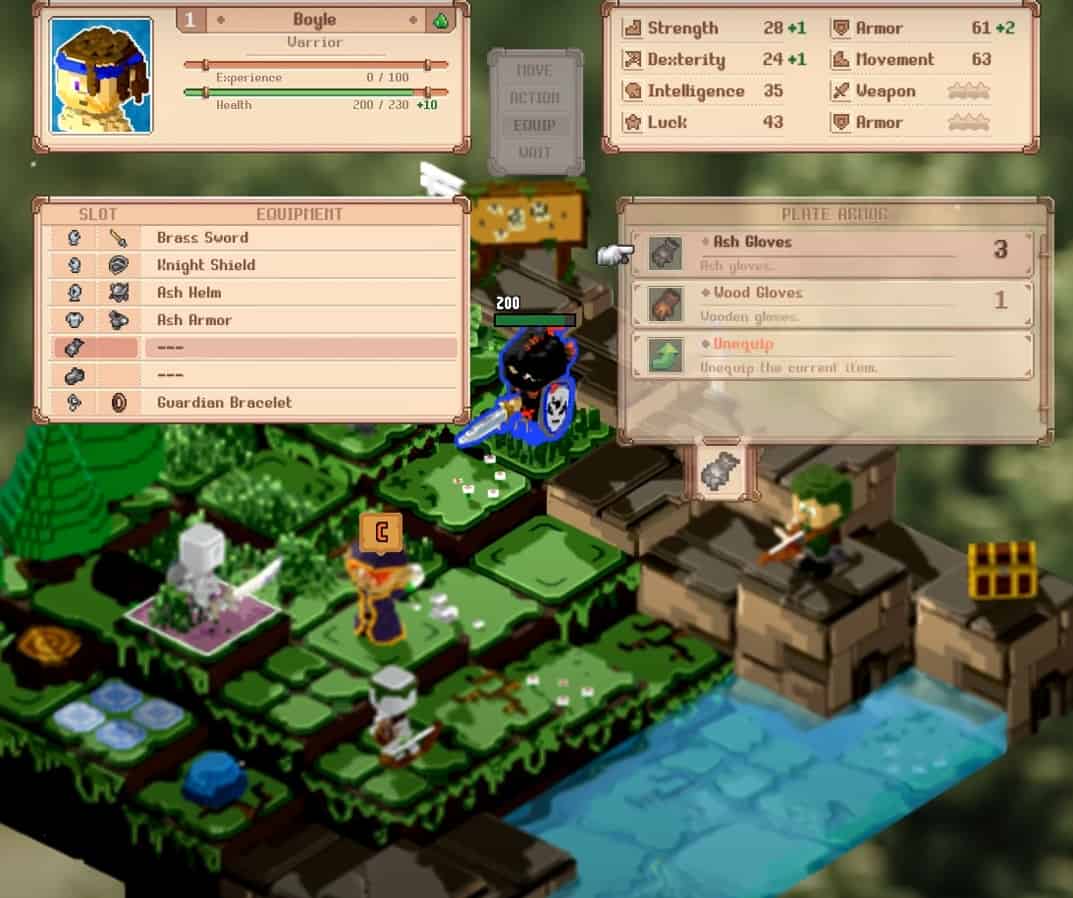 Voxie Tactics is an upcoming title in the NFT gaming market. In development by the company, Always Geeky Games, the game hosts a voxel-themed world and tactical RPG mechanics. The game will incorporate the Voxies from the NFT project as playable characters.
The main focus of the company is to provide a free-to-play and play-to-earn game model based around in-game assets ownership and player economics with the help of blockchain technology. According to the whitepaper, the game will feature adventuring, forging, PVE, and PVP elements, where players can earn, trade, and win rewards in the form of VOXEL tokens, the native cryptocurrency of the game.
The team behind the game boasts over 15 years of games development experience having worked with worldwide studios like EA Games and Ubisoft.
Naming their proud contributions in major famous AAA titles like the Assassin's Creed franchise, the Far Cry franchise, and the Harry Potter games, the company recently released their first demo gameplay, which reached over 50,000 downloads in under 24 hours of release!
The team launched the first VOXEL tokens into the market in early December 2021. The token launched at the price of 20 cents and instantly went up by 25x upon listing on Binance. Since then, the token has managed to retain a value of around $3 per VOXEL, which reflects the strong community behind it.
With an experienced and professional team behind it, Voxie Tactics looks like a promising title to keep an eye out for.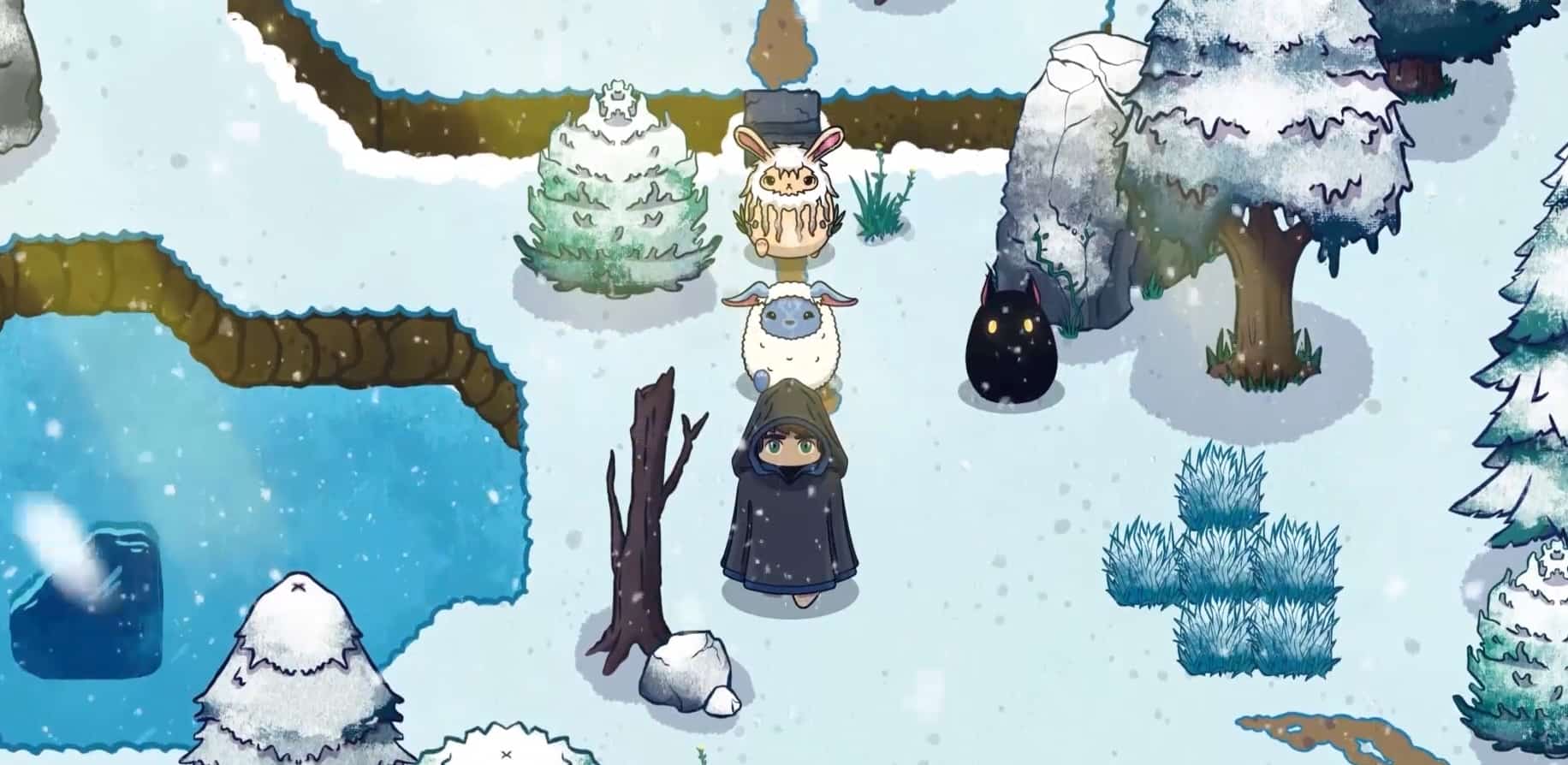 Chumbi Valley is a game that I'm personally really excited about. I might be a bit biased as a fan of games like the old-school Pokémon games on Gameboy, Stardew Valley, Harvest Moon: FoMT, and the general theme and art style of those games. But Chumbi Valley resonated with the classics fan within me and captured my attention at first sight.
Now, I might sound crazy as the game is not even practically out yet. But after following the admirably active team of the project on their socials and discord, I feel much more confident in the longevity of the game.
The game is being built on the Polygon and Binance Smart Chain (BSC) blockchains. The core idea of the game is to provide players with fun gameplay with the economics of blockchain tokens and assets. Players will be able to choose their roles through PvE and PvP modes.
The game will host two major crypto-tokens in its ecosystem that would be used for all sorts of in-game transactions and interactions. Namely, the governing token is called the Chumbi token (CHMB), while the basic economy token is called Lucky Stars (LSTS).
If you are familiar with the tokenomics of Axie Infinity then you can think of CHMB as AXS and LSTS as SLP. These tokens will be used for various in-game tasks such as paying Breeding Fees, Sage Fees, purchasing of Wandering Trader items, Land Plots, Marketplace Transactions, and more.
The first CHMB tokens went live in mid-December of 2021, rising up more than 140x instantly upon listing on the KuCoin exchange. After correction, the token has managed to still hold a value of 70x more than its launch price, indicating the strong community behind it.
Another testament to the rightful earning of its nomination as the "most anticipated NFT game of 2022" is that the Seed NFT sale ended in just under 3 minutes as all Seed Chumbi NFTs got sold instantly!
Chumbi Valley is still in its Stage 1, while the Public Beta Gameplay Access is forecasted to be in late Stage 3 of the project expected to be around mid-2022. Despite that, the project is led by an active team that keeps posting updates on their Twitter and Discord groups.
I believe the game has the potential to dethrone current leaders like Axie Infinity with its appealing gameplay, nostalgic design, and player-driven economy model. It is a must to keep an eye on if you are looking for high-potential NFT gaming projects.
You can check out their roadmap and litepaper here.
Honorable Mentions
I would love to share more about the NFT games that I'm excited about, but these will be it for today. Perhaps you can check out my other articles dedicated to them to learn about them. Here are some of the honorable mentions that I believe anyone in the NFT gaming industry should keep an eye out for.
Big Time
Mirandus
Aavegotchi
Town Star
Illuvium
Splinterlands

Final Thoughts (Conclusion)
NFT games mark the emergence of a new age of gaming. The timely uprise of esports, the unforeseeable pandemic, the global economical downfall, and the decentralization of gaming have produced the perfect conditions for the stars to align.
By putting the power of ownership in the hands of the common man, NFT games have made it possible for people to earn money by playing games, right now, when they need it the most. I believe NFT games that will focus on creating exciting gameplay, a stable economy, and unlimited opportunities for their players will last while investment-focused games without any enjoyable gameplay will vanish after the pandemic.
In this article, I have mentioned some of the best NFT games that I believe are here to stay and will define the next generation of decentralized gaming. Feel free to check some of my other articles where I dive much deeper into the realm of these games. Until then, leave your thought behind in the comments.
Frequently Asked Questions and Answers
People are often intrigued by some specific questions regarding the topics that I write about. So here are some frequently asked questions about the best NFT games and my answers to them.
Question: Are NFT games profitable?
Answer: Yes, personally speaking from experience, NFT games are profitable. However, the term "profits" is relative and can be stretched over time. While free-to-play NFT games can earn you profits right away, their earning potential is relatively minuscule. On the other hand, NFT games that require some considerable upfront investment to get involved in have higher returns in terms of profit.
Question: Can I earn crypto by playing games?
Answer: Yes, today with the adoption of blockchain technology growing faster than ever, it is possible to earn cryptocurrencies by playing games. These games are categorized as NFT games or blockchain games and are called Play-to-Earn games.
Question: How much can you earn in NFT games?
Answer: The potential is quite limitless when it comes to the question of how much one can earn in an NFT game. Some Free-to-Play, Play-to-Earn NFT games can start generating profits right away; however, their returns are relatively minuscule at around $100 or less a month.
On the other hand, games like Axie Infinity, Cryptomines, and such require a considerable investment of about $400 to $1000 to start playing the game, but these have the potential to let players earn from $100 – $1000+ a month depending on many variables like win rate, rank, and regularity.
Question: What are the best NFT games to make money?
Answer: These are some of the best NFT games that you can play to make money right now.
• Axie Infinity
• Cryptomines
• Splinterlands
• Decentraland
• Alien Worlds