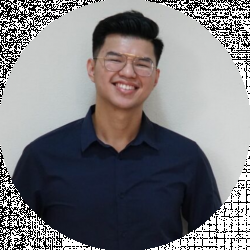 Latest posts by Matthew Du
(see all)
The virtual real estate market is booming, and everyone is wondering how they could get a piece of it.
DeFi Kingdoms is no different. Acting as a DEX, DeFi Kingdoms provides trading opportunities available nowhere else. I've been playing the game for the more significant part of the year, and I have nothing but positive things to say.
Despite the market downturns, the development team has only continued to add great features to the game. With the transition to the Klaytn network and the impending addition of the PvP battle, these two could be the catalyst for exponential growth in the CRYSTAL token.
This is not financial advice, though.
Are you looking to get in? You could get started by purchasing Land in DeFi Kingdoms. This guide shows you why and how you should look at virtual real estate.
Bottom Line Up Front
Purchasing DeFi Kingdoms Virtual Land is a simple process. You head over to the Castle on the map, click land auctions, and see if anyone is willing to sell.
Whether it's the right decision is entirely up to you, but we will gladly help you make that decision in any way we can. That's why I made this guide: to help clear up any confusion and provide insight into whether or not you should be buying DFK Virtual Land.
What is DeFi Kingdoms?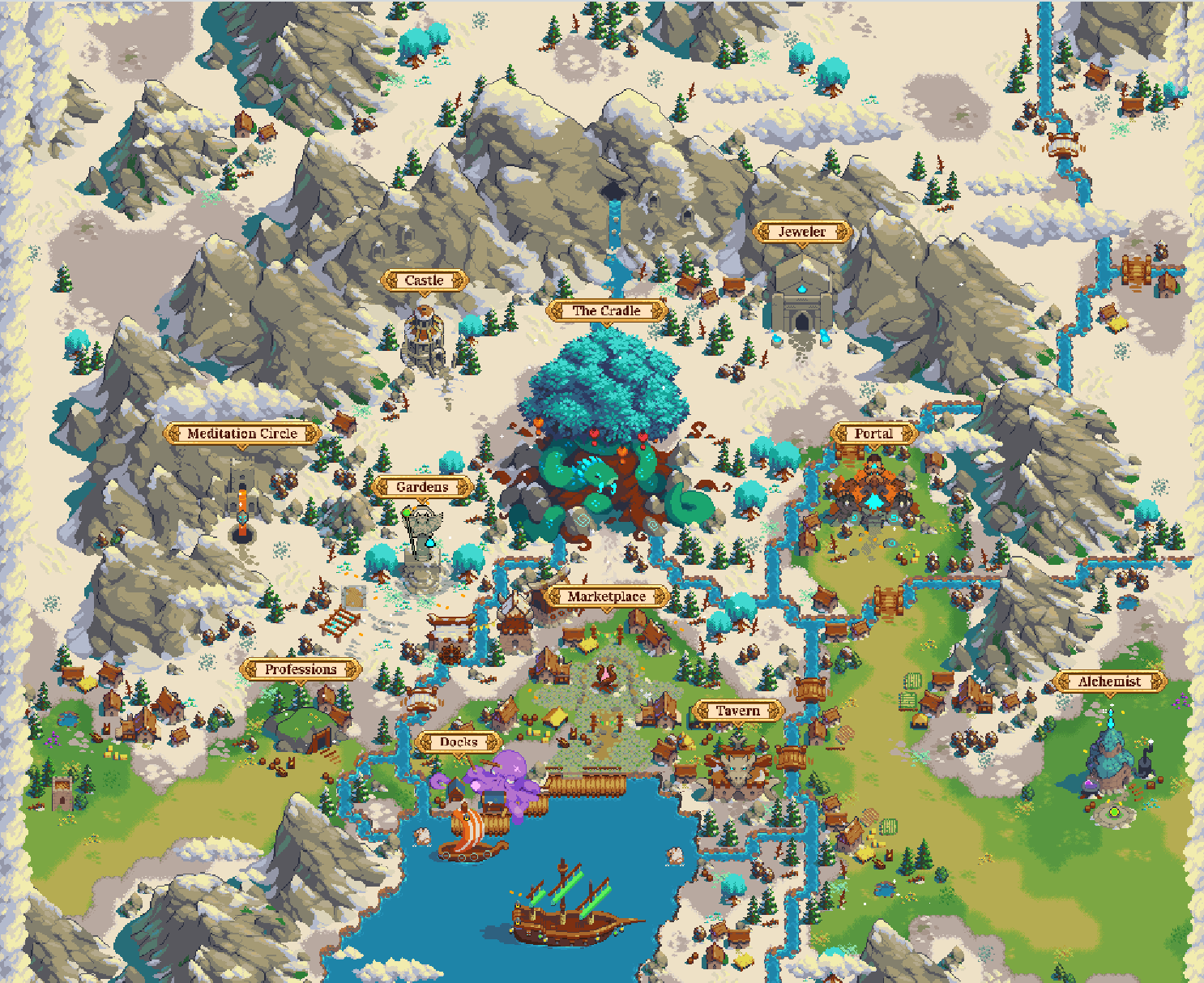 Now, I don't want to spend too much time explaining something we've already explained in a previous article on DeFi Kingdoms.
DeFi Kingdoms is the fledgling MMORPG of the future. The project showcases DEX features like liquidity pool opportunities and a utility-driven NFT market.
Its value proposition as a DEX is its gamified features and the awesome 8-bit art that reminds us of simpler times.
Right now, it is available on both the Harmony and Avalanche network. Each network will have its expansion in the DFK ecosystem. Serendale, for example, was once the original realm of DFK but was built on the dying Harmony blockchain. It is now moving to the Klaytn blockchain and will be unavailable until the migration has been completed.
Crystalvale is the game's first expansion and exists on the DFK chain, a subnet running on the Avalanche blockchain. The first of many, Crystalvale is proof that DFKs vision of a cross-blockchain game can come to life.
Once Serendale is back up and running on the Klaytn network, playing the game in either realm will work the same way. The same concept will expand once more real expansions are made to other blockchains. The game, after all, aims to be accessible to all.
Though you can't play DeFi Kingdoms out of the box for free, unlocking a Hero means that you can immediately start earning an ROI on your investment by building up your Hero through quests.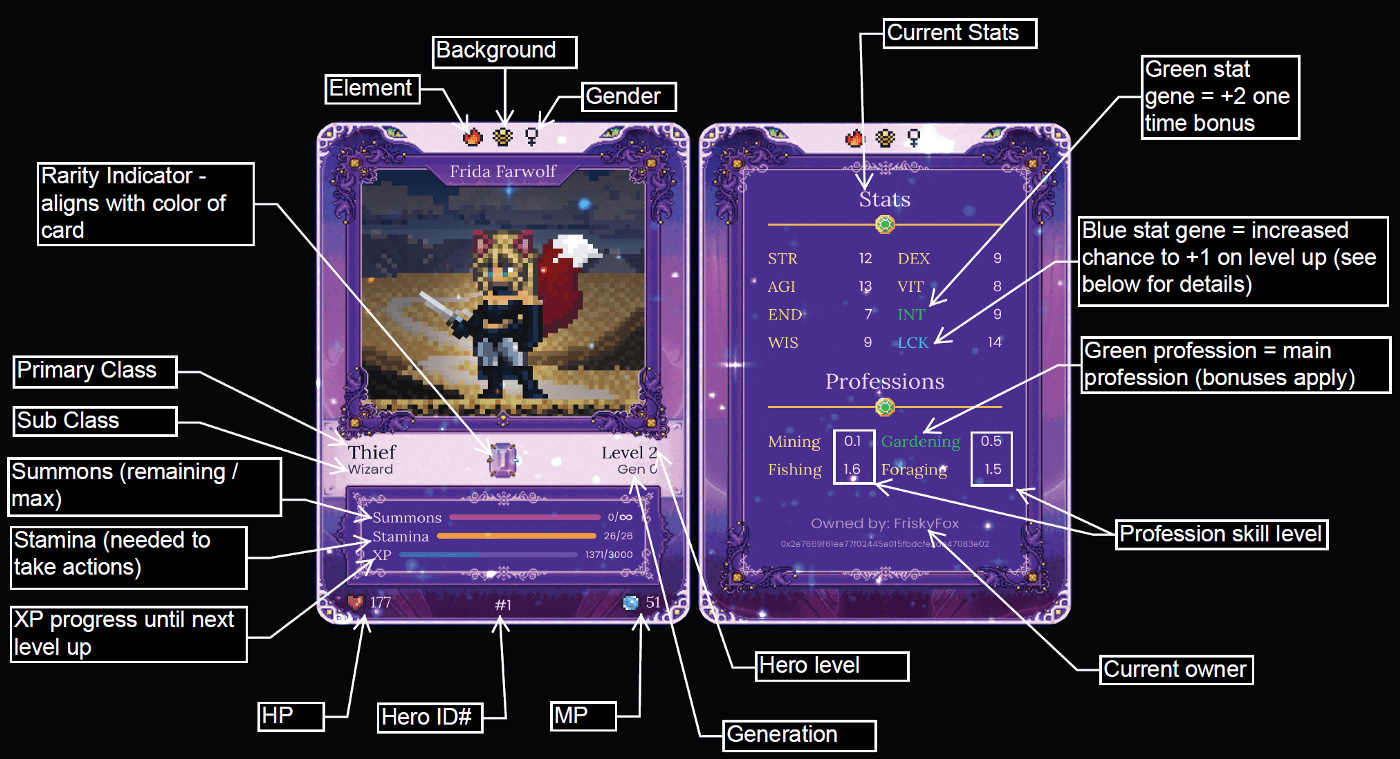 Post questing release, the developers announced that you'd soon be able to purchase land and build buildings to help accumulate resources. These resources will allow you to inch slowly to the rare equipment you need for the PvP battle.
And deliver on this promise they did.
In the first quarter of 2022, DeFi Kingdoms announced that they'd be releasing 100 Land NFTs available for trade. But we're getting ahead of ourselves. Let's talk about Virtual Land in the next section.
What Is DeFi Kingdoms Virtual Land?
DeFi Kingdoms is a fledgling MMORPG, and one of its key features is the ability to buy and sell digital land. When lands were introduced, there was so much change to the map and so much expansion on the game's landscape.
From new lakes, windmills, forested areas, and mountains, many changes have been made to DeFi Kingdoms when lands were first introduced.
You could quickly click on the land and interact with available land parcels. A popup with all the land details will appear upon clicking a land. Details such as the land's plot number, its name, the land's level, who owns it, and the wallet address are all made available on the UI.
To define simply, DeFi Kingdoms' virtual land is a plot of digital space you can purchase in the DFK ecosystem. Represented as an NFT, the land owner may use it for various purposes or simply for speculation. The project owners have divided the map into smaller sections and will sell them through numerous land sales.
Why would I want to buy DeFi Kingdoms Virtual Land?
While there are multiple reasons that someone may want to purchase virtual land, it usually comes primarily with the expectations of a 3D virtual experience for both the owners and guests to discover. The best part is that the grounds are NFTs, so proving authenticity and ownership of your DFK land is straightforward.
As I mentioned earlier, as soon as you select a parcel of land, you'll notice that the wallet address of the owner is located at the bottom. The owner can sell their ground on the marketplace through a 3rd-party exchange or the virtual world's marketplace.
At the time of this writing, as DeFi Kingdoms is transitioning to Serendale 2.0, I can't take a snapshot of the map of DeFi Kingdoms just yet as the land parcels haven't transitioned from Serendale to Serendale 2.0. Crystalvale, the only existing game expansion at the moment, also doesn't have land up yet, but we'll be sure to keep you posted if anything changes.
The Benefits of Purchasing Land on DeFi Kingdoms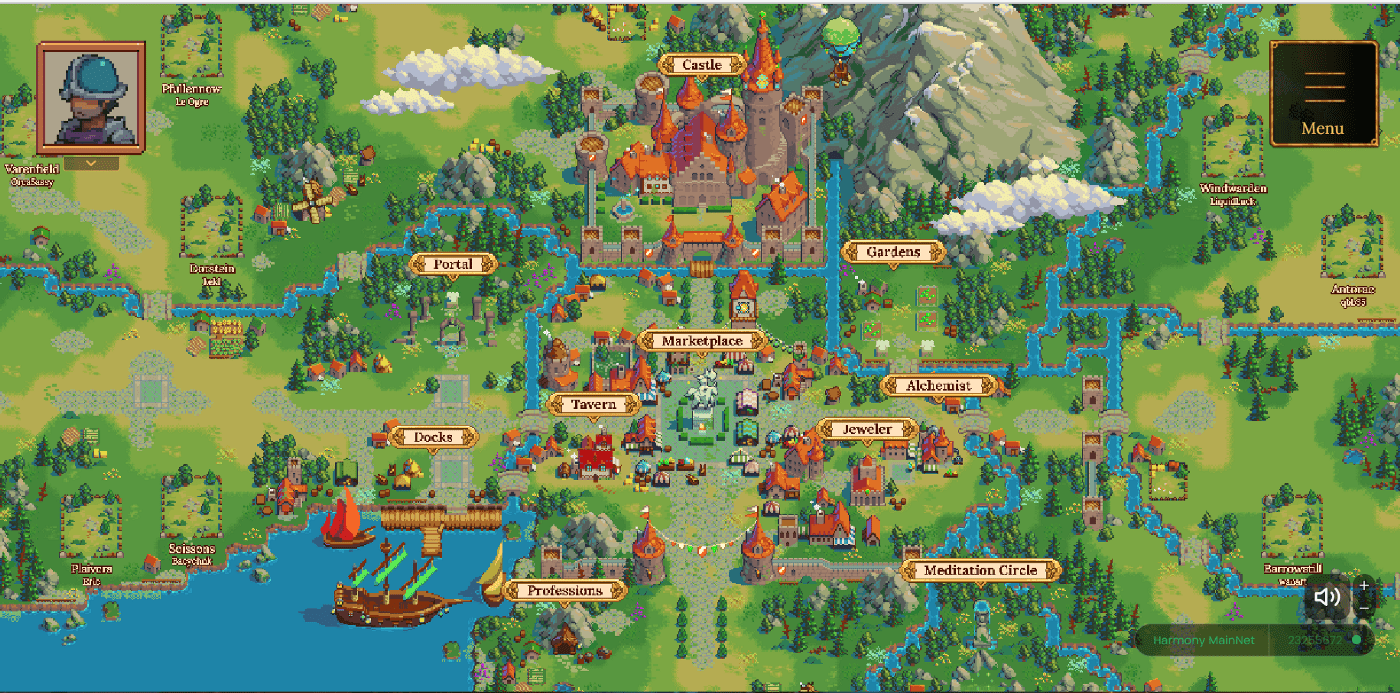 NFTs have gotten a negative reputation since the crypto crash of early 2022. After the insanely high highs of the crypto market came the insanely low lows – and from that did the crowds of sudden-crypto experts raving on and on about how "they knew that NFTs wouldn't last" and how there was "nothing innovative about NFTs."
And for a time, I agreed.
The first iteration of NFTs, which sold millions of people on the idea that you could prove the originality and solve copyright infringements, seemed pointless to me. The internet has become a place where information and experiences are infinite, reproducible, and cost-effective. The first iteration of NFTs put a cap on that.
Then came utility-based NFTs. NFTs that could be used, experienced, and utilized to generate revenue. The idea of a utility-based NFT as an in-game item that could be owned and traded feels compelling. Why? Because it provides more than just the auditory or visual experience of the first-generation NFTs. They offer a tactile experience that enhances the current gameplay.
Think about all the times you've bought a skin in a game. You probably didn't need to, but it improved the experience. Think about that, and add real-world monetary value and in-game statistics. That's essentially what in-game utility-based NFTs bring you.
So what about DeFi Kingdom's land-specific benefits?
There is a finite number of land available
When lands were first released, there were a total of 100 NFT lands available for sale. DeFi Kingdoms' end goal is to work towards eventually having 1,000 parcels of land available for sale. Land values increase when demand for land exceeds the supply available or if a particular piece of land has more excellent intrinsic value than its neighboring areas.
The first condition is ticked simply because of land scarcity in DeFi kingdoms. DeFi Kingdoms has over 80,000 people in its player base at the time of this writing, based on the number of people in their Discord server.
Assuming that only 2% of the dedicated player base wants to purchase a parcel of land, that's still 1,600 parcels needed to meet the demand. It's not enough – assuming that only 2% of this growing player base want to buy land.
The second condition is fulfilled when renovations are made to the land, as DeFi Kingdoms is looking to introduce. This should allow for renovations and upgrades to be made to the ground. Whether it's for more fishing, questing, or just general cut-throat exploration, land renovations in the form of buildings will increase the desire and value of the land.
Land can be used as a passive income generator
As mentioned before, land can be renovated and improved. In doing so, land may increase in market value while coincidingly generating passive income for its owner.
This is the main selling point for real estate, both digitally and in the real world.
Unfortunately, DFK hasn't announced when buildings will be released, and no documents outlining their gameplay implications have been posted. Their discord server has rumors circulating of an updated roadmap with building-specific discussion resources, but nothing has been confirmed by the dev team just yet.
The more users there are, the more valuable the land becomes
Land is a tangible, finite resource easily purchasable given the right amount. It is valuable because it is scarce and requires no maintenance.
Digital land holds the same value, especially if it's capable of renovations that generate ROI for its owners.
Revenue generation and scarcity justify the demand. As more people begin playing the game and investing more in the economy, then so will rise the demand for land.
How To Purchase Virtual Land On DeFi Kingdoms
Though DeFi Kingdoms hasn't given us any information on how land in Crystalvale will work yet, if it's anything like how it went in Serendale, here's what you should expect.
1. Connect your wallet
You can't buy land if you haven't connected a wallet to the game. If you want to play DFK, you'll need the following:
Have a MetaMask Wallet
Connect the wallet to the Klaytn or Avalance network
Have $ONE in your wallet to pay gas fees.
Connecting the wallet to DFK is the easy part. Before you log in to DFK, you'll get asked to join your wallet.
If you're using Metamask, then all you have to do is click on
Here's a bonus tip: you should pay attention to keep $ONE in your wallet to pay for gas fees.
And a bonus, BONUS tip: you could play DFK on your mobile phone through the MetaMask mobile application. You must access the website through the browser built into MetaMask mobile and then connect your wallet to the website.
As far as I know, you can't use just any phone browser to connect with the DFK ecosystem. Safari or Chrome on your phone can't connect to DFK on your phone because MetaMask can't access phone browsers.
The workaround is to use the MetaMask built-in browser.
2. Get CRYSTAL or JADE
You'll need Crystal to do anything in the game. Right now, it's the only power token available as DFK swaps over to the Klaytn network for Serendale and effectively retiring JEWEL as a power token.
DFK did announce on October 14 that it will be releasing a new Power Token, JADE, on the Klaytn network. Jade will be capped at 250 million tokens and is intended to be the sister token to CRYSTAL for all gameplay-related features in Serendale 2.0.
Regardless of all these changes in the project's tokenomics, you'll still need the power tokens to do anything in the game.
You can swap for it at the Trader located in the marketplace in Crystalvale.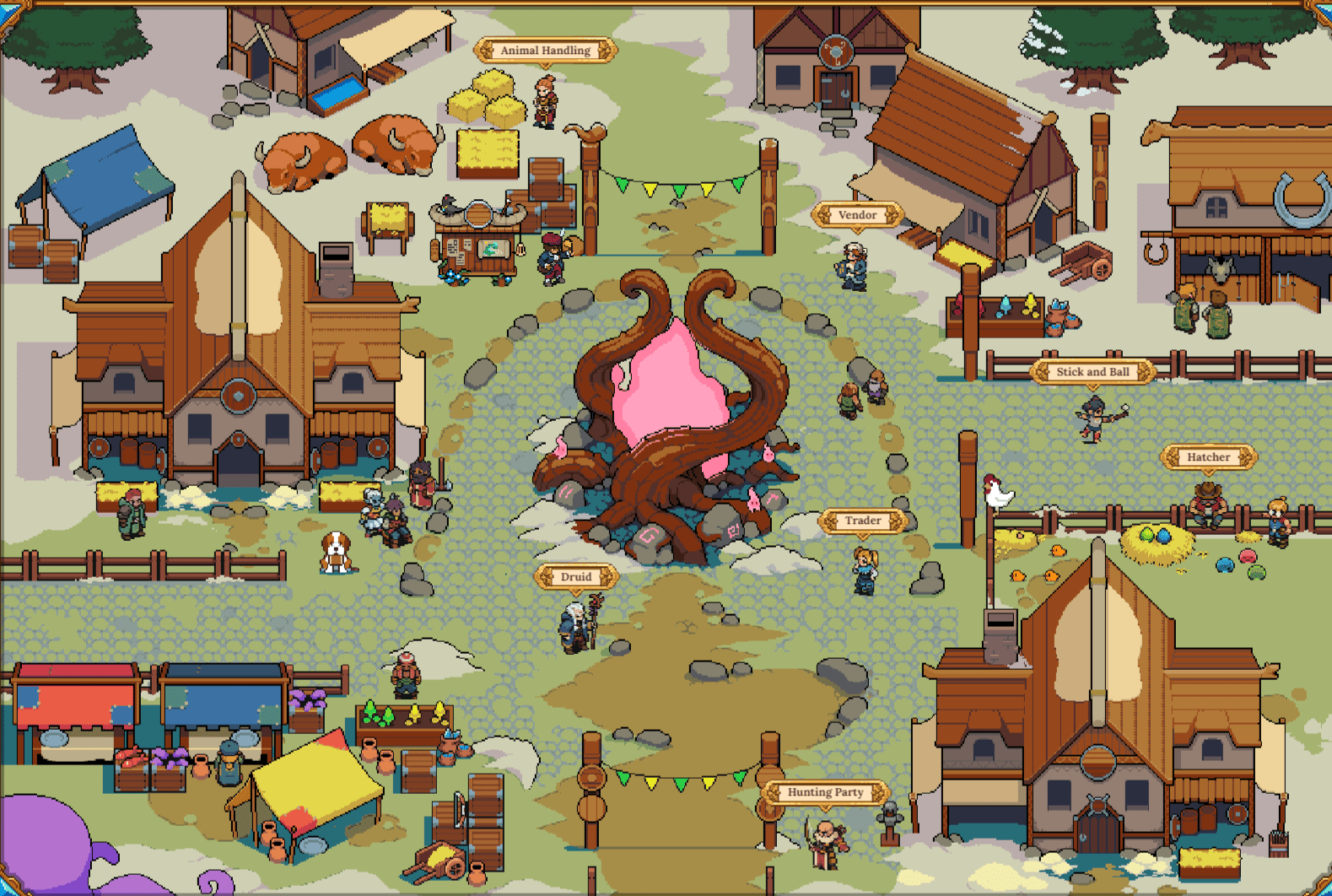 "You mentioned using Crystal. Does that mean I can't buy land using Jewel?"
The major tokenomics of the game is looking to change. JEWEL is now in a transitory period to become the Governance and Fee Sharing token among all DFK chains, with its hard cap reduced from 500 million to 125 million and no new Jewel to be minted.
So to answer your question: Yes, you can no longer purchase land using Jewel.
3. Proceed to Land Auction
Once you have your tokens set up, proceed to Land Auction and set up a bid for your first piece of land. Don't worry. Each parcel of land is the same size ( you literally can't make it bigger), so the value of each parcel is really up to the rarity and potential for renovation.
On the Land Auction screen, you could "View All Land" and see all parcels of land available in the realm.
Unfortunately, Land Auction isn't available at the moment (October 2022) as the only plots released so far were in Serendale 1.0, which has now been converted to the outpost.
Here's something cool to remember: participate in the game.
DeFi Kingdoms has been particularly generous to its active player base. For example, the first 51 of 100 lands were distributed as free gifts to the announced winners of their land airdrops.
What does this mean for you as a player? It would help if you played THE GAME.
What To Consider When Purchasing Virtual Land on DeFi Kingdoms
So that's all well and good. You now know how to purchase Virtual Land on DFK. The question has now become: should you?
Here are some things you should consider before hopping into the virtual land world.
What You'll Use It For
Land in DFK, as of the moment, can't be improved. So there's not much utility there.
What you're investing in is the potential for use and the potential for demand growth. Just because you can't build on these buildings does not mean the land is worthless. In fact, one could even argue that this implies that the land is undervalued.
Regardless, land use is the primary consideration for purchasing virtual or real-life land.
Oh, and don't forget the age of the old mantra of "location, location, location" when it comes to land purchase. Of course, the parcels near the center of the realm will be worth much more than the parcels near the edge of the fog of war.
But there's more than meets the eye regarding parcel location.
If you look at the Serendale 1.0 map, notice how each land parcel's surrounding area is different. Some are near mountains, while others are near lakes. Some are surrounded by water along the coast, while others are deep in the middle of the forest.
Now, don't quote me on this, but there have been rumors going around the DFK discord server that the location of each parcel of land will impact the buildings you could build on, which in turn will generate ROI.
When You'll Need The Money
Purchasing land in DeFi Kingdoms will lock it just as much as staking. When you buy virtual land, it becomes deftly inaccessible unless you're willing to sell it at a massive loss.
If you purchase land in DeFi Kingdoms, ensure you're in it for the long haul. A "long-term investment" could mean anywhere from 5-10 years in the physical world. In the crypto world, where prices are much more volatile, and projects are almost always on the brink of an explosion, a "long-term investment" could mean anywhere from 1 – 3 years.
Market Indicators
It's probably incredibly frustrating to know this, but one of the most significant factors to consider before purchasing real estate, even virtual real estate, is something you have no control over in the local market.
When the whole crypto economy is bearish, as it was at the time of writing, then purchasing virtual land might not be the right play.
It makes sense to get into virtual real estate when it's bullish!
Take note that getting into a bullish market means riding the wave of investor sentiment. That could be a good or a bad thing, depending on how much you estimate the land's intrinsic value.
The intrinsic value is the accurate measurement of an asset's worth, and no one is entirely sure how to measure or calculate it.
The reason why a lot of people love to purchase equities and stocks during a bear market is that they believe that they're buying the investment at a discount. This means that when the bull market comes (and it always comes), then the early investor will get to enjoy the ride from the bottom to the top.
It's the sad truth of the world; the biggest gainers are often the ones who take the biggest risk.
FAQs
Question: Is DeFi Kingdoms a good investment?
Answer: DeFi Kingdoms is one of the first projects to embrace GameFi, the gamification of decentralized finance fully. Whether it's a good investment or not is up to the individual and their fundamental belief in the future success of crypto.
What you should know, however, is that DFK takes GameFi one step beyond and creates what is an authentic DEX experience in a beautifully rendered pixelated world. At its height, DeFi Kingdoms would generate USD 184bn in transactions.
Fully capturing the idea of utility-based NFTs, if DeFi Kingdoms is not a good investment, it indeed is a lot of fun to play.
Question: Who Owns DeFi Kingdoms?
Answer: No one truly owns DeFi Kingdoms. Instead, it's run by a DAO (a decentralized autonomous organization) named Kingdom Studios. Kingdom Studios is the project administrator for DeFi Kingdoms and everything the project will create.
Their goal is to embrace the full potential of the blockchain in game form and maximize the potential of GameFi.
Question: What Else Can I Do In DeFi Kingdoms?
Answer: The core of DeFi Kingdoms is its heroes. These utility-based NFT avatars could be owned, traded, sold, and used. Send them on quests and journeys, or assign them to tasks. Use them to interact with the world and participate in a still-growing GameFi community.
Conclusion
DeFi Kingdoms isn't for everyone. Since the crypto crash and the Harmony hack, the game's activity has flatlined.
Yet the developers continue to roll out feature after feature. It doesn't matter what the price is; the DFK team is building and forging on their roadmap. That's the kind of developers you want to have behind your investment.
If you check their roadmap, you'll find that they're well on the timeline of their roadmap. Albeit, they may have had to push back some key blocks, given that they migrated to the Klaytn exchange. Despite this minor setback, the community, developers, and everyone else behind the project seem to be bullish.
 Looking for more interesting readings? Check out: